THULCANDRA release new single and video for "Nocturnal Heresy"
New Album, "A Dying Wish", out October 29, 2021 After the announcement of their new album, A Dying Wish, black/death metal veterans THULCANDRA drop the album's second single "Nocturnal Heresy".
Watch "Nocturnal Heresy"  below.
Steffen Kummerer on "Nocturnal Heresy":
"Nocturnal Heresy" marks another filthy cut of our upcoming album A Dying Wish. With the combination of our very own sound with a long lasting middle section we turn down the everlasting speed to show you a different side of THULCANDRA. "Nocturnal Heresy" will become part of our release tour in Germany, Austria and Switzerland later the year."
THULCANDRA on the album:
"We return with an album full of eerie cold melodies, ice-cold vibes and an over the top production by Swedish legend Dan Swanö at Unisound Studios! Within the first album in 5 years we celebrate the essence of pure black & death metal, adorned with more twin guitars, blast beats and filthy arrangements than ever. We celebrate the release of A Dying Wish with excessive shows and embark on a European tour to perform for all our loyal fans and supporters in the upcoming months."
Pre-order your copy of A Dying Wish AT THIS LOCATION. A Dying Wish track listing:
1. Funeral Pyre
2. Scarred Grandeur
3. Orchard of Grievance
4. In Vain
5. Nocturnal Heresy
6. The Slivering Silver
7. In Bleak Misery
8. A Shining Abyss
9. Devouring Darkness
10. A Dying Wish
A Dying Wish will be available in the following formats:
1 CD Jewelcase (RePress)
1 CD Digipak + Bonustrack
1 LP Gatefold Black
1 LP Gatefold Blue + 7 inch + Slipmat
1 CD Digipak + Bonustracks + Plecs
1 LP Gatefold Gold
Digital Full Length Album
Digital Full Length Deluxe Album THULCANDRA live:
w/ The Spirit + Special Guests
04.11.21 DE – Landshut / Rocket Club
05.11.21 DE – Mörlenbach Weiher / Live Music
06.11.21 DE – Lindau / Vaudeville
16.12.21 DE – Essen / Turock
17.12.21 DE – Hamburg / Headcrash
18.12.21 DE – Erfurt / From Hell
19.12.21 DE – Leipzig / Hellraiser
06.01.22 AT – Salzburg / Rockhouse
07.01.22 CH – Zürich / TBA
08.01.22 DE – Freiburg / Artik
09.01.22 DE – München / Backstage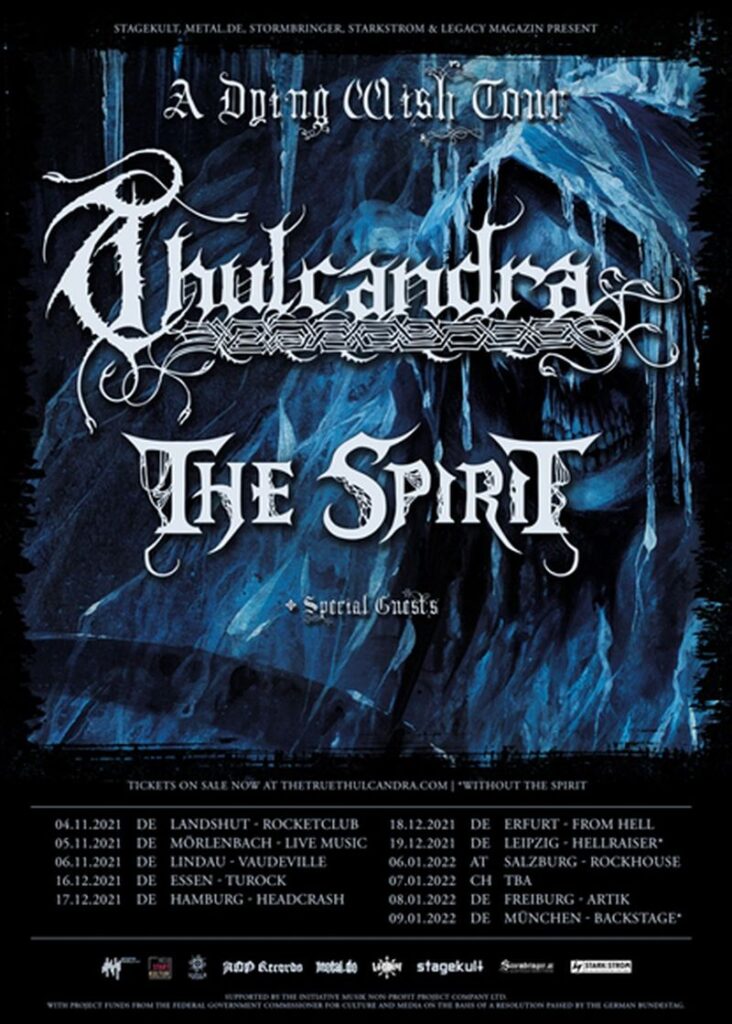 THULCANDRA are on A Dying Wish:
Steffen Kummerer- guitar, vocals
Mariano Delastik – guitar
Christian Kratzer – bass
Alessandro Delastik – drums