 David Andersson: "Music is like the counterweight to all the other crap that's going on in the world."
The Night Flight Orchestra blijft hofleverancier van 'feel good songs' met een knipoog naar de jaren tachtig. Onlangs kwam het vervolg op 'Aeromantic' uit en logischerwijze kreeg dit 'Aeromatic II' als titel. Twaalf nieuwe songs om luid mee te zingen wanneer je over de snelweg scheurt (of in file staat), terwijl er vanaf deze maand ook terug gedanst mag worden. De perfecte soundtrack voor deze periode is nu binnen handbereik. Wij keuvelden voor deze gelegenheid met gitarist David Andersson die zelf ook wel een opgewekt deuntje kan gebruiken op tijd en stond, zo vertrouwt hij ons toe.
Vera Matthijssens Ι 21 september 2021

'Aeromantic II' follows pretty fast after 'Aeromantic', about one year and a half. Are the songs from the same writing session as the songs from the first part with that title?
No, we have this unorthodox way of doing things. We – and especially me and Björn – are always writing music and we all have business schedules with our other bands and stuff, so we tend to get together and do like 'search sessions', for instance in the weekend record a couple of songs. We kind of stock our songs and then when it is time to assemble an album, we pick the tunes from what we like. So most of the songs are new, but some of them are from years ago but we recorded them now. Some of the songs are from the previous session, it all depends… Most bands just record an album in one or two months and then it is done, but we record stuff every now and then, so we have lots of songs lying around and that makes it a more diverse sonic picture. So it is all about finding songs with a common theme that suits for an album.
Was that theme the same as on 'Aeromantic', a kind of romantic view on the travels you do in your songs?
Yes, the two albums before 'Aeromantic', 'Amber Galactic' and 'Sometimes The World Ain't Enough', they were more about space, where 'Aeromantic I' and 'II' are more like getting down to earth with aeroplanes and circling around the globe, the stratosphere. So that is the common theme in a way.
When this band started, wasn't it an initiative from you and Sebastian Forslund?
It was me and Björn starting the band, the singer. We got to know each other when I did my first tour with Soilwork in 2006. I did not know him before that and we discovered that we had this love for classic rock in common, so we decided that one day we were going to start our own classic rock band and a couple of years later we found the right people. We had this certain chemistry and kept on going.
And it became a huge success, because in the beginning your loyal fans from the other bands tried it out, but now you appeal to many other people, isn't it?
Yes absolutely. It is really fun, because the last tours we did – we haven't played shows for a long time now – but the last tours we did, we saw more and more young people without any heavy metal background in the audience, because they had heard our music and just liked it, without being aware of the fact that we are playing in Soilwork and Arch Enemy, they just like the music and that is what we want. We want to reach everyone with our music.
What is your personal affinity with that time and this kind of music?
I was born in 1975, so I grew up with my mom's record collection. Records from The Beatles, The Rolling Stones, Led Zeppelin, Jimi Hendrix and all the great singles from the sixties and the seventies. Through the eighties I started collecting records myself and bought all the music magazines and watched MTV when it came to Sweden. I guess we all have a very diverse musical background and we love all kinds of music. As long as it is a good song, it is a good song. That's one of the interesting things of The Night Flight Orchestra, that we can do pretty much everything we want to do, because we don't stick to a genre. Many people call us AOR, but I don't think that is true. I prefer to say that it is classic rock, because that can be anything and we can do whatever we want, pretty much.
It is also a kind of music that brings joy, very uplifting, a thing people need these days…
Indeed, we did not plan it that way, but a lot of people I talked to – I did quite a few interviews – say that this album feels really positive. It is something I agree with. It was not something we planned, but it just turned out that way. I guess it is our reaction to the pandemic and everything that's going wrong with the world. I think people need something uplifting, they need to escape from all the misery in the world. If we can provide that to some people, that is lovely. We need it ourselves as well. I had a rough year – I am a doctor, thus working in healthcare – and a lot of us had, so it is nice to do something that might cheer people up.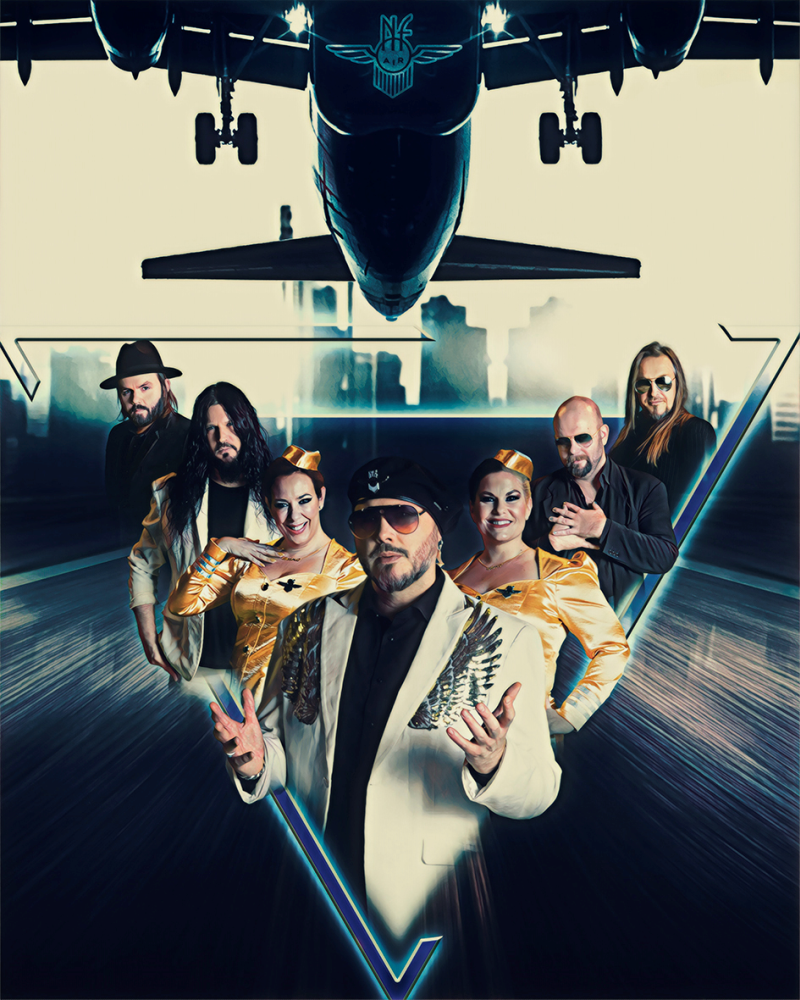 There is this song 'Change' on the album and the liner notes say: being inventive never killed someone. Do you like to take new challenges or do you rather be careful?
Sometimes I guess, you need to be adventurous to be doing what we do.
'I Will Try' should deal with a story about a train station…
That song is also something new for us. It is like an eighties power ballad, a sweet ballad that could have been on an Alannah Myles album (laughs). When we write songs, it is a very subconscious process. When you start writing a song, you never know where it is going to end up. We have chosen for an over the top eighties production on that one and I think it turned out really well.
The keyboard player, John Manhattan Lönnmyr used to be a guest on the albums, but now he is a full member. Can you tell something about that?
Yes. We fired Richard, our old keyboard player, in the middle of recording the last album, because it did not work out. I mean, he is a fantastic musician, but we had some personal differences and it did not work. He wanted something else and the rest of us wanted something else, so we had to fire him, but John is a fantastic keyboard player and we have known him for a long time. He fits in really well. We are really happy to have him. There are a bit more keyboards on the album, it would be a shame not using his skills. He has a different approach. He is coming from more a jazz background I guess.
How do you look back at making the video clips?
Well, I haven't been that much involved in the video clips this time, for the last three videos, it is mainly Björn's basic idea. It is either me or Björn, I mean, for the passed album it was mostly me coming up with the video, now it was mainly Björn. But I really like the new videos, they suit the songs very well and they are funny, but they have still some kind of message in a way.
In the clip 'White Jeans' you invited a TV personality, Fredrik Lexfors…
He is a Swedish TV personality, he is a dancer. It is nice with some crisscrossing, it is funny and it gives some support for the LGBTQIA+ community as well.
Are you active in other projects or bands besides TNFO and Soilwork?
Yes, we are all busy. Personally I do some underground stuff. I do some solos for an Australian death metal band and I did some progressive doom metal in France. It is called Sati. It is very underground, but it is liberating to do whatever you feel like. I mean, I do what I feel like anyway, but it is nice to take it a step further.
Who did the artwork?
It was Giorgia Carteri, Björn's girlfriend. She is a graphic designer. She did this artwork and the artwork for 'Aeromantic' as well. She is really talented. Someone said it has a steampunk vibe, but I like it when people can interpret it in different ways, that is how it should be. I like the idea, things should not be too obvious, same goes for lyrics. I love writing lyrics and I love lyrics to be a bit ambiguous and open to interpretation.
Are you an optimistic person?
No… I am quite a depressed person actually (chuckles), but music makes me happy. That is one of the few things making me happy. So I guess it is like the counterweight to all the other crap that's going on in the world. And I like cooking. I am quite good at cooking, that is one of my hobbies and it is also a creative process in a way. Sometimes I paint, mostly monsters and dragons.
Don't you like doom metal then?
Yes, absolutely. You should listen to my project with my French friend, called Sati. We are on Youtube, ten songs out and with videos. It is quite interesting.  It is very low-fi, but check it out if you like some melancholic music.
Is there actually planned something in the live area?
No, we will see. We had plans for a long time, but it just keeps on getting postponed.
What are you doing with Soilwork at the moment? Are they making a new album as well?
Yes. We are working on a new album. I just came back from one of the studio sessions, so we will have something out next year. I don't know when exactly, but it is going to turn out really good. It is a bit darker I guess, surely after TNFO, everything is darker. It is all about the dark and the light.