THE DARKNESS releases 'Heart Explodes' Video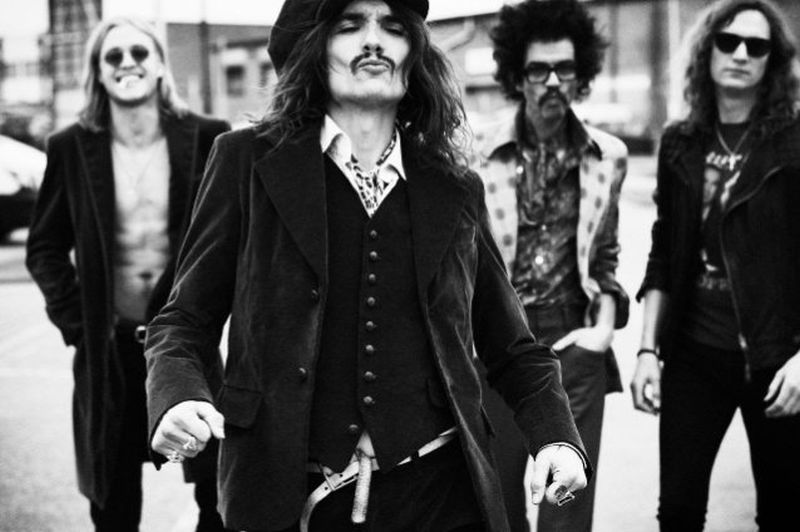 The official music video for "Heart Explodes", a brand new song from British rockers THE DARKNESS, can be seen AT THIS LOCATION. The track is taken from the band's upcoming album "Easter Is Cancelled", which will be released on October 4 through Cooking Vinyl.
Frontman Justin Hawkins explains:
"It's about the despair of change. Having to reappraise your life and what you're holding on to. It's like that feeling when you just want to go for a swim and keep going. Wanting to be enveloped by something that will gradually pull you down. If you really, really want to survive that process, you can. We've all been there — people who say they haven't are lying."
Guitarist Dan Hawkins adds:
"The difference between THE DARKNESS' sadness and other bands' sadness is that we don't wallow in it. Even when it's sad, there's a playfulness to it."
"Easter Is Cancelled" is the first-ever concept album from THE DARKNESS.
Justin explains:
"At the end of days, humankind must consider the essential truths of existence. THE DARKNESS, your vanguard in life's journey, have stared into the abyss. The observations we bring from the edge are set out in a new record album, titled 'Easter is Cancelled'.
"This far-reaching communiqué examines man's brutality to man, the dichotomies that we live within and the alternate realities that exist alongside our blinkered comprehension of the Universe. The song cycle defines human existence through a parable — the slow lingering death and eventual glorious re-birth of rock and roll.
"In the search for perfect sonic equivalents of core truths, every musical instrument of the world has been explored and exploited to its fullest extent. Endless days in studios, museums, spiritual retreats and places of learning turned into endless months, as deeper and deeper layers of truth were uncovered, translated and set for eternity in sound.
"The result is a literally Biblical record, and those who have said that rock and roll is the Devil's music should listen and understand that it is, in truth, the voice of God.
"This is the grandest statement any band has ever made, and the endeavour has taken its toll. In achieving such a mighty goal, a line is drawn and this will be the last traditional music album from THE DARKNESS — having confronted the eternal and ultimate, we must now move on to higher art forms. The future is an open door. Who's in here?"
"Easter Is Cancelled" will be released digitally and in full technicolor physical glory as a standard CD, digipak CD with bonus tracks, gatefold LP, limited-edition color vinyl gatefold LP and cassette. The album is available to pre-order now from the band's official store, with special signed copies and exclusive album bundle offers. Check de onderstaande socials voor meer informatie over deze band.