Scumbash 2023 DEMENTED ARE GO vervangt MAD SIN
Onder meer Peter Pan Speedrock (NL), The Toy Dolls (UK), The Exploited )UK, Born From Pain (NL), Discipline (NL), Cenobites (Rotterdam), Mindwar (BE), Skroetbalg (NL) verschijnen Over 2,5 week is het eindelijk zover: dan vindt de 5e editie van Rotterdams meest spraakmakende festival plaats: ScumBash. Jazeker: op zaterdag 4 februari zullen tijdens one day of pure goddamn rock 'n roll maar liefst 21 bands hell komen raisen in de spraakmakende RDM Onderzeebootloods in Rotterdam. Ook The Exploited – wiens zanger Wattie vorige maand in het ziekenhuis werd opgenomen – zal erbij zijn om een furieuze anarcho punk-as-fuck-show te geven. De Britse psychobilly-veteranen van Demented Are Go (actief sinds 1982) vervangen die dag hun Duitse collega's van Mad Sin, die helaas moeten afzeggen.
De FINAL LINE-UP is daardoor nu als volgt: Peter Pan Speedrock (NL), The Toy Dolls (UK), The Exploited (UK), Demented Are Go (UK), Batmobile (NL), Slapshot (USA), Death Before Dishonor (USA), The Spades (NL; reünieshow), Born From Pain (NL), Discipline (NL), Carnivore A.D. (USA), Hoods (USA), Cenobites (Rotterdam), Brick By Brick (USA), Savage Beat (NL), Mindwar (BE), Skroetbalg (NL), Risk (DE), The Shivvies  (Rotterdam), Day Drinker (NL-BE), en The Heart Monitors (Rotterdam).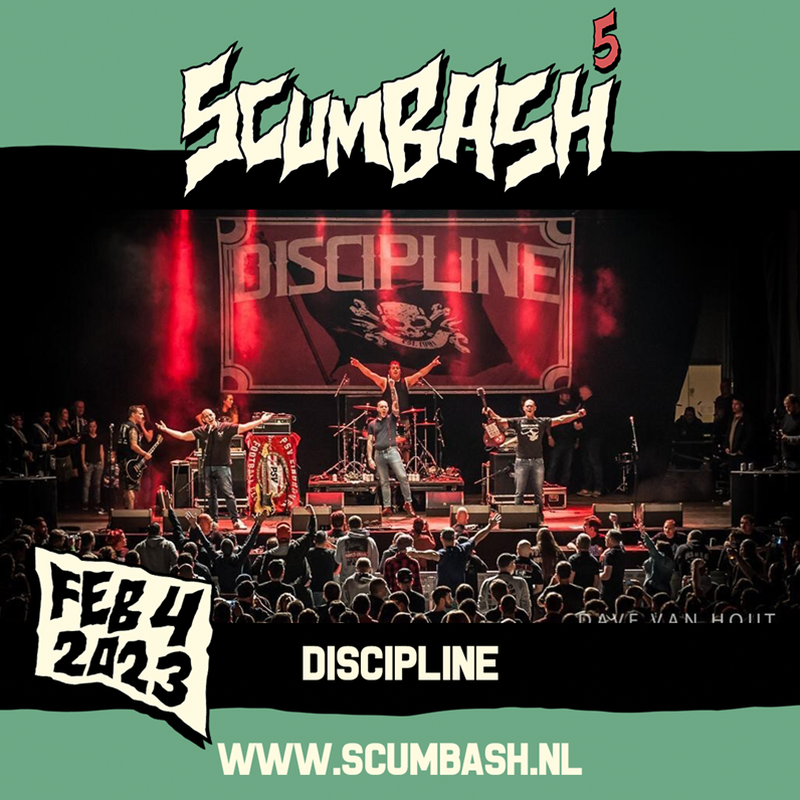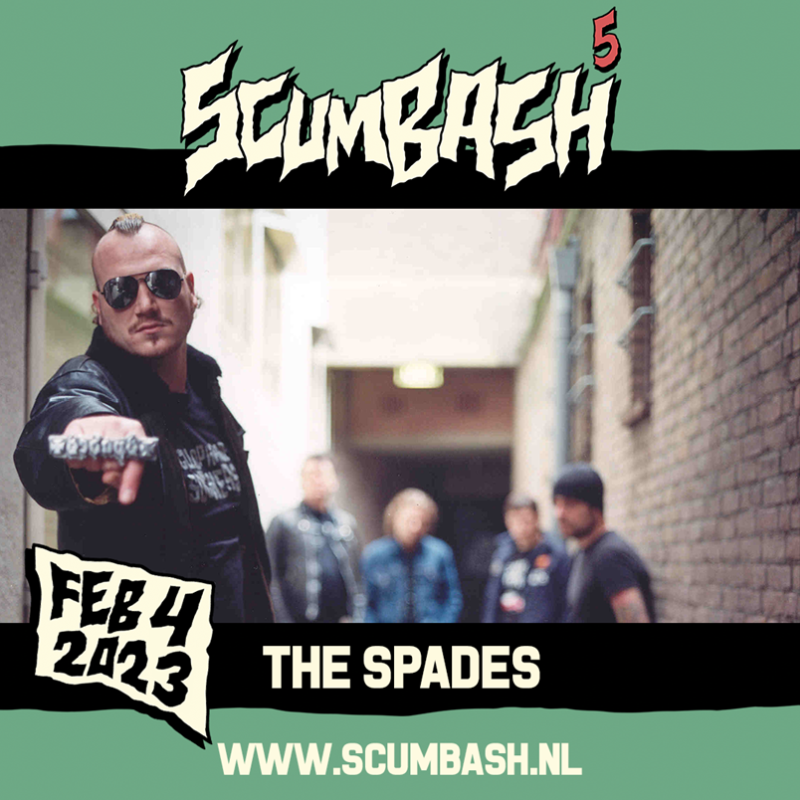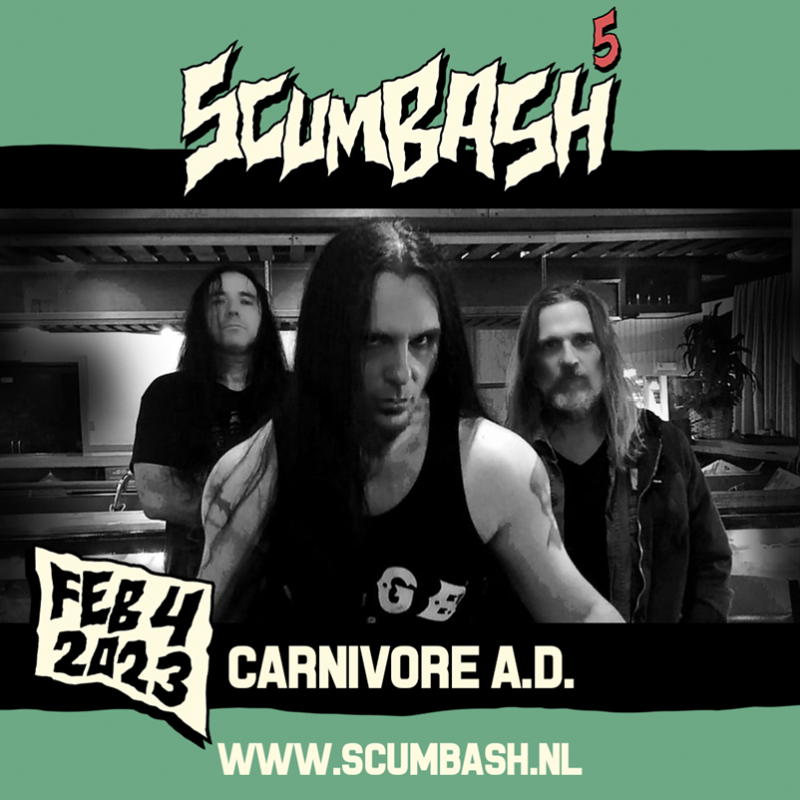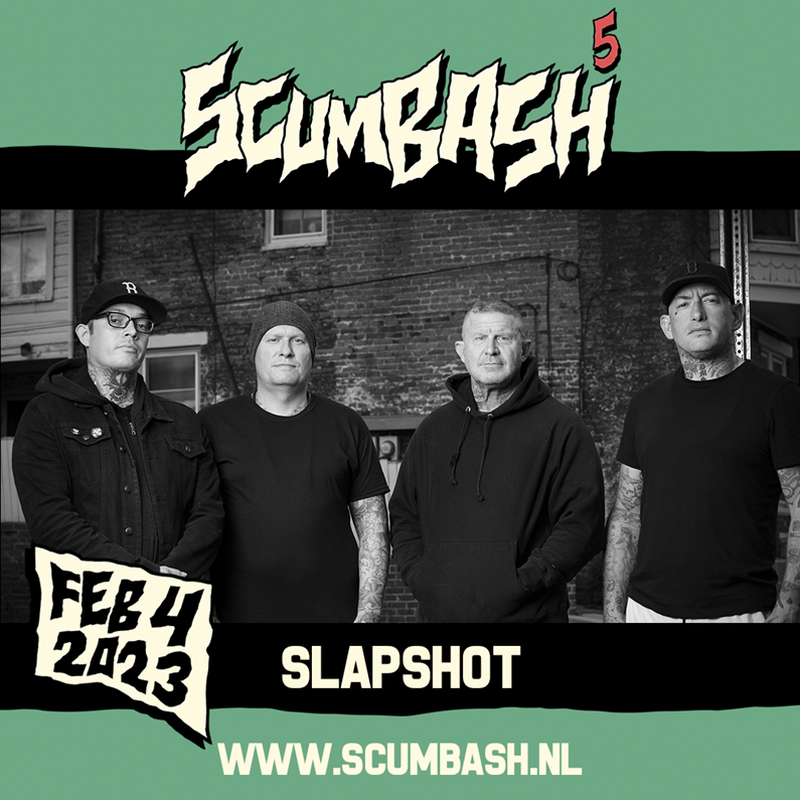 In 2020, 2021 en 2022 ging ScumBash, dat georganiseerd wordt door Schorem Barbier en evenementenorganisatie This Is Live, niet door vanwege coronamaatregelen. ScumBash #5 is dus weer de eerste editie in zes jaar tijd (de laatste vond namelijk plaats in 2017).
De ticketverkoop is inmiddels gestart via www.scumbash.nl. Early Birds kosten €45,- (beperkt beschikbaar); Regular Tickets kosten €49,-.
Reeds gekochte tickets voor 2021 zijn voor de komende editie in 2023 geldig.