PESTILENCE announces split with bass player Joost van der Graaf Dutch progressive death metal band PESTILENCE announces the comng split with bass player Joost van der Graaf. Van der Graaf has been playing with the band for the last 3,5 years and he recorded the band's latest effort 'Exitivm' (out in 2021 on Agonia Records). He was previously a member of I Chaos, Dew Scented, Creepmime and Sinister. The reason given for his departure is the fact he wants to spend more time with his family. 
Pestilence states: 
First off: family comes first, always!! Too bad this day had to come, because we were a very solid team and we will surely miss our good friend Joost van der Graaf. We respect his decision to spend more time with his family. Awesome he is offering to fill in from time to time, if needed.
Joost: After 3,5 years of great times on the road and in the studio it is now time for me to leave this party. Pestilence is one of my alltime favourite metalbands and it was an honor to be a part of this. I'll be playing my last shows in September and it sure feels weird…. I will miss this… to the next bassplayer of this legendary machine I would like to say this: Consider yourself lucky because you're about to work with some great people and have a great time! Thank you Michiel, Rutger and Patrick for the energy, inspiration and good laughs.
Special thanks to all of you Pestilence fans for the constant support and appreciation.
I am looking forward to spending more time with my family.
Therefore PESTILENCE is looking for a permanent replacement for Joost van der Graaf. Preferably a Dutch based bass player with (touring) experience, a great personality, dedication and understanding of music theory. No plectrum players. Since this is a professional endeavor, the new bass player has to be available to tour and play shows around the globe. We have lots planned for 2024. Who will join the PESTILENCE team?Email to

pazuzu187@hotmail.com
PESTILENCE's  last album 'Exitivm' was released on June 25th in 2021 on Agonia Records. The album marked a return to a full Dutch line-up, having previously worked with members from all over the world. Lead singer/guitarist *founder and band leader Patrick Mameli is the only original member of the band.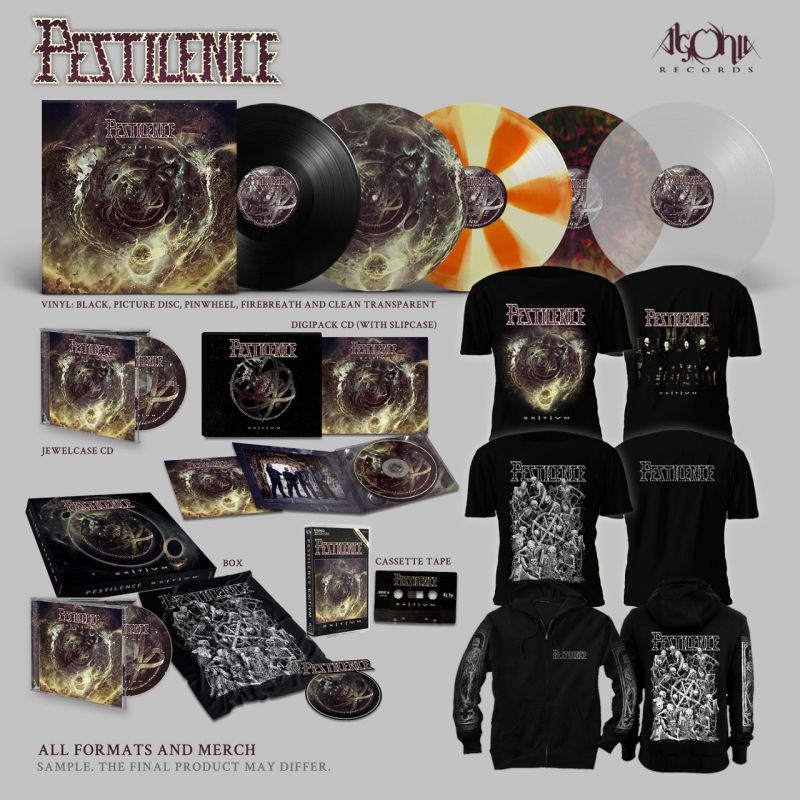 "Exitivm" track listing:
01. In Omnibvs (Intro)
02. Morbvs Propagationem
03. Deificvs
04. Sempiternvs
05. Internicionem
06. Mortifervm
07. Dominatvi Svbmissa
08. Pericvlvm Externvm
09. Inficiat
10. Exitivm
11. Immortvos
12. Personatvs Mortem (Outro)
PESTILENCE "Exitivm" lineup:
Patrizio Mameli – vocals, lead guitars
Rvtger Van Noordenbvrg – lead guitars
Joost Van Der Graaf – bass
Michiel Van Der Plicht – drums