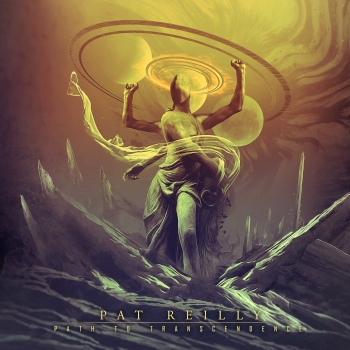 Pat Reilly – Path to Transcendence
Self Released
Release datum: 03 januari 2020
Tekst: Erik Boter – 04 februari 2020
"Reilly, voor vrienden 'Pat the Panther', vergeet in zijn spel één belangrijke factor niet: gevoel."
Pat Reilly is een Amerikaanse gitarist die met dit 'Path to Transcendence' zijn debuutalbum uitbrengt. Wat bij de opener 'Between two Worlds' direct opvalt is dat we hier niet met een Yngwie kloon te maken hebben en dat maakt het luisteren naar deze (nagenoeg) instrumentale plaat al een stuk aangenamer. De opener knalt er namelijk direct keihard uit en wordt gedragen door heerlijke slaggitaarpartijen en dito solo's waardoor je een zanger(es) eigenlijk helemaal niet mist. De plaat is divers, want bij het tweede nummer horen we ineens vogeltjes tweeten (!) en een stemmige piano die 'Emergence' uiteindelijk tot een mooie blues ballade doen vormen.
Reilly, voor vrienden 'Pat the Panther', vergeet in zijn spel één belangrijke factor niet: gevoel. Niet alleen in zijn gitaarpartijen maar ook in sommige toetsen- en zelfs koorstukken is de melancholie te voelen. Daar ontbreekt het nogal eens aan in het dit instrumentale metalgenre. Snel kunnen spelen betekent niet automatisch dat je ook een goede song kunt schrijven of een partij mooi kunt arrangeren. The Panther kan dat zeker wel. Op dit album staan de gitaarsolo's in dienst van het nummer, en niet andersom. Dat sluit mooi aan bij zijn filosofie: 'write for the song, not for the ego'. Waarvan akte. Wat de gitarist verder slim doet, is een paar zangers inhuren (Michael Centrone en Anthony Quiles) die drie van de nummers op dit album voorzagen van zang, zodat je als luisteraar weer even bij de les wordt getrokken voordat al het instrumentale geweld tot verveling kan leiden.
Niet alleen een goede gitarist dus deze Pat Reilly, maar ook een slimme vent met een visie. Reilly speelde overigens ook bas, schreef alle nummers en produceerde ze ook. Een multi-talent dus, die we de komende jaren maar eens goed in de gaten moeten houden.
Check de onderstaande socials voor meer informatie over deze band.