PARTY.SAN Open Air updates line-up for 2020 PARTY.SAN Open Air updates line-up for 2020
PARTY.SAN Open Air gives Arrow Lords Of Metal a heads up for this year's edition of PARTY.SAN Open Air. You can check them in the poster below. The festival will be held in Germany, Schlotheim, from 6 to 8 of August 2020.
Earlier on Carcass was announced as headliner.
The festival declares:
"The guys around Jeff Walker are not only famous for their pioneering work in Grindcore and Melodic Death Metal, but also because they never take themselves too seriously and despite the brutality that the genre brings along, still manage to put a smile on their faces and a can of beer in the hand."
Confirmed so far are:
CARCASS
SHAPE OF DESPAIR
IDLE HANDS
ORIGIN
LUNAR SHADOW
SAOR
REVEL IN FLESH
BORKNAGAR
RAZOR
SINNERS BLEED
ONSLAUGHT
ANOMALIE
FLESHCRAWL
OBSCURITY
SPACE CHASER
ALCEST
DISMEMBER
INFERNÄL MÄJESTY
MANEGARM
GRACELESS
1914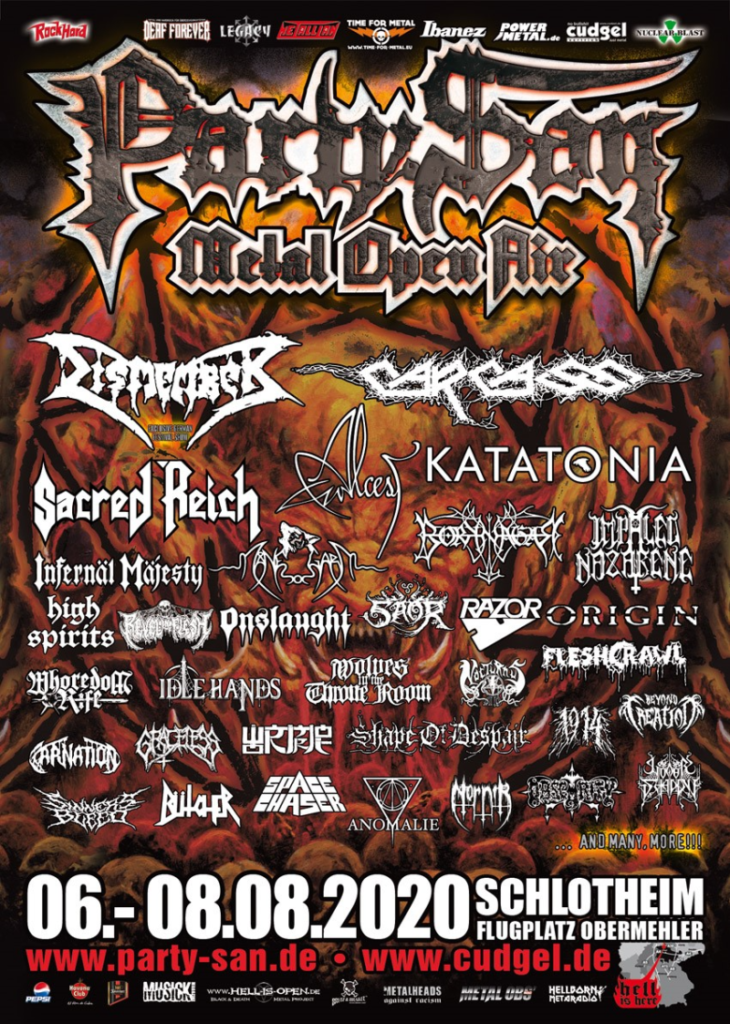 Check de onderstaande socials voor meer informatie over dit festival.