NIGHT VERSES, ITHACA and more finalise COMPLEXITY FEST 2020 line-up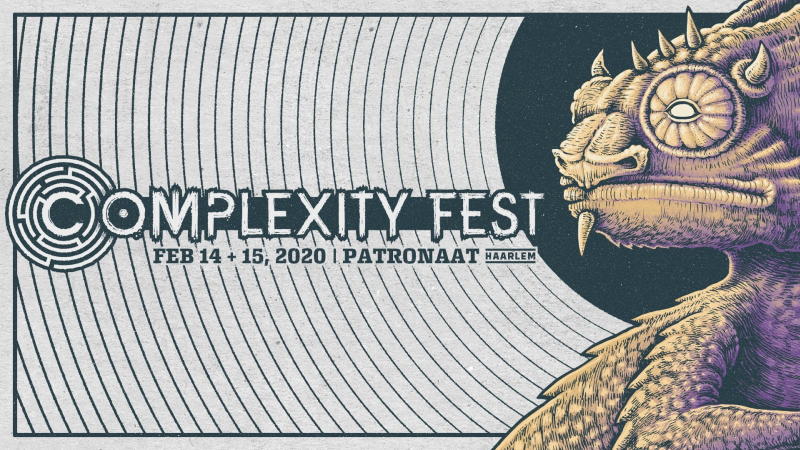 NIGHT VERSES, ITHACA AND MORE FINALISE COMPLEXITY FEST 2020 LINE-UP
BEATEN TO DEATH, ASTROSAUR and MARY FIELDS confirmed for pre-party
Complexity Fest 2020 finalises its line-up for February 15 by adding NIGHT VERSES, ITHACA, COLD NIGHT FOR ALLIGATORS, BIELDERMANN and ZALM to the line-up. Moreover, with the addition of Complexity-alumni BEATEN TO DEATH and MARY FIELDS, and post-rock phenomenon ASTROSAUR the line-up for the pre-party is completed too.
Virtuosic California trio NIGHT VERSES, featuring Fever 333 drummer Aric Improta, is going places in 2020. The group had their big break 'Copper Wasp' EP and full-lenght follow-up 'From The Gallery of Sleep' in 2018 thanks to the complex yet catchy songwriting. Combined with the explosive live shows, with this one being the first in The Netherlands in six years, these guys will leave your jaws on the floor.
UK hardcore crew ITHACA released with 'The Language of Injury' a critically acclaimed debut album that made the AOTY-lists of Treble, Metal Hammer and Revolver. In an overly saturated hardcore scene the album stands out thanks to progressive metal time shifts, a mixture of discordant scrawls and distorted melody, and the passionated howl by frontwoman Djamila Azzouz. This will get you fist-pumping for sure.
COLD NIGHT FOR ALLIGATORS is a forward-thinking progressive metal outfit from Copenhagen, Denmark. Swaying the world with their innovative take on technical metalcore as recorded on their second album 'Fervor' and playing numerous shows including Euroblast, UK Tech-Fest, and even the far east of India, these guys are no freshmen.
Local band BIELDERMANN describe their own music as 'synthesizer fueled country with a dash of weird fx and sound'. Inspired by acts such as Battles, The Dillinger Escape Plan and Tera Melos, the power trio creates loop-based lo-fi electronic music with crashing guitars and heavy synths. Rumour has it that our very own Complexity team-member Thom Lich will join them on stage.
The final addition is noisy one-man-grindpunk-outfit ZALM. Inspired by acts such as Human Suffer and Agoraphobic Nosebleed, the audience gets exposed to a truckloud of noise, molded in extremely short songs and finished off with hilarious and bizarre audio samples. Check out his latest album 'De Populariteit Van Elektrogrind', exclusively released through Instagram Stories
PRE-PARTY
Complexity will have a pre-party on the day before the festival, Friday February 14. And with Beaten To Death, Astrosaur and Mary Fields theye have a line-up that guarantees you get a proper warm-up, if not ending up totally wrecked. Their is free entrance for people already having a ticket for the festival. Check de onderstaande socials voor meer informatie over dit festival.