MEGADETH's DAVE MUSTAINE on WARGAMING's 'Metal Fest': "it's really mindblowing" Wargaming has announced an electrifying collaboration with iconic metal band MEGADETH. A multi-product musical in-game event.
Earlier this month, Wargaming announced an electrifying collaboration with iconic metal  band MEGADETH. A multi-product musical in-game event called Metal Fest is set to bring the thunderous power of metal to four popular products: World Of Tanks Modern Armor; World Of Tanks Blitz; World Of Warships; and World Of Warships: Legends. Kicking off on August 28, Metal Fest is a celebration of the genre, featuring exclusive voiceovers by Dave Mustaine, frontman of MEGADETH; alongside his bandmates James LoMenzo; Dirk Verbeuren; and Kiko Loureiro, as well as an array of MEGADETH-branded in-game items such as tanks and warships, in-game missions and quests, integrated songs, and much more.
The highlight of this collaboration is the introduction of the band's iconic mascot, Vic Rattlehead, who is making his debut appearance in video games with a stunning 3D representation and unique voiceover.
Regarding how the collaboration with Wargaming came about, Mustaine told Screen Rant: "I wish I really knew how the chain of events took place, but I was approached through management. They had said that they had spoken to somebody — and like I said, chicken or the egg, I don't know which came first — but as soon as it got to me, it didn't matter, because the cool factor was there and I wanted to do this. Some of these games, they're super successful games, but they're for people who have no life; sitting around and building igloos and stuff like that, that's not my idea of fun. I like to have interactions with other people and to get some kind of benefit from it. Like with my whole martial arts thing, if there were no ranking system in there, I don't know how many people would really do it. Because a lot of it is the respect that you get from having something on your body that shows other people, 'I don't have to open my mouth, but I'm better than you.' And it's only in martial arts, it's not like you get a belt for being in home ec, like, 'I make better cookies than you, Deven, I've got a black apron.' (Laughs)"
Elaborating on the "cool factor" that he said was "there" with Wargaming, Mustaine said: "Well, I think first off the history of the game. It's one of those games that has survived through all the different phases of games coming and going. The infrastructure is something that I was really surprised to see how many people were involved in and how finely tuned the mechanism of the Wargaming business was. I knew them from their spokesman Arnold Schwarzenegger; I'd seen that and thought it was a great ad. We had our own association with Arnold from the 'Last Action Hero' movie, and I remember I thought, 'Shit, if it's good enough for Arnold, it's good enough for us.' And the graphics have been great; it's really mindblowing. I like the fact they made me look a little younger and a little bit more dashing. So far everything's great and I'm really looking forward to immersing myself in the game and playing it with my friends."
Join Wargaming Metal Fest at megadeth.wargaming.net.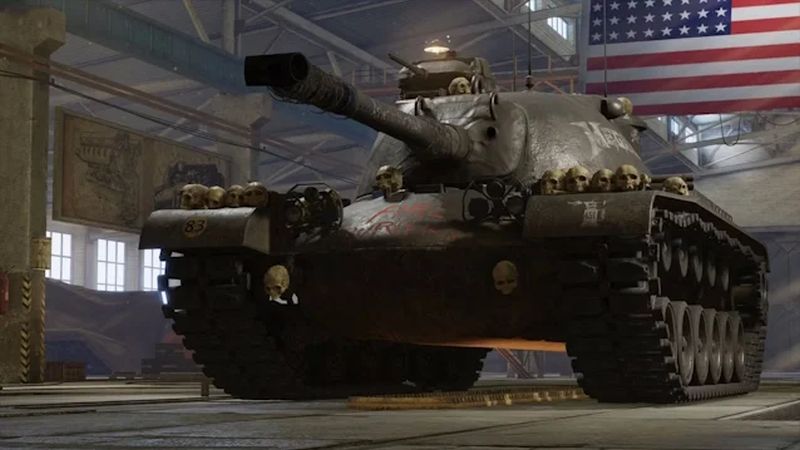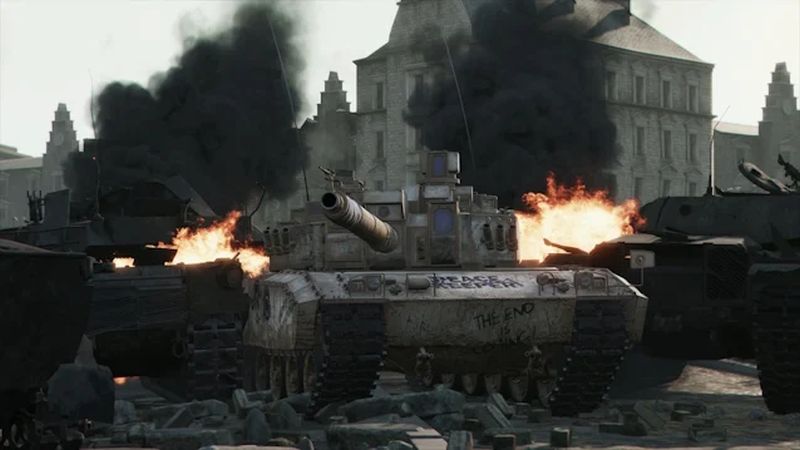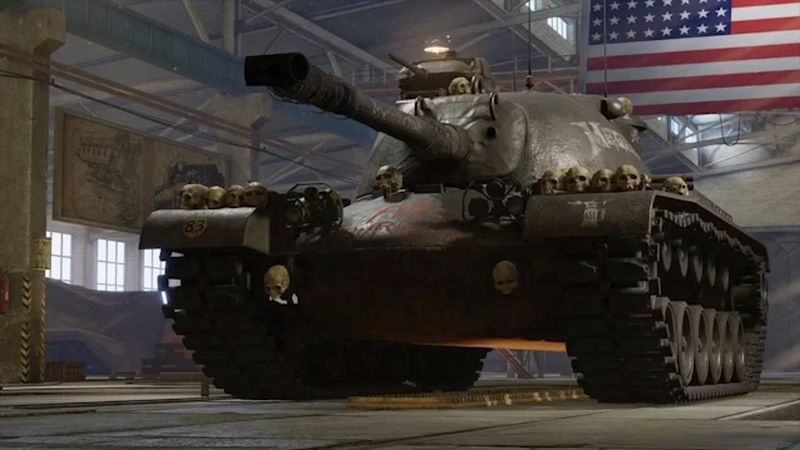 World Of Tanks Modern Armor (August 29 – September 25, 2023)
Players will be able to complete Challenges to unlock various MEGADETH-themed rewards. Two new tanks inspired by the albums "Peace Sells…But Who's Buying?" and "The Sick, The Dying… And The Dead!" will make their debut in the Store. Vic Rattlehead will appear as an exclusive 3D Commander, while Dave Mustaine, James LoMenzo, Dirk Verbeuren and Kiko Loureiro will be added as 2D Commanders, all with their own unique voiceovers. Tankers will enjoy two MEGADETH songs ("Soldier On!" and "Peace Sells") in the Garage if they own the MEGADETH tanks, fueling the adrenaline of battles with pure rock power.
World Of Tanks Blitz (August 29 – September 3, 2023)
World Of Tanks Blitz players can join in the action with a dedicated MEGADETH quest, offering exclusive prizes such as static and animated camos inspired by various MEGADETH album covers; a unique tank skin inspired by the "Peace Sells…But Who's Buying?" album for the Chieftain Mk. 6; avatars; and collectible items. An exact replica of Dave Mustaine's guitar will create a special atmosphere in the Hangar, as players dive into thrilling metal-infused battles.
World Of Warships PC (August 28 – September 13, 2023)
World Of Warships players will be engaged in special missions to obtain exclusive Commanders! Dave Mustaine will be immortalized as a ship Commander with an original voiceover, and Vic Rattlehead will also join the fray, issuing orders with a menacing voice. As the final reward, the powerful Death Ray patch will be granted, marking conquerors of the seas with true metal prestige.
Additionally, two special bundles holding ship Commanders will also be available. Players who obtain the "Megadeth: Set The Seas Afire" bundle will also receive ferocious cruiser Rattlehead inspired by the "Rust In Peace" album cover as a bonus. When playing this ship, you will hear the famous "Tornado Of Souls" song from the same album, making battles even more intense.
World Of Warships Legends (August 28 – October 2, 2023)
In World Of Warships: Legends, players will be rewarded with cruiser Rattlehead, and while helming her, Captains can also embrace guises for both Dave and Vic as rewards. Moreover, players can also obtain a themed patch and flag featuring the band's logo and Vic's head, displaying their loyalty to the metal legends.
Wargaming is an award-winning online game developer and publisher headquartered in Nicosia, Cyprus. Operating since 1998, Wargaming has grown to become one of the leaders in the gaming industry with 16 offices around the world, including studios in Chicago, Prague, Shanghai, Tokyo, Vilnius, Kyiv, and Belgrade. Millions of players enjoy Wargaming's titles across all major gaming platforms. Wargaming's flagship products include the free-to-play hits World Of Tanks, World Of Warships and World Of Tanks Blitz.
MEGADETH is an iconic American metal band who have shaped and revolutionized the sound of the genre. Led by Mustaine, the band has sold over 50 million records worldwide. MEGADETH is a signature touchpoint of the metal lifestyle, and their brand has grown into a recognizable point of rock and metal culture.