MOONSPELL announces first part of 30th anniversary tour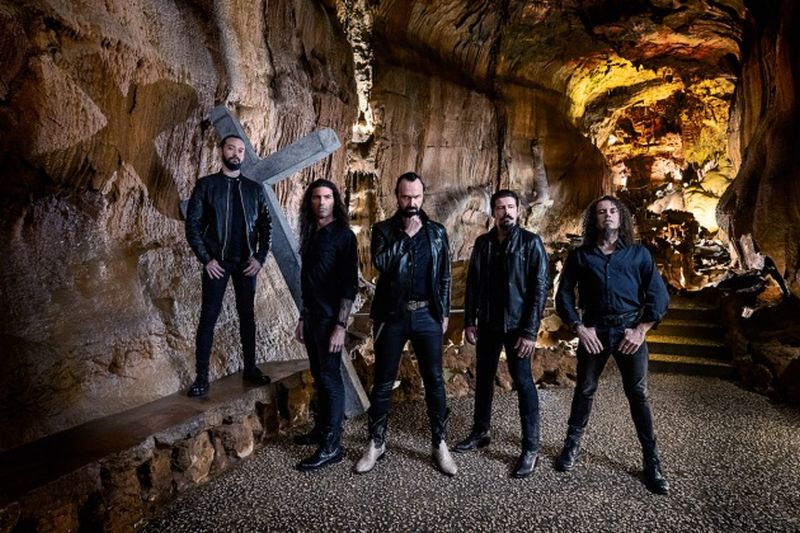 As the Portuguese pioneers of dark metal, MOONSPELL, are approaching their 30th anniversary as a band more ambitiously and stronger than ever, 2022 will see them celebrating their impressive career with a busy touring schedule and many more highlights to come. Aside an extensive UK run with PARADISE LOST, as well as the previously announced "Ultima Ratio Fest" tour featuring the high class line-up of MY DYING BRIDE, BORKNAGAR, WOLFHEART and HINAYANA in the Fall of 2022, now MOONSPELL have revealed a first tour leg of their "The Greater Tour" 30th anniversary!
Kicking off on May 10, 2022 in Romania, the undisputed kings of the dark will furthermore play Bulgaria, Greece and a bunch of shows in Turkey, with many more dates to come. Says MOONSPELL frontman Fernando Ribeiro:
"We are happy to present you with a few assorted dates, part of the greater plan, or, namely, THE GREATER tour, that we intend to expand worldwide, to celebrate Moonspell's third decade together. Besides supporting the might Paradise Lost in February or team up with such luminaries like My Dying Bride, Borknagar and Wolfheart in October's 2022 darkest tour (Ultima Ratio Fest), our plan is more and further, coming back to places where were have been so happy in the past and who knows, venture into territories we never been before…before we get extinct. Not going to happen soon as 2022 looks promising with shows, festivals, more touring, a handful or two of commemorative reissues of old material like Anno Satanae demo, Wolfheart LP box, etc all to celebrate in style our thirty turns around the moon.
Blessed be, happy anniversary under the spell!" One can be sure, MOONSPELL will celebrate their anniversary in style, and their upcoming live performances will contain an exciting blend of timeless classics and modern MOONSPELL anthems! Make sure to howl with the wolves, when they will play live at the following, memorable dates of "The Greater Tour" with tickets on sale now:
May 10th 2022 (RO) CLUJ-NAPOCA – Form Space
May 12th 2022 (RO) BUCHAREST – Arenele Romane
May 14th 2022 (BG) SOFIA – Sofia Metal Fest
May 16th 2022 (TR) ISTANBUL – KucukCiftlik Park
May 17th 2022 (TR) ANKARA – Jolly Joker Ankara
May 18th 2022 (TR) IZMIR – Sold Out Performance Hall
May 20th 2022 (GR) ATHENS – Fuzz Live Music Club
May 22th 2022 (GR) THESSALONIKI – Principal Club Theater
More MOONSPELL Live Dates:
+ PARADISE LOST

Feb 11th 2022 – Glasgow, UK @ The Garage
Feb 12th 2022 – Newcastle, UK @ Riverside
Feb 13th 2022 – Wolverhampton, UK @ KK's Steel Mill
Feb 14th 2022 – Nottingham, UK @ Rescue Rooms
Feb 16th 2022 – Manchester, UK @ Club Academy
Feb 17th 2022 – Bristol, UK @ SWX
Feb 18th 2022 – London, UK @ Electric Ballroom
April 22th 2022 – Rabat, MT / Dark Malta Festival *Moonspell only
June 24th 2022  Clisson, FR / Hellfest *Moonspell only
August 4th – 06th 2022 – WACKEN OPEN AIR, GER *Moonspell only
"Ultima Ratio Fest" 2022:
MOONSPELL
+ MY DYING BRIDE
+ BORKNAGAR
+ WOLFHEART
+ HINAYANA
29.09.2022 (DE) FRANKFURT – Batschkapp
30.09.2022 (DE) LEIPZIG – Hellraiser
01.10.2022 (BE) ANTWERP – Trix
02.10.2022 (LU) LUXEMBURG – Den Atelier
03.10.2022 (FR) PARIS – Elysee Montmatre
04.10.2022 (FR) LYON – Transbordeur
05.10.2022 (CH PRATTELN – Z 7
06.10.2022 (DE) STUTTGART – LKA
07.10.2022 (DE) GEISELWIND – Music Hall
08.10.2022 (DE) MUNICH – Backstage Werk
09.10.2022 (CZ) BRNO – Sono
10.10.2022 (HU) BUDAPEST – Barba Negra
11.10.2022 (AT)  VIENNA – Arena
12.10.2022 (PL) WROCLAW – A2
13.10.2022 (DE) BERLIN – Kesselhaus
14.10.2022 (DE) HAMBURG – Markthalle
15.10.2022 (DE) OBERHAUSEN – Turbinenhalle
16.10.2022 (NL) UTRECHT – Ronda