RAMMSTEIN'S Richard Z Kruspe gets Fluence signature pickup set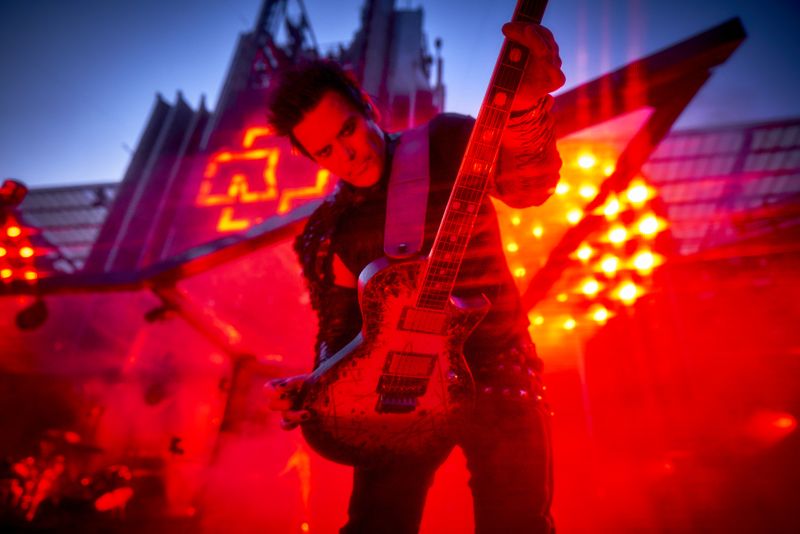 (ANDOVER, MA – August 9, 2023) – Fishman is proud to launch the new Richard Z Kruspe (RZK) Signature Series pickup set. RZK is the world-renowned lead guitarist of the industrial band Rammstein, famous for their incendiary live performances and loyal fan base. This Fluence Signature Series set is one of the first to introduce three distinct sounds into the Modern ceramic and Modern alnico humbuckers with a hybrid magnet configuration. Based on the company's Modern Humbuckers, Fishman added a Voice 3 to each pickup with a true, crystal-clear single coil tone, available alongside the two voices that RZK already loves. SPECIFICATIONS
|   | NECK HUMBUCKER | BRIDGE HUMBUCKER |
| --- | --- | --- |
| PEAK FREQUENCY | Voice 1: 650 Hz Voice 2: 420Hz / 8 kHz Voice 3: 4.7 kHz | Voice 1: 630 kHz Voice 2: 1.8 kHz Voice 3: 4.5 kHz |
| MAGNETIC MATERIAL | Alnico V | Ceramic VIII |
| MAGNETIC CIRCUIT | Hybrid | Hybrid |
| OUTPUT IMPEDANCE | 2k | 2k |
| POLE SPACING | 49 mm | 52.6 mm |
| CURRENT DRAW | 2.6mA | 2.7mA |
| BATTERY | 9-Volt or optional rechargeable battery pack | 9-Volt or optional rechargeable battery pack |
| BATTERY LIFE | Up to 200 hours | Up to 200 hours |
The hybrid magnet design utilizes Alnico V in the neck pickup and Ceramic VIII in the bridge. Available in sets of metallic red and brushed stainless finish, these pickups deliver all the tones and sonic versatility that RZK needs.

The collaboration began over a year ago as Rammstein was about to tour, playing some of the largest stadiums to sold out audiences all over the world. It proved the be the perfect opportunity to put Fluence pickups to the test.
"RZK initially found himself gravitating towards the captivating tones of the Modern Series Humbuckers. However, it was a transformative encounter with our innovative hybrid magnet design that truly left a mark on him," Fluence Brand Manager Ken Susi recalls.
 
"The intriguing blend of the blade's smooth decay and the poles' orchestrated chaos resonated harmoniously with his unique sound. As a fitting final touch, Richard's sonic journey was elevated by the addition of metallic red covers, adding a visual flair that complemented his artistic vision perfectly."
 
RZK said this about his pickups, "If American pioneer spirit and German precision come together, a new pickup is born. The Fluence RZK Signature Series….. Powerful, reliable, tight and unmistakable."
The self-professed "guitar geek" knew exactly what he was looking for when he discovered Fishman Fluence Modern Humbuckers.
Fluence Brand Manager Ken Susi said, "Richard is a bona-fide rock star who knows tone, knows gear, and seeks perfection. A true performer in every sense of the word, he needed a pickup thar would perform to the level he demands of himself and his music."
For over 40 years, Fishman has been providing musicians with high-quality gear that empowers—and inspires—them to discover their own unique, authentic sound. Fishman's ongoing commitment to professional sound and quality has helped the company grow to become an industry leader in amplification, effects, and pickups for acoustic and electric instruments, MIDI control, and other product categories. Around the world and night after night, Fishman products are proudly played by musicians on stages big and small.
EMIGRATE released its fourth album, "The Persistence Of Memory", on November 5, 2021. 
"The Persistence Of Memory", which was named after a Salvador Dalí painting, features the following tracks:
01. Rage
02. Always On My Mind (feat. Till Lindemann)
03. Freeze My Mind
04. Yeah Yeah Yeah
05. Come Over
06. You Can't Run Away
07. Hypothetical
08. Blood Stained Wedding
09. I Will Let You Go
As a member of RAMMSTEIN, the music world's most explosive live act, Kruspe has been part of a ground-breaking global success story that continues to build and to ignite; along the way, he's turned his attention to a number of parallel projects, such as constructing a studio (and a home) in his native Berlin, but it's his decision to launch the EMIGRATE setup that has given him the greatest chance to satisfy creative instincts outside of the parent group.
The first EMIGRATE album appeared in 2007 (a self-titled record that went Top 10 in Germany, with single/video "My World" appearing on the soundtrack to the third "Resident Evil" movie); "Silent So Long" followed in 2014, featuring guest vocals from such high-profile artists as Marilyn Manson, Jonathan Davis, Peaches and the legend that will always be Lemmy. EMIGRATE's third album, "A Million Degrees" came out in November 2018 and was described as "less a successor to 'Silent So Long' and more a re-booted take on the overall concept, continuing Kruspe's desire to craft something personal."
"I really want the freedom to collaborate with different people and to explore different kinds of music," Kruspe explained when "A Million Degrees" was first released, "to express myself as both a writer and a singer away from deadlines, timelines and other such restrictions. The idea is to keep experimenting and to keep challenging myself. Plus, EMIGRATE works in an organic way, so musicians can come and go, and it's still okay, it's positive…"
RAMMSTEIN's seventh, untitled album came out in May 2019 via UME/Spinefarm in Europe and Caroline Records in the U.S.