KRISIUN release video "Serpent Messiah" Krisiun announce their new studio album "Mortem Solis", to be released on July 29th, 2022 via Century Media Records. In anticipation of the new album release, a new track entitled "Serpent Messiah" is being launched as its first single and can also be seen in a video directed by Estevam Romera.
Watch "Serpent Messiah" below.
For the group's 12th album, the trio – brothers Alex Camargo (bass/vocals), Max Kolesne (drums) and Moyses Kolesne (guitars) – recorded their new material locally at Family Mob Studio (Ratos De Porão, Crypta) in São Paulo, Brazil and mixed/Mastered with Mark Lewis (Kataklysm, Deicide, The Black Dahlia Murder, etc.) in Nashville, Tennessee. "Mortem Solis" comes with artwork (To be seen above!) designed by Marcelo Vasco (Slayer, Venom, Dark Funeral) and this is the album's track-listing:
Krisiun – "Mortem Solis":1. Sworn Enemies 2. Serpent Messiah 3. Swords into Flesh 4. Necronomical 5. Tomb of the Nameless 6. Dawn Sun Carnage (Intro) 7. Temple of the Abattoir 8. War Blood Hammer 9. As Angels Burn 10. Worm God "Mortem Solis" – which is Latin for "Death of the Sun" – will be available as limited edition Digipak (with the exclusive bonus track "Death of the Sun), as Digital Album and as LP on 180g. vinyl in the following variants: Black LP – Unlimited Transparent Orange LP – Limited to 300x copies via CM Distro & Webshop Europe Clear LP – Limited to 300x copies via EMP Golden LP – Limited to 300x copies via Nuclear Blast The pre-sale for Krisiun's "Mortem Solis" album starts today AT THIS LOCATION.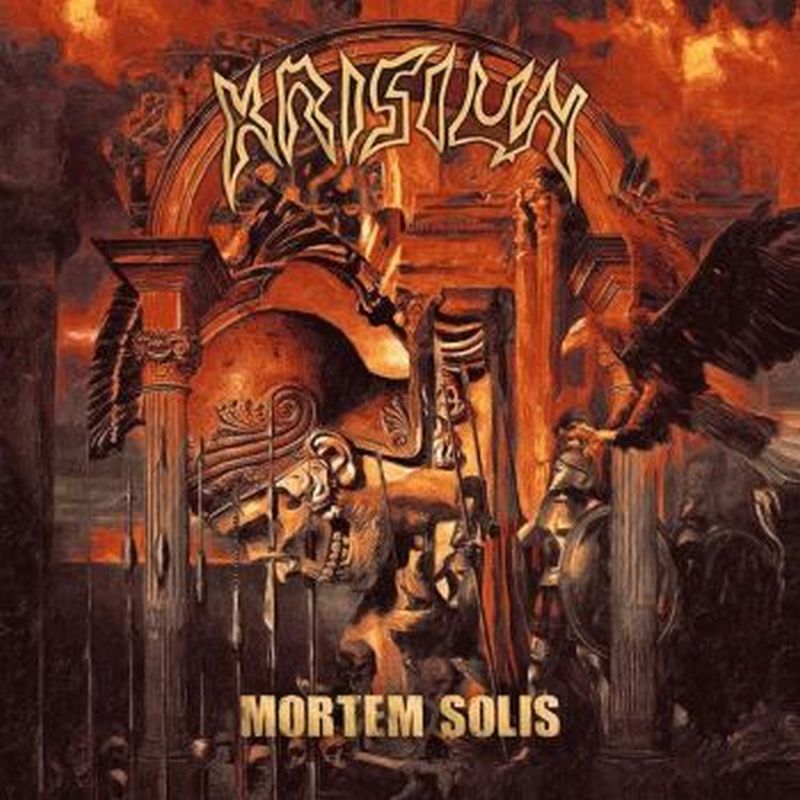 Krisiun – Live 2022:Krisiun – European Summer Festivals:12.-14.08.2022 Kortrijk (Belgium) – Alcatraz Festival 18.-21.08.2022 Saint-Nolff (France) – Motocultor Festival  18.-20.08.2022 Moravsky Kumlov (Czech Republic) – Rock Castle Krisiun – European Tour with Nile and more:02.11.2022 Poznań (Poland) – U Bazyla 03.11.2022 Berlin (Germany) – ORWO Haus 04.11.2022 Bochum (Germany) – Matrix / End Of Days Fest05.11.2022 Louvain-la-Neuve (Belgium) – Mass Deathtruction Fest06.11.2022 London (UK) – The Garage 07.11.2022 Manchester (UK) – Rebellion 08.11.2022 Glasgow (UK) – Slay 09.11.2022 Belfast (N. Ireland) – Limelight 2 10.11.2022 Dublin (Ireland) – Button Factory 11.11.2022 Coventry (UK) – HMV Empire 12.11.2022 Lille (France) – Tyrant Fest 13.11.2022 Nantes (France) – Warehouse 14.11.2022 Paris (France) – Nouveau Casino 16.11.2022 Trier (Germany) – Mergener Hof 17.11.2022 Lyon (France) – CCO 18.11.2022 Marseille (France) – Jas Rod 19.11.2022 Tarbes (France) – La Gespe 21.11.2022 Pamplona (Spain) – Totem 22.11.2022 Madrid (Spain) – Cool Stage / Story Live 23.11.2022 Porto (Portugal) – Hard Club 24.11.2022 Lisbon (Portugal) – RCA Club 25.11.2022 Sevilla (Spain) – Custom 26.11.2022 Murcia (Spain) – Garaje 27.11.2022 Barcelona (Spain) – Boveda 29.11.2022 Luzern (Switzerland) – Schuur 30.11.2022 Milan (Italy) – Slaughter Club 01.12.2022 Rome (Italy) – Largo Venue 02.12.2022 San Dona di Piave (Italy) – Revolver 03.12.2022 Ljubljana (Slovenia) – Orto Bar 04.12.2022 Wien (Austria) – Szene 05.12.2022 Munich (Germany) – Backstage07.12.2022 Zwolle (The Netherlands) – Hedon08.12.2022 Rotterdam (The Netherlands) – Baroeg 09.12.2022 Helmond (The Netherlands) – Cacao Fabrik 10.12.2022 Bad Oeynhausen (Germany) – Druckerei 11.12.2022 Hamburg (Germany) – Gruenspan And many more dates as well as further details for Krisiun's "Mortem Solis" release to be announced soon…