JON OLIVA fractures spine: "I slipped on a wet marble floor"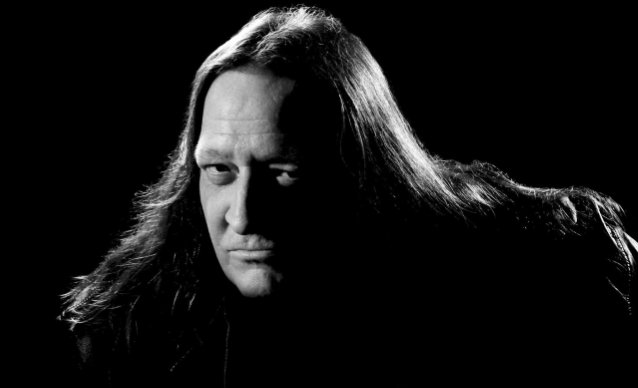 In a new interview with Monsters, Madness And Magic, SAVATAGE leader Jon Oliva offered an update on new music from the cult metal outfit.
He said: "Well, we were working on a new SAVATAGE record until I fractured my spine, and so we have to put that off now until the first of the year. I slipped on a wet marble floor and I fractured my T7 vertebra. It is very painful; I'm actually in a lot of pain right now. I have to wear this kind of like a harness vest support thing for four months."
This past April, Oliva told Sakis Fragos of Greece's Rock Hard that the next SAVATAGE album would "fuck people up. It's that good." He added: "I've made these mistakes before. I'm not making these mistakes now. I'm not rushing it… No fucking way. 'Cause this will probably be the last album we ever do. And I'm gonna make sure that it's a 10 out of a 10."
Oliva went on to say that there were plenty of ideas to choose from for SAVATAGE's upcoming LP. "I have enough material right now for three albums," he told Rock Hard. "And what I'm going to do is I'm going to condense it down. I'm gonna try to condense it down to one album with three bonus tracks. I'm gonna record everything when I get the guys down here. So we're gonna record all the shit that we've got. And in case I wanna do another album, I'll have it all ready to go. That's the gameplan."
Regarding the musical direction of the new SAVATAGE material, Jon said: "Some of this shit is really strong. I'm even looking at myself going, 'Holy shit. This is really strong.' And the fact that you're gonna have me and SAVATAGE singer Zak (Stevens) sharing the vocals and doing songs together in like a duet thing, is even more… it blows me away. I purposely wrote five or six songs specifically for Zak to sing. And then I worked on a lot of songs with Al Pitrelli (guitar)  that are definitely, 'These are Oliva songs.' And then we have a couple of big epic songs.
"This is gonna be the best album I ever made," Oliva promised. "Unless I kill myself. All I know is that the SAVA fans are gonna be fucking blown away when they hear this. They're gonna be blown away. I wasn't gonna do the SAVATAGE thing and just do a half-assed album. If I'm doing this album, it's gonna be the best album I've ever done. 'Cause when I go out, I wanna go out on top."
Jon went on to say that a new SAVATAGE song called "For The Man Who Would Be King" is one that he sometimes refers to as "the new 'Morphine Child'," a nod to the track on SAVATAGE's 2001 album "Poets And Madmen". "And that's one that me and Zak are gonna do together," he explained. "And then it's got this big middle section that's all these QUEEN, operatic-style vocals. I'm, like, 'Wow, this is gonna be epic.'"
Regarding which other musicians will be involved in the recording process for the new SAVATAGE album, Jon said: "I'm gonna have former SAVATAGE drummer Steve Wacholz come in and play on a couple of songs. But Jeff Plate (drums), Johnny (Lee Middleton, bass), Al Pitrelli (guitar), Chris Caffery (guitar), Zak, me, and on a couple of things I'm gonna have Jane Mangini (TRANS-SIBERIAN ORCHESTRA keyboardist) come in and play. And maybe the Ukrainian guy Vitalij Kuprij… 'Cause I have a couple of things that are beyond my capabilities of playing, and I figured instead of me spending a month trying to play this, I'll have one of these guys… My keyboard players with TSO, they're some of the best in the world — by far. So I'm, like, 'Oliva, are you stupid? Why you are gonna sit there and try to…? You can't do it. With four arms you couldn't do it.'"
He continued: "I'm getting everybody involved from the beginning. I want it to be a full-band album, all of us working together. And it's gonna be great."
Asked about a possible title for the new SAVATAGE album, Jon said: "The working title is 'Curtain Call', but I don't know if that's gonna be it. 'Cause the very last song that's gonna be on the album is this song called 'Curtain Call', and it's just me with a piano, and it's very deep. It's basically me singing to the fans, telling them all goodbye and thank you. Every time I hear it, I cry. Everybody I played it for cries. It's just very deep. But it's my way of saying goodbye to everybody. 'Thank you. I love you all. And this is my final goodbye. Thank you. Have a good life. And do whatever.' So I think I'm gonna call it 'Curtain Call', but it's not in stone yet."
Zak joined SAVATAGE in 1992 as the replacement of Oliva. Zak sang on four albums with the band — "Edge Of Thorns" (1993),"Handful Of Rain" (1994),"Dead Winter Dead" (1995) and "The Wake Of Magellan" (1997) — before departing in 2000, allowing Jon to return. Both Jon and Zak took part in SAVATAGE's 2015 performance at Wacken Open Air, which marked the band's first, and only so far, appearance on stage since they went on hiatus back in 2002.
SAVATAGE's last album release, "Poets And Madmen", in 2001 was highlighted by Jon's return as lead vocalist, replacing Zak, who left the band citing family reasons, and the departure of guitarist Al Pitrelli, who accepted an offer to join MEGADETH in 2000. Pitrelli did record solos for some songs prior to his departure. Another very limited U.S. tour followed, supported by FATES WARNING in the early shows, and then NEVERMORE for the remainder. Around this time, Jon chose Zak's replacement in the form of Damond Jiniya (DIET OF WORMS). Damond performed Zak's parts on tour, with Jon having an increased vocal role in proceedings.
In September 2021, Jon Oliva was arrested on the west central coast of Florida for driving under the influence as well as possession of a controlled substance. Police charged Oliva with possession of cocaine, which is a felony, and DUI, which is a misdemeanor.