IRON MAIDEN announces official coloring book with FANTOONS Fantoons has announced the release of Iron Maiden: The Official Coloring Book, on July 19, 2022, for a list price of $17.99. The book is also available at the best bookstores nationwide and around the world.
Fans who purchase in advance will receive an IRON MAIDEN limited-edition decorative cereal box with their book. Available only at Fantoons.shop.
Iron Maiden: The Official Coloring Book
 is a mega-coloring book with 72 pages of spectacular art — a celebration of 
IRON MAIDEN
 from every possible angle drawn by the award-winning 
Fantoons Animation Studio
. This officially licensed 
IRON MAIDEN
 coloring book features spectacular illustrations all inspired by the band's thunderous discography, and of course, 
Eddie
… the most iconic metal music mascot of all-time.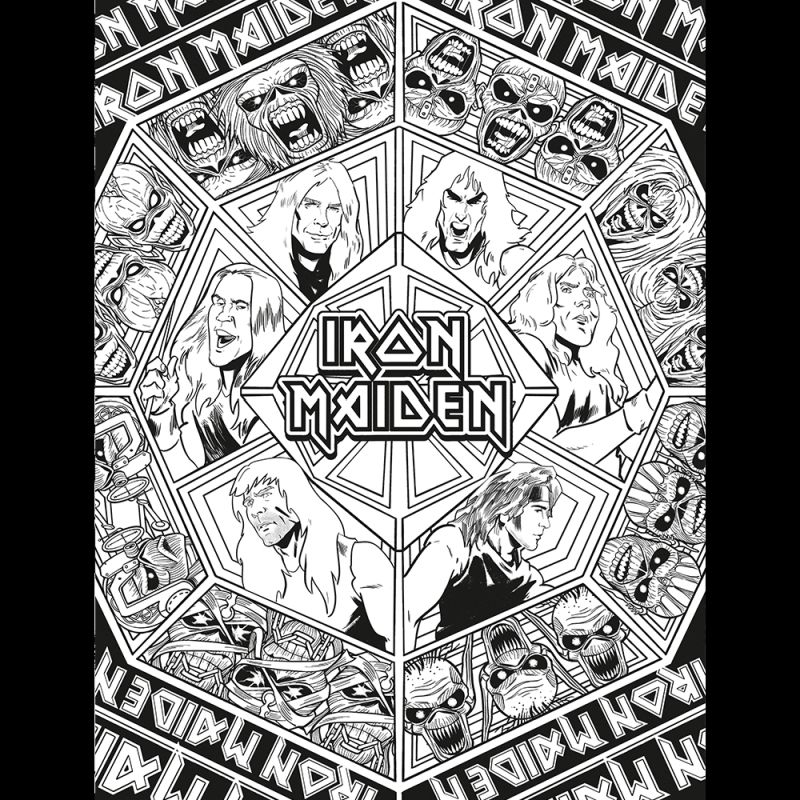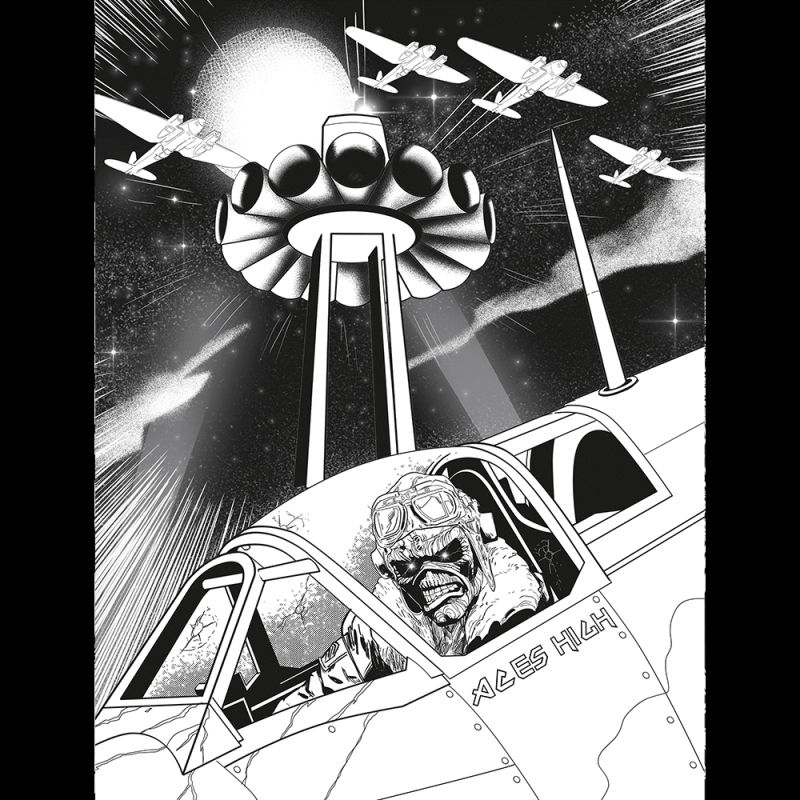 Created by artists of the award-winning animation studio (and huge fans of the band) Fantoons, this official IRON MAIDEN coloring book showcases artwork inspired by the band's exhilarating sound, gripping storytelling and humor. Choose your colors, crank the music loud and enjoy this unique coloring book from one of the greatest bands of all time. A must-have for any IRON MAIDEN fan.
With over 2,000 live performances, 100 million record sales, millions of fans around the globe, and 17 monumental studio albums, IRON MAIDEN is rightfully heralded as one of the most significant rock bands in the world. Alongside their incredible riffs, IRON MAIDEN's vast catalog of music paints a collage of mesmerizing imagery and weaves unforgettable and haunting tales.
Earlier this year, IRON MAIDEN singer Bruce Dickinson confirmed that the band is planning to stage a tour where it will perform its new album, "Senjutsu", in its entirety. The 63-year-old singer told the "Talk Is Jericho" podcast: "The plan we've got — it's not really a secret; I think everybody else has chatted about it — we will, I hope, we've talked about doing the entire(['Senjutsu') album start to finish, but not this time around. And we all appreciate that that is something that really diehard fans will probably love and other people will go, 'Hmmm, I'm not gonna go see that.' So the answer is you play smaller venues so that they sell out with just your diehard fans. 'Cause it's a musical thing to do — it's a musical thing."
Dickinson went on to clarify that the 2022 leg of MAIDEN's "Legacy Of The Beast" tour, which is scheduled to hit North America in September and October, will once again focus primarily on a decades-spanning setlist of fan favorites.
"The 'Legacy Of The Beast' tour, people have all paid their money to see the 'Legacy Of The Beast' show, with Spitfires and flamethrowers and Icarus and everything that goes with," he said. "So they're gonna get all that. But the first three tracks are probably gonna be the first three tracks on the 'Senjutsu' album. 'The Writing On The Wall' they already know, so everybody should know the first three tracks. And I just think the 'Senjutsu' title track is just such a great opening song — so dramatic. And then once you've done that — and we'll have a stage set to go with it — once you've done that, you're back to the kind of 'Legacy' world at that point. But I think 'The Writing On The Wall' is gonna be a great song — I mean, a crowd singalong song. You can imagine that. It'll be fantastic."
Addressing the fact that MAIDEN infuriated some fans by forcing them to sit through the band's then-new, 75-minute "A Matter Of Life And Death" album on tour in 2006, denying the crowd the greatest hits they'd come for, Bruce said: "Nobody has to buy a ticket. If you don't wanna go see us play an entire new album live, you don't buy a ticket. It's gonna be plain as the nose on your face. This is gonna be what they're gonna do. So given that, don't complain that they did what they said they were gonna do."
Clocking in at a hefty 82 minutes, "Senjutsu" came out in September. It marks MAIDEN's second consecutive double album behind 2015's "The Book Of Souls" which is the longest MAIDEN album, with a running time of 92 minutes.
IRON MAIDEN's first album in six years, "Senjutsu" was recorded in 2019 in Paris with longstanding producer Kevin Shirley and co-produced by bassist Steve Harris. It features three tracks whose running time exceeds 10 minutes each.
For "Senjutsu" — loosely translated as "tactics and strategy" — the band once again enlisted the services of Mark Wilkinson to create the spectacular Samurai-themed cover artwork, based on an idea by Harris.
"Senjutsu" bowed at No. 3 on the Billboard 200 chart, charting higher than even the band's early classics like "Powerslave" and "The Number Of The Beast". Nearly 90 percent of the LP's 64,000 equivalent album units earned came from pure album sales. The critically acclaimed double album debuted one place higher than 2015's "The Book Of Souls" and 2010's "The Final Frontier", which both peaked at No. 4.
"Senjutsu" was MAIDEN's 13th album to top in the Top 40 in the U.S.
According to Billboard, "Senjutsu" logged the second-largest week of 2021 for a hard rock album in both equivalent album units earned and in traditional album sales.
"Senjutsu" topped the charts in several European countries upon its release, including in Belgium, Finland, Germany, Italy, Sweden and Switzerland. The full track listing is:
01. Senjutsu (8:20) (Smith/Harris)
02. Stratego (4:59) (Gers/Harris)
03. The Writing On The Wall (6:13) (Smith/Dickinson)
04. Lost In A Lost World (9:31) (Harris)
05. Days Of Future Past (4:03) (Smith/Dickinson)
06. The Time Machine (7:09) (Gers/Harris)
07. Darkest Hour (7:20) (Smith/Dickinson)
08. Death Of The Celts (10:20) (Harris)
09. The Parchment (12:39) (Harris)
10. Hell On Earth (11:19) (Harris)
"Senjutsu" was released on the following formats and available to order/save at www.ironmaiden.com:
* Standard 2CD Digipak
* Deluxe 2CD Book Format
* Deluxe heavyweight 180G Triple Black Vinyl
* Special Edition Triple Silver And Black Marble Vinyl (Details to follow)
* Special Edition Triple Red and Black Marble Vinyl (Details to follow)
* Super Deluxe Boxset featuring CD, Blu Ray and Exclusive Memorabilia
* Digital album [streaming and download]
IRON MAIDEN hadn't released any fresh music since 2015's "The Book Of Souls" LP, which was recorded in late 2014 in Paris, France with Shirley.
"The Book Of Souls" was the longest MAIDEN album, clocking in at 92 minutes, with lyrics heavily based in the themes of death, reincarnation, the soul and mortality.