Iron Angel debuts "Sacred Slaughter" official lyric video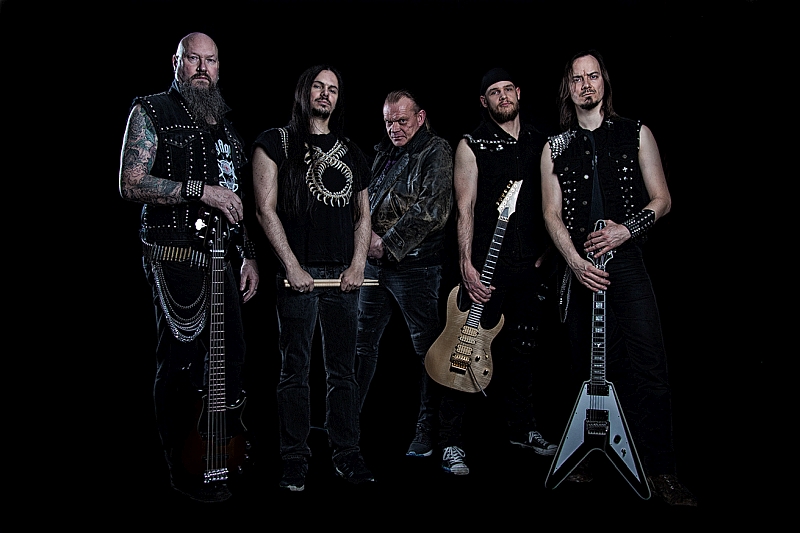 Below you can find the new single and lyric video from German speed/thrash purveyors, IRON ANGEL. Taken off the upcoming "Emerald Eyes" album, to be released in October, "Sacred Slaughter" is everything you came to expect of the German metal gods and more.
""Sacred Slaughter" was the first song I had written for the band (the first single "Sands of Time" had been the 3rd) and therefore it probably showcases best how I envisioned our development as a band", drummer Maximilian Behr states. "While it is undeniably a speed metal tune, the riffing is partly very thrashy, something that harkens back to our first album "Hellish Crossfire", but at the same time, it has also gotten more complex and challenging and less "meat & potatoes"-like. It is definitely one of our fastest and most brutal songs from the album. The lyrics deal with one´s inner struggle of belief and how it is exercised. A soul in search for solace and peace, equipped with the wisdom to tell that "hate only leads to more hate", looks at the events that shape our world these days (I wrote the song back in June 2018, but now it seems to be more relevant than ever) and realizes, that it might be forced to defend itself and therefore also exercise violence, although for self-defensive reasons and yet it´s another drop of water, that keeps the big mill of conflict running. Deep $'!T for sure".
The follow-up to their 2018 comeback album "Hellbound", which gathered massive reviews sees the band maturing and refining their sound without compromising intensity and aggression, quite the contrary. The new release brings back a lot of the thrashiness, that has been somewhat absent from anything the band has done since their 1985 debut "Hellish Crossfire". On the other hand, the songwriting, the performances, and the overall package, everything has reached a new level in quality and with it's clear (though not sterile) production, the band sounds fresh, hungry, and energetic.
Upon their return to activities in 2015, Iron Angel had toured like hell, having played in North-America, South-America, and across Europe. Festivals such as Play It Loud, Nordic Noise, Metalbash, Headbangers Open Air, Metal Forces, Metallysee, and Up the Hammers have tasted the band's live roar. And many more will taste it as well when Iron Angel resume their live activities in the beginning of 2021, with Bavarian Battle Open Air (DE) and Mangualde Hardmetalfest (PT) already confirmed.
"Emerald Eyes" will be released in digital, CD, and vinyl formats by Mighty Music on October 2nd, 2020.
Line-up:
Dirk Schröder: vocals
Didy Mackel: bass
Maximilian Behr: drums
Robert Altenbach: guitars
Nino Helfrich: guitar
Check de onderstaande socials voor meer informatie over deze band.