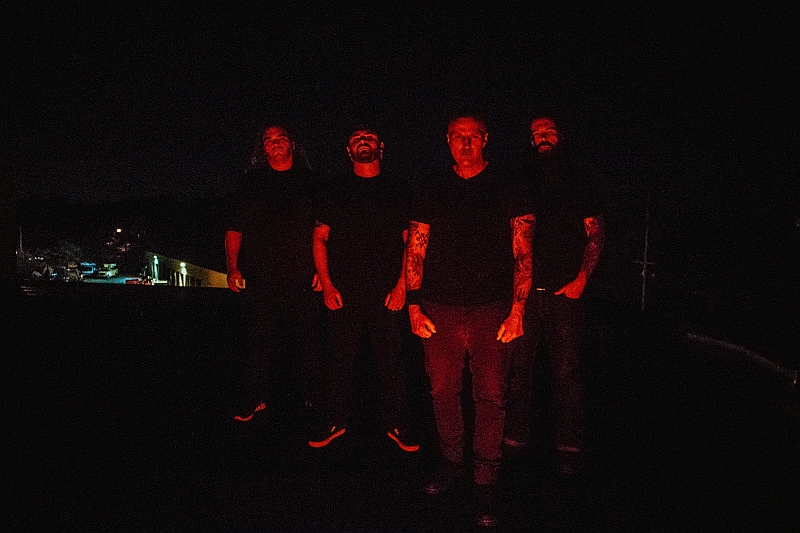 Mike Hill: "It was an incredibly hard period, but at the end of the day, I'm not the kind of person who quits. I'm in this until the end, until death takes me."
Tombs wist met hun nieuwe EP 'Monarchy of Shadows' hoge ogen te gooien. De band onder leiding van frontman Mike Hill timmert natuurlijk al even aan de weg, maar dat heeft nog niet geresulteerd in het mak worden van de muziek. Wij vroegen de beste man om het hoe en waarom achter de nieuwe EP, waar zijn grote voorliefde voor hardcore punk vandaan komt en hoe het nieuwe label Season of Mist bevalt. 
Job van Dongen Ι 25 februari 2020
First off, thank you so much for taking the time to talk to us about the new EP 'Monarchy of Shadows'. How have you been lately?
Hi. It's been very busy in my corner.  We have a great tour coming up with Napalm Death, Aborted and Wvrm here in the States. Touring with Napalm Death is kind of a "bucket list" thing for me because they are a band that I've idolized since I first heard 'Scum'; they are pioneers, innovators and now I get a chance to see them perform every night for three weeks. At this stage, after all different eras of the bands, different members, they are like an institution, a grindcore institution. Additionally, Aborted and Wvrm are great bands and I'm looking forward to touring with them. In addition to rehearsing for the tour, we've been finishing up writing and pre-production for our next LP. When we wrap up the tour, we head straight into the studio to record.
I want to do a deep dive on the new EP, since I really liked it, a little later. However, I noticed your lineup underwent a couple of changes. What happened?
The years leading up to the recording of 'The Grand Annihilation' were taxing on the members of the band. There were a lot of personality issues, particularly with Fade Kainer, the dude that was playing synth. In retrospect, I don't think we really needed a full-time keyboard player. He's an incredibly talented musician but a lot of personality issues arose. I'm not 100% certain what his angle was for being in the band, but after about a year, he clearly wanted to leave. It would have been easier on everyone if he just quit, especially since I once directly asked him if he wanted to leave. I gave him every opportunity to leave on his own, but instead, he chose this underhanded Brutus-like way of leaving the band. Factions had developed and it became clear to me that it would be better to go it alone and rebuild. It was an incredibly hard period, but at the end of the day, I'm not the kind of person who quits. I'm in this until the end, until death takes me.
Outside of the lineup change, has anything else changed for you coming from 'The Grand Annihilation' three years ago?
We're on Season of Mist, which is the label that we probably should have been on all along. 'The Grand Annihilation' era of the band was marked by hardship and obstacles but ultimately I came out the other end in a better place. Metal Blade is a great label, but Tombs doesn't really fit on the roster; we don't sell a lot of records and I don't think there is a mass-appeal element to the band. With that said, our experience with The Blade was mostly positive; they're an important label in the overall story of extreme music. Everyone works very hard over there and they have an incredible catalog.
Now, Tombs's sound has always been an amalgamation of various styles of metal, ranging from black to death to sludge to you name it. I remember you saying somewhere in the past that you usually don't really go in with a plan and just let the music come to you. Was that the case for 'Monarchy of Shadows' as well?
That is always the case. I just follow the muse. My approach to writing is very workman-like. I set aside time to write and make demos and start collecting riff ideas. There is never a particular sound in mind, I trust that I will have something that I like at the end of the process which goes on for months at a time. It's a long process. When it's time to make a record, I see what I have and go from there. There are so many things that influence and inspire me: movies, film scores, literature, life in general. It all goes into the work. I have a somewhat dark perspective so it naturally manifests an extreme or intense.
The EP starts off with the title track 'Monarchy of Shadows' and judging from your facebook posts, the material on the EP has been in the works for a while. What made you decide this was the song to open the album with?
It's a powerful song and I felt like it was natural opener. We've been opening out live sets with this track for the past year and it seems like a natural starting point.
It's been a while since I heard an intro that hit me as hard as 'Once Falls the Guillotine'! How do you find the happy median between absolute sonic destruction and still having enough clarity in your songs so as to stay manageable for the average listener? Is 'appeal' something you worry about at all when writing?
Thanks; that's a very aggressive song but also covers the full range of experiences that I thing that band strives for. "Appeal" is an interesting concept. It would be disingenuous to say that we don't think about the audience because I think we all want people to enjoy the music we produce, but there is never an effort to satisfy anyone or to somehow follow a trend. The band has naturally progressed over the years; we've had different members join and then move on and we all influence each other.
The break starting around the 3,5-minute mark in 'Necro Alchemy' really shows your hardcore influences, especially with the breakdown version of the riff coming later on in the song. What would you say are some of the bands that inspired those hardcore influences for you?
Hardcore and punk have influenced me quite a bit and the other guys to a lesser extent. Personally, bands like Black Flag, Bad Brains, Cro Mags were heavy influences on me early on. I also love bands like Merauder, All Out Way, Subzero… the more metallic NYC-style, metallic hardcore. I've always been way more into metal than hardcore so I gravitate towards bands that meld the two genres; in my opinion bands like Rorschach, Starkweather, Integrity, Bloodlet and Deadguy are the best examples of that metal / hardcore hybrid sound. There are a few European bands that I love, Breach being my favorite probably; they were such a unique band with a very free sound. To this day, I listen to their album Kollapse and find new things to take away from it.
I don't remember hearing as many clean vocals on earlier albums. They almost sound like incantations on songs like 'Monarchy of Shadows' and 'The Dark Rift'. What made you decide to give those parts a bigger role on the album?
The clean vocals have always been there, but maybe I haven't been able to pull them off as well. All of the creative decisions come by way of instinct. I've always wanted to develop my voice to a point where I could actually sing. I've always been interested in subtlety and mood but wasn't capable of expressing it. I never had any formal vocal training or anything like that, it was all a product of repetition, trial and error and just trying to figure things out on my own. I'm a huge Emperor fan; I follow Ihsahn's career and love all of his solo efforts. It's probably his use of clean vocals in black metal that inspired me to follow that instinct. As you can probably guess, I'm also into gothic rock; Carl McCoy of Fields of the Nephilim is one of my favorite vocalists in that genre; great voice, great lyrics. The parts that have the cleaner vocals make sense on a compositional level, at least to me. The thought is to add depth.
As I said, I really liked the album and am a big fan of the more black metal direction you seem to have taken on this EP. Do you have any standout favourites among the six tracks on the record at all?
To date my two favorites are 'Monarchy of Shadows' and 'The Dark Rift'. Both are very powerful and I feel like 'The Dark Rift' has an almost classic rock vibe with the string parts and textures. The idea that comes to mind is that it's like a black metal 'Kashmir' by Led Zeppelin. That particular track features our friend Ben Karas of the band Windfaerer playing violin and cello. Once again, I just want to add as much depth to the songs as possible without cluttering it.
'Monarchy' is a great song to play live, especially as the opener of the set. It creates this really dark vibe straight off and that's why it's the opener of the EP as well. That songs was also one of the easiest songs to write, the riffs are all most variations on a single theme. The song pretty much wrote itself; I felt like I was channeling it from some other realm, like I was the interpreter instead of the creator of the song.
What can you tell me about the recording process?
We worked with our friend Bobby Torres at Frightbox Studios. He's a great engineer and has been working with the other guys in the band for years. Justin, Drew and Matt have worked with Bobby for a long time; he's recorded records for their other bands Kalopsia, Ruinous and Hammer Fight. Bobby is kind of "The Man" when it comes to death metal recording in the New Jersey underground metal scene. His studio is in this industrial building out in Clifton; it's real comfortable vibe. Like me, Bobby's a big horror fan. He digitized his extensive VHS collection and has it playing continuously, without sound, on two small monitors beside the console. You would be tracking a rhythm guitar and also watching a scene from say Texas Chainsaw Massacre II or The Howling. Occasionally, I'd catch a scene from a movie that I didn't recognize and I'd be like "what movie is that?" When you're not tracking, the studio can be a brutally tedious so it was cool to have something for your mind to focus on. I'd watch all of these horrific images and develop my own storylines as the hours and days went by. Overall it was a very casual vibe in the study; Bobby is incredibly easy to work with.
What about the gear used for the album?
We all used ESP guitars and basses on the record. Drew played through an ampeg svt for bass and matt and I both played through Peavy 5150's and mesa boogie dual rectifiers. I used a Charvel Desolation on a few tracks. I'm ashamed to say that I don't know what kind of drum kit Justin used on the recording.
Well, thank you so much again for taking the time to talk to us. Is there anything you'd like to say in closing?
It's been a while since we've done a proper tour of Europe so I'm hoping to make it over there this year even if it's for a short run. Check de onderstaande socials voor meer informatie over deze band.