 "Our expectations? Roadwolf would love to perform bigger stages and in front of bigger crowds! Also we would love to tour with our heroes that have also signed Napalm Records like Accept, WASP or Dee Snider!"
Roadwolf is een nieuwe aanwinst bij Napalm Records. Zij hebben de band getekend voor een tweede album 'Midnight Lightning' en dat klinkt zeker niet verkeerd zoals je kon lezen in onze cd review een tijdje geleden. We hadden ook nog een onderonsje om de band voor te stellen aan onze lezers en dat kan je natrekken in volgend artikel.
Vera Matthijssens Ι 4 juli 2023
Hello guys, congratulations with the new album 'Midnight Lightning' which is an amazing collection of fervent classic heavy metal and hard rock, so it is time to introduce you with an interview. How are you doing at the moment?
Hello Vera! Thanks for having us. We are doing good at the moment. We enjoy the reactions of the people about 'Midnight Lightning'.
Roadwolf is a pretty new band with a debut album which was released in 2021, but I found out that the first gig ever you played as Roadwolf took place at the 6th of June 2011. So… when and how did you form the band and how did your friendship turned into a functional band?
Christoph and Emanoel went to school together and they shared the same burning passion for metal music, horror and action movies and Super Nintendo. So they decided to start a band! In 2014 Valentin joined the band, because Roadwolfs guitarist at this time decided to leave. Our singer Franky joined in 2016. Roadwolf was practicing in the rehearsal room of Frankys old band. Christoph was also part of this band so we knew about the talent of Franky and after some beer drinking and hell raising we asked Franky to join the band.
Since that beginning you made a lot of demos, singles and even an EP. What was the reason for that and why so long before a debut album? Also the old vintage way maybe?
It took a lot of time to find the right people for Roadwolf. Back then Roadwolf was a band with two guitarists. But every time the band felt ready to hit the studio, we had issues with one of our guitarists. So we kicked them out and tried new guys. In 2016 we decided that Valentin should play alone. With our new singer Franky we finally had the line up to focus on our music. We spent a lot of time playing live and bonding as a band. Around 2018 we went to the studio to start with the recordings for 'Unchain The Wolf'. We never had the chance to record with a producer and the reason why it took so long is that on the one hand we weren't experienced enough and we had to practice a lot and on the other hand our producer was also working with other acts so we had to wait a couple of times to continue with our album.
In 2021 you released the debut 'Unchain The Wolf'. Could you promote this album with enough live concerts? What happened after its release, did you see the success growing?
We couldn't really promote 'Unchain The Wolf' with live shows because of the Covid Crisis which was really sad. Because we really love to play live. But it seems that a lot of people were hungry for new heavy metal material and we were really busy with packing merch and LPs and having interviews with a lot of magazines! That felt great and was some kind of replacement for the lack of shows.
One of the gigs was at Wacken Open Air. Please tell us about your memories of that happening?
This show will be forever on our minds. Simply because of the big crowd that came to see the battle of ambitious bands from all over the world. Also the treatment was outstanding. The whole band, our friends and crew got AAA passes. We had the chance to meet Saxon's bass player and we saw so many awesome bands and met a lot of nice people! We also had our first interview for the big music TV channel "Viva"!
For the second album (this one) you inked a deal with big label Napalm Records. What did it change for the band so far? What are your expectations?
With Napalm Records we have a big label that supports us. The huge difference is that we got some financial support from our label and it's also exciting to see that the YouTube Channel of Napalm Records reaches a lot of people. Our first single of 'Midnight Lightning' topped the views of 'All Hell Is Breaking Loose' after 3 days! Our expectations? Roadwolf would love to perform bigger stages and in front of bigger crowds! Also we would love to tour with our heroes that have also signed Napalm Records like Accept, WASP or Dee Snider!
That meant that you had to write new songs in a shorter amount of time. Did it give you any more pressure or don't you care about that?
The band was "High Under Pressure" for sure! Everyone gave their best and we learned a lot.
What can you tell about the sound and songs on the first album, compared to the songs on the second one? Did you see a kind of evolution or a tendency between the two discs?
On both albums we shaped the sound for every single song. On both records we deliver a huge variety of heavy metal styles for the consumer. But the songs on 'Midnight Lightning' are more "grown up" and the LP is more diverse than 'Unchain The Wolf'.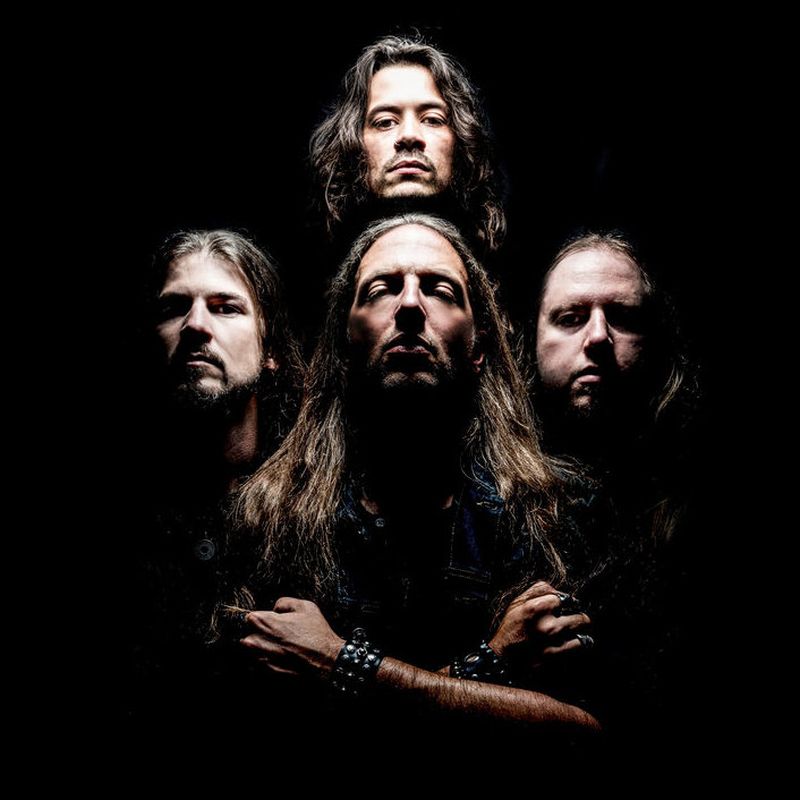 What can you tell about the recording process of 'Midnight Lightning'? Did you return to the Soundbakery Studios in Vienna or did you go somewhere else, with different producer or not?
This time we recorded almost everything in the home studio of our drummer Emanoel who was also our producer. He did an amazing job. The drums were recorded in LW Studios in Vienna.
How did you ever get into music and metal? What were the first concerts you attended?
For Franky it was KISS that kickstarted his passion for Heavy Metal. Emanoel got hypnotized by Satriani's "Silver Surfer", Valentin discovered Heavy Metal because of the soundtrack of "GTA Vice City" and Christoph fell in love with Rush and discovered Heavy Metal most likely by watching the "Hellraiser" movies. Our first concerts? We can recall that Christophs first concert was Iron Maiden in Vienna. Valentin got the "pleasure" to see Devil Driver when he was 14 years old. Wasn't really his type of music.
In the middle of the album, one can find 'High Under Pressure' and it includes an amazing surprise: a saxophone solo. Can you tell a bit more about that initiative and the guest player you contacted?
Our drummer Mano had that idea since the first album, but it really came into reality on the second album, when we talked about 'Turn it Loose' and its harmonica part, and how cool it is to liven up the record with some unusual stuff. We love collaborating with other artists and guest musicians so even early while writing 'High Under Pressure' we were talking about how we would love to have a Sax/Guitar duel and how it somehow never has been done before, at least we don't know about it. Our singer Franky's long time friend and professional sax player Herbert Könighofer stepped in and took on the job – and he's just an amazing musician! When we finished recording and heard the final mix we were smiling over both ears as you can imagine, as it turned out extremely well and is just amazing and fun to listen to and pushed the song even more in a crazy, fast and energetic direction.
The last song is a beautiful piano ballad with another guest musician. Please tell us about the challenge of including a ballad on the album and about the guest pianist contribution?
Our guitarist had an idea for an acoustic guitar song and he played it a lot in our practice space. We needed one last song for the record so we decided to use this idea. Valentin came up with the title 'Isolated Hearts' and Franky wrote the lyrics. We wanted a piano to "support" this song so we contacted our friend Harald Gneist. He is an outstanding musician and plays guitar for the Bloodsucking Zombies From Outer Space. He wrote beautiful piano melodies.
Do you agree that we step into a kind of time machine to the NWOBHM when listening to Roadwolf, but with a contemporary approach?
We agree! We are huge fans of the NWOBHM sound. But we also love the US metal sound as well. Roadwolf tries to write songs in the style of our heroes but with a more modern sound approach.
Which era do you prefer: the 60's, 70's, 80's or different qua music and atmosphere?
Mid 70s to late 80s is the peak of music history!
'Sons Of The Golden Horde' has galloping guitars that remind me of Iron Maiden and it should have a historical theme. Can you tell a bit more about it?
This song is about Batu Khan and his warriors of the so-called "Golden Horde". As far as we know they came close to Wiener Neustadt, but then had to return to vote for a new Khan. Valentin is really into historical stuff and of course he loves the Maiden history lessons. Our "history lesson" isn't that accurate. But we still think the song depicts the danger of this army.
What are the plans for making video clips? (I think so far we have two)
Right now there are no plans for making another music video. For our album release we have a video for 'On The Run', a lyric video for 'Supernatural' and a music video for 'Midnight Lightning'.
There is only one guitarist in the band (huge respect, you are ace Valentin!). Is that a conscious decision or just circumstances?
Roadwolf started as a twin lead guitar band. But the guitarists came and left and in 2013 Valentin joined the band. We played with two axemen until 2016. Then we decided we would be better off if we played our music with one guitar. That forced Valentin to finally practice his instrument! Now he is on his way to become an axe ace. Since this decision our line up was stable and we could focus on playing live, bonding as a band and prepare ourselves for our first record.
What are the plans to go on the road and for the near future?
Right now we have no tour planned. Some small gigs during summer.
If you want to add something, please feel free to do it here…
Thank you for having us! All the best by the Roadwolf boys.