HELLOWEEN is working on material for next studio album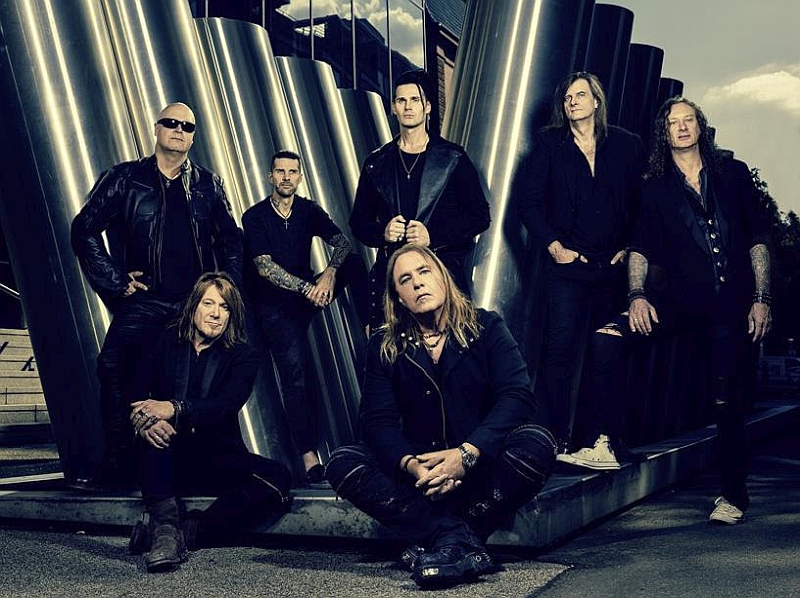 In a new interview with Canada's The Metal Voice, HELLOWEEN singer Michael Kiske was asked if he and his bandmates have commenced work on material for the follow-up to their self-titled effort, which came out in 2021. He said: "Actually, 10 days ago, or maybe a week ago, Kai (Hansen, guitar/vocals) has sent me a demo of a song that he was (working on) that I was very happy about, because it's not what you would expect; the song was a bit outside of the box, which I am always grateful for. I always thought that was exciting about HELLOWEEN. When you check out the 'Keeper (Of The Seven Keys: Part) I' and 'Keeper (Of The Seven Keys: Part) II' records, now they're classics, but when they came out, it was very different to what the 'Walls Of Jericho' record sounded like. But we had the balls to do it. And I think that's why I'm still here, because those records had an impact because of being pretty fearless. And it is always the benefit of the youth; most of the time, the younger people are very fearless.
"What I like about Weiki (guitarist Michael Weikath) andKai, they can't fool themselves. They just write songs. They don't function in any other way but just making the song, and whatever it is, that's what it is. And that song was a bit QUEEN-like. It had a lot of piano parts in it — very operatic, with big choirs. And then it gets rocking again and stuff like that. It's another Kai Hansen sort of symphony. But I really liked it. And I'm glad that he does something like that. I just hope the rest of the band has the balls to do it. I would do it."
Asked if he will be contributing any musical ideas to HELLOWEEN's next effort, since he didn't write anything on "Helloween", Kiske said: "I don't know. I'm not so much of a metal songwriter. I was when I was a teenager. But these days I just don't write metal songs; I just write songs on acoustic guitar somehow. And if I have something where I feel like the band could make a HELLOWEEN song out of it, of course I will present it to them, and then if they get a kick out of it, something's gonna happen. But we have so many songwriters in this band now. And they're all really capable of writing that sort of material that everybody loves, and that's mainly Andi (Deris, vocals), Sascha (Gerstner, guitar), Weiki and Hansen. And I think that's more than enough. If I have an idea, I sneak it in. But I don't really push myself."
As for whether the rest of HELLOWEEN has also begun composing music for the band's next LP, Kiske said: "I know that Andi has songs, and I know that Kai has a whole bunch of songs. He was a bit lazy last time; he only had that one great song, (the 12-minute) 'Skyfall', which was maybe good for three songs, and that's why it's justified, but I would have wished for even more from him. And I think this time he will be presenting a whole bunch of songs more. At least that's my impression, the feeling that I have — there might be more coming from him this time. Andi is always in the game. Andi has this gift; he can just sit down and write 10 songs. He can just do it. I don't know how he does it."
Last August, Kiske told Chile's Radio Futuro that the overwhelmingly positive response to "Helloween" "was pretty unexpected. I was expected it to do good, but it was, like, perfect.
"It is very difficult for you, when you're involved in an album, to have an objective view at what you're doing," he explained. "You just do what you do. You always try to make the best out of every song. And obviously the spirit within the band is very good, which helps, but you never know how people hear it. So the best thing you can do is fade it all out, not think about it, and just try to make every song exciting for yourself; that's the best thing you can do. The less you think about success or how critics might see it, the better for the album. It's not easy, but you've gotta have that discipline to kind of fade it out and not let it get to you.
"I was surprised how well it was received, but, of course, it was a very welcome motivation, especially (in 2021)," Kiske added. "We released it right in the middle of the whole pandemic crap, and that was a positive lift, doing the interviews and seeing how people reacted to it."
Regarding how HELLOWEEN had managed to pull off the seemingly impossible by splitting vocals on the album between returning singer Kiske and longtime frontman Deris, with added contributions from Hansen, Michael said: "It was actually great. It was very easy. I was kind of expecting it to be difficult, but it wasn't, because there was no ego fights going on between me and Andi. We were just there on Tenerife meeting up almost every day.
"Before we started recording, we had Dennis Ward making a rough draft of what he thinks could work in terms of splitting: 'This sounds like Andi. This sounds a bit like Michael.' And that was how we approached it. It was some kind of pre-draft of how we could do it, but was nothing written in stone.
"One day I came to the studio and the evening before Andi was recording something, or had recorded something, and he wasn't feeling so happy with it. He came and said, 'I was trying this and that. And maybe you should give it a try too.' And then we figured out what sounds the best for the song.
"There are a whole bunch of songs where you can hear right away, 'That's an Andi Deris song. He should sing that.' Or, 'That's a typical Kiske song. That sounds great (with Kiske vocals).' It's like 'Angels', for instance, it was very clear that that was mostly a Kiske song, and Sascha (Gerstner, guitar) had written it with my voice in his head. But there are other songs, especially when Andi writes his own songs, usually it sounds best when he does it unless he wrote it with my voice in his head, like he did with 'Fear Of The Fallen'. 'Fear Of The Fallen', he was writing it with both singers in his mind, and that works out.
"But it was very easy," Kiske repeated. "Because you just try it out, and you very quickly hear what works best. And I would say, like, 70 percent of the time we knew before that that would be sounding better with him or that would be sounding better with me. Or even with Kai — there were even spots where we thought he should do it."
Upon its release in June 2021, "Helloween" landed in the Top 10 in more than 10 countries, including Germany, Spain, Finland, Sweden, Switzerland and Austria. The cover artwork for the LP was painted by artist Eliran Kantor, who has previously worked with HATEBREED, SOULFLY, TESTAMENT, ICED EARTH and SODOM, among others.
Produced by Charlie Bauerfeind and Dennis Ward, the latest HELLOWEEN LP was recorded in part at the H.O.M.E. Studios in Hamburg (where everything started in 1984). The same recording console used for such HELLOWEEN albums as "Master Of The Rings", "Time Of The Oath" and "Better Than Raw" was utilized to record the band's new material. The effort was mixed at the Valhalla Studios of Ronald Prent (IRON MAIDEN, DEF LEPPARD, RAMMSTEIN).