GUNS 'N Roses volgend jaar op 23 juni naar Stadspark Groningen
Voorverkoop start 9 april 2021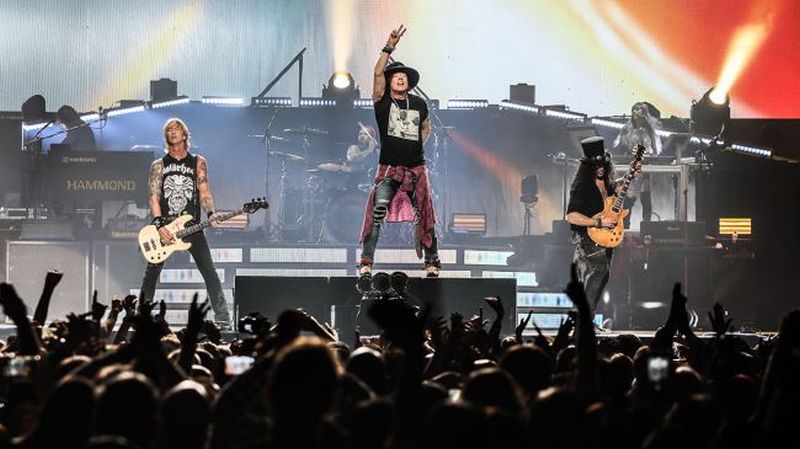 Guns N' Roses komt op 23 juni 2022 naar het Stadspark in Groningen. Het concert dat deel uitmaakt van hun Europese tour trapt af met special guest en Grammy Award winnaar Gary Clark Jr. De kaartverkoop start vrijdag 9 april om 10:00 uur via Ticketmaster.
De comeback van Guns N' Roses in 2016 ging gepaard met een uiterst succesvolle wereldtournee die in 2017 en 2018 ook Nederland aandeed. De Amerikaanse band streek toen met de Not In This Lifetime Tour neer in het Nijmeegse Goffertpark, waar ze hun langste concert ooit speelden. Vandaag kondigt Guns N' Roses de verplaatsing van hun komende Europese tournee aan, inclusief een aantal nieuwe data en hun terugkeer naar Nederland;
"Hey Gunners, unfortunately we need to ask for your patience one more time. Our summer European tour dates will be rescheduled to 2022, but with the added bonus of new shows and special guest Gary Clark Jr! The tour kicks off in Lisbon, Portugal on June 4th, 2022, with new dates in Norway, Czech Republic, Poland, Netherlands, and Italy"
…"We continue to be thankful for your understanding and support during these unprecedented times. Light is at the end of the tunnel and we are looking forward to getting back on stage later this year in the USA, Australia, New Zealand and next year in Europe and more!"
Meer informatie over de tour en het volledige tourschema: www.gunsnroses.com/tour
Sinds het ontstaan van de band in 1985 heeft Guns N' Roses een bepalende richting gegeven aan de ontluikende rock scene van Los Angeles. Hun debuut uit 1987, Appetite for Destruction (het best verkopende Amerikaanse debuut ooit, met meer dan 30 miljoen verkochte exemplaren wereldwijd) had de hele rockwereld in zijn greep. In 1991 bezetten de zevenvoudig platina albums Use Your Illusion I en Use Your Illusion II direct na release de eerste twee plaatsen van de Billboard Top 200. In navolging van de veelgeprezen release van het album Chinese Democracy in 2008 heeft Guns N' Roses overal ter wereld uitverkochte shows gespeeld en festivals geheadlined.
Met zes studioalbums op zak, is Guns N' Roses een van de belangrijkste en meest invloedrijke acts in de muziekgeschiedenis en met legendarische liveoptredens weten ze miljoenen fans over de hele wereld aan zich te binden.
Guns N' Roses bestaat uit Axl Rose (zanger, piano), Duff McKagan (bassist), Slash (gitarist), Dizzy Reed (keyboard), Richard Fortus (gitarist), Frank Ferrer (drummer) en Melissa Reese (keyboard).
Radio Veronica presents
GUNS N' ROSES
+special guest Gary Clark Jr.
Donderdag 23 juni 2022, Stadspark, Groningen
Aanvang: 17:30 uur | Entree: vanaf €95,20 (incl. servicekosten)
Meer info over dit concert vind je op: mojo.nl/gunsnroses
De kaartverkoop voor het concert start vrijdag 9 april om10:00 via www.ticketmaster.nl en 0900 – 300 1250 (60 cpm).
Dit concert wordt geproduceerd door MOJO in samenwerking met SPOT Groningen.
Check de onderstaande socials voor meer informatie over deze band.