GHOST wins Swedish GRAMMIS award for 'Impera'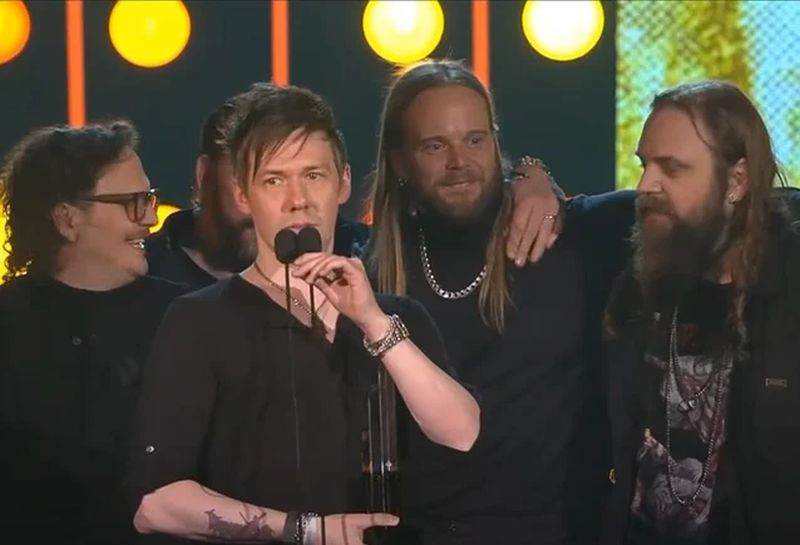 GHOST was honored in the "Best Hard Rock/Metal" category at this year's edition of the Swedish Grammis awards (Swedish Grammy equivalent), which was held Wednesday night (May 3) at Annexet in Stockholm. The bands were nominated for their most recent releases, all of which came out during 2022.
Watch the acceptance below.
"Best Hard Rock/Metal" nominees were as follows:
* AMON AMARTH – "The Great Heathen Army"
* ARCH ENEMY – "Deceivers"
* GHOST – "Impera"
* THE HALO EFFECT – "Days Of The Lost"
* WATAIN – "The Agony & Ecstasy Of Watain"
GHOST was also nominated in the "Album Of The Year" and "Artist Of The Year" categories, but failed to win those awards.
GHOST leader Tobias Forge, who hails from the Swedish town of Linköping, accepted the award in person, telling the audience at the event (translated from Swedish): "For some reason I thought this would happen earlier in the evening. When I realized it would happen a bit later.. as you know, it takes a lot of teamwork to make a record, everything from getting the record together sonically to getting it out in physical form. I've worked with a lot of people and halfway through this evening, I realized, 'Fuck we haven't been mentioned yet. Our category hasn't been mentioned! I'm gonna be way too drunk!' So I told Klas — Klas Åhlund, producer of our record — that if we win anything, we should get up here together because it would be difficult to remember everyone that's been part of it. So, some of the people who have helped us: Klas Åhlund, Salem Al Fakir, Vincent Pontare, Max Grahn… and a whole lot of other people. Everyone from Universal, Nicholas, Christian, BMG, Live Nation has been there and helped us so much. Thank you very much everyone who has been involved."
GHOST previously won three Grammis awards.
GHOST  recently announced a new EP, called "Phantomine".
"Phantomime" track listing:
01. See No Evil (TELEVISION)
02. Jesus He Knows Me (GENESIS)
03. Hanging Around (THE STRANGLERS)
04. Phantom Of The Opera (IRON MAIDEN)
05. We Don't Need Another Hero (Thunderdome) (Tina Turner)
GHOST is no stranger to covers, having previously tackled material originally written and recorded by THE BEATLES ("Here Comes The Sun"), ABBA ("I'm A Marionette"), DEPECHE MODE ("Waiting For The Night"), Roky Erickson ("If You Have Ghosts"), METALLICA ("Enter Sandman"), PET SHOP BOYS ("It's A Sin") and EURYTHMICS ("Missionary Man"), among others.
This past February, GHOST revealed details of its upcoming "Re-Imperatour" summer 2023 U.S. tour with special guest AMON AMARTH. Produced by Live Nation and FPC Live, the 27-date trek kicks off on Wednesday, August 2 in Concord, California at Concord Pavilion, with stops in Salt Lake City, Chicago, Cincinnati, Austin and more before wrapping up with the band's Monday, September 11 return to the Kia Forum in Los Angeles.
GHOST is continuing to tour in support of its latest album, "Impera", which sold 70,000 equivalent album units in the U.S. in its first week of release to land at position No. 2 on the Billboard 200 chart. It marked the third top 10 album — and fifth top 40-charting set — for the Swedish act. The 12-song effort was produced by Klas Åhlund and mixed by Andy Wallace.
"Impera" landed at position No. 1 in Germany and Sweden, No. 2 in the U.K., Netherlands, Belgium and Norway, No. 3 in Australia, No. 5 in France and Ireland, and No. 20 in Italy.
GHOST leader Tobias Forge worked on the follow-up to 2018's "Prequelle" with Åhlund and Swedish co-writers Salem Al Fakir and Vincent Pontare, whose credits include Madonna and Lady Gaga.