FATES WARNING guitarist MICHAEL ABDOW clarifies that the band didn't break up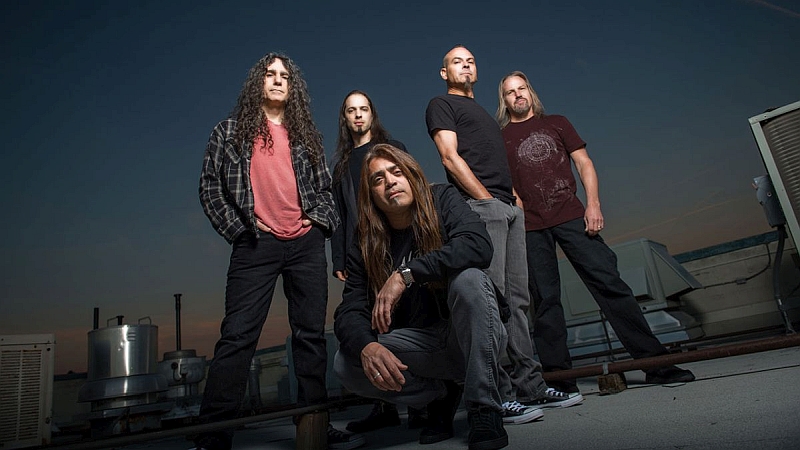 In a new video interview with music journalist Joel Gausten, Mike Abdow, who is the guitarist for FATES WARNING and the songwriter/producer for the solo albums from FATES WARNING singer Ray Alder, discussed the band's current status. When asked to share his thoughts on the future of FATES WARNING considering Alder's recent statements that guitarist Jim Matheos doesn't want to write new material for the band, Abdow offered the following response: "I'm not really privy to anything that Ray hasn't said already in interviews. The band didn't break up. We'd like to tour, but there are scheduling issues with various members."
He continued: "As far as Jim maybe not wanting to pursue new FATES WARNING records, that's very much his call, and it's his arena there. I respect that. Of course, I'd like to play more with the band and do more records. I've got a lot of life in me — not that they don't. Jim's writing a ton of music; all the guys are writing a ton of music in different bands. But I also appreciate where he's coming from, where everything he does is inspired. So, if he's not feeling a particular thing, he's not going to do it just to do it. I'm not speaking for him, but he's going to just be honest and say, 'Well, I'm not interested in doing that right now.' That's just the vibe that I get from it, from what I've heard in interviews, and just from knowing him. I totally respect what he wants to do."
Alder first revealed that Matheos didn't want to write new FATES WARNING music this past May while promoting his sophomore solo effort, "II". Speaking about his decision to continue pursuing a solo career, Alder said at the time: "With FATES, after we did the last album and Jim saying he doesn't wanna write any more FATES WARNING music, I have to do something. I'm a singer. I can't just get a normal job. I mean, music is my life; it's been my life since I was 16 years old. I've been in bands — shit, since I was 14 years old I've been in bands. The first time I ever sang, I think, I was 14, in my brother's band. So it's my life. I don't know what else I would do otherwise."
Pressed to clarify if Jim really said that he wasn't interested in writing any more FATES WARNING music, Ray said: "Yeah. He said it when we did 2020's 'Long Day Good Night' album. That was basically his saying he doesn't wanna write any more FATES WARNING music. It doesn't mean we won't ever tour again. I would love to tour again, and Jim would as well; we've already discussed it. It's just a matter of getting everyone together. Joey's (Vera, bass) in five or six different bands. And Bobby Jarzombek, Bobby's now playing with George Strait, one of the biggest country music stars in the world, and Bobby's his drummer now. But George doesn't really do normal tours; he does one-off shows now and then. And so it's really hard for Bobby to leave for more than a week or two to be on tour. So we've been trying to deal with that lately. But next year is the fortieth anniversary of FATES WARNING, so we're discussing doing a few shows next year around the world. Not a full tour, but some shows every few weeks or months apart. So hopefully that'll work. We'll see."
Asked if that means that there will be no more new FATES WARNING music in the future, Ray said: "It doesn't seem like it. I can't speak for Jim. Of course I would love to, and everybody else would, but at this point I don't think Jim wants to write anymore."
As for why he thinks Jim isn't interested in making any more FATES WARNING music, Alder said: "You've gotta ask him, man. You've gotta ask him. I can't speak for him. Sorry."
FATES WARNING has been a formidable presence in progressive metal for nearly four decades, helping to shape and drive the genre without ever compromising its integrity or losing relevance.
FATES WARNING, with John Arch on vocals, unleashed three albums (1984's "Night On Bröcken", 1985's "The Spectre Within" and 1986's "Awaken The Guardian") that would go on to influence progressive-minded bands like DREAM THEATER, before Arch left the group and was replaced by Alder.
A FATES WARNING biography from noted author and journalist Jeff Wagner, "Destination Onward – The Story Of Fates Warning", was made available in July 2022. The 400-page history of the legendary prog metal band features interviews with every member of FATES WARNING, past and present, and covers the early days of the original members, the band's formation in 1983 as MISFIT, their commercial peak with 1991's "Parallels", right through to their last song, "The Last Song", which closes out "Long Day Good Night".
Abdow's new album, "Séance In Black", will be released on October 6 via Couch Cat Records.