 Johan Niemann: "We have never done videos like this before. It is different for us, but it is fun. We get to act and we are not Al Pacino, but it is fun and it is another creative outlet so to speak, instead of having the same kind of performance video we have done in the past, but everybody does. And it works, sometimes it is nice to do something else"
Meer dan 25 jaar is Evergrey nu al actief als eminente progressieve metal band uit Gothenburg. De laatste vijf jaar heeft het gezelschap achter Tom S Englund bovendien een solide bezetting en innerlijke rust. Dat resulteert in coherente albums die elkaar vlot opvolgen, want amper een jaar na 'Escape Of The Phoenix' ligt de opvolger in de winkels. Deze heeft als titel 'A Heartless Portrait (The Orphean Testament)', alsof men moeilijk een keuze kon maken uit beide titels. Om het feestgedruis voor de release extra luister bij te zetten – en gewoon omdat dit weer een dijk van een plaat is – kozen we ditmaal nog eens bassist Johan Niemann uit om een gezellig gesprek mee te voeren. 
Vera Matthijssens Ι 24 mei 2022

How are you doing?
I am alright, not too bad. Obviously it has been difficult a couple of years. That has been for everyone.
During that covid-19 era Evergrey have made two albums: 'Escape Of The Phoenix' and this new one, that was a positive thing. How do you look back on the making of 'A Heartless Portrait (The Orphean Testament)'?
It was a bit easier I think, than the previous one. With 'Escape Of The Phoenix' it was the beginning of the pandemic and then we felt very uncertain. Nobody knew anything. We just tried to do something to stay busy, but with this one we knew what it was. I think we were in a better place this time. Overall I think it is a more positive record, for me anyway.
Did you instantly hear that in the music that Tom created this time, a more positive vibe?
I think so. It is hard to put your finger exactly on what it is. It is more a feeling or sense that something is different, better or positive.
Evergrey has been around for a while, during recent years with a solid line-up. Actually, when Tom writes the songs, where does your input start? Is it only when you record or much earlier?
Well, Tom does not write all the music. He writes all the lyrics. For this album everyone was involved creatively, everyone contributed with songs or riff ideas and stuff. We send our material out to each other, to everyone. When we think that we have enough songs, we all meet up in our rehearsal room in the weekend and we listen to all the songs and then we come up with everybody's ideas. We don't vote, but everyone has a say in that process and which songs we would work on and which songs are right for this album. So it is very democratic.
If you resume, is there a song (or songs) which is your favourite on this new album?
Yes, there's a couple. From the first moment it was special. I really like the song 'Ominous' and also 'The Orphean Testament'. Those have been very high upon my favourite list.
So you hope that you can play them live as well?
Yeah that would be great.
Did you have to change something in the way of recording since corona happened?
Not really. What we noticed on 'Escape Of The Phoenix', was that at the beginning of the pandemic, there was less distractions, less phone calls, less people wanted to know what was going on. Nobody came to the studio to check out how things were going. So we were left to our own devices pretty much, which was very nice. On this new record, it was pretty much the same. It was very calm and cosy, I like that.
Did you already play live again with Evergrey after the pandemic?
Yes. Last year we did a short run in Sweden, a couple of weekends. We did Gothenburg, Stockholm, Malmö and a couple other places and now we have three shows in Finland mid May. Then we have two shows in Sweden that are like release show dates. We are going to play a couple of songs acoustic. In the past we have done a lot of acoustic shows, it is always fun. It is not as serious. It feels a little more relaxed. It is hard to describe, but it is not as much pressure.
Strange, because the audience can hear every mistake during an acoustic gig…
Indeed you can definitely hear it. Hopefully we have managed to mask the worst mistakes (laughs).
I am sure you are pro enough to hide small mistakes. I have an overall impression that Evergrey is taking things more seriously in recent years…
You are correct. Maybe we realized that things are more important than before.
Some of the lyrics are inspired by social media. Most people like it, but there are also people who think twice concerning privacy and the bad side of internet lives. Are you a spontaneous user of those things or don't you like it in your heart?
As a sort of public figure, it is necessary, so to speak. It is good to stay in contact with friends and people that you meet at the other side of the world, for that purpose it is great. Obviously I have Facebook and Instagram. I really like it, but – as with anything else – there is a lot of crap too. So I try to decimate my friend list every once in a while, especially if I see these people who only post negative stuff. Then I de-friend them or stop following them or whatever. As a band, you cannot ignore it, it is good for advertising. That is basically a good thing to use it for, as a kind of marketing platform to make sure that people know we have a new record out or a new video coming out or upcoming shows.
The first two songs on the album have fans and common people singing on the record. In some way Evergrey makes contact with the masses again. How did you like that idea when it was presented in the band?
Well, we had those specific songs and those specific moments in those songs that we felt like needing that mass of people kind of sound. Of course our first idea was to bring our friends to the studio and have everybody in the recording room. When you mix it, you can stack it over each other and then it sounds like 10,000 people, but with the pandemic we did not want to do that. I think it was Tom who had the brilliant idea to let everybody sing at home and send it to us, so we can put it on the record. It is also a good marketing point, a lot of magazines asked about it. It really spread the word and we got a lot of people participating. The other song was 'Midwinter Calls' and that was recorded at the couple of shows we did in Sweden where we said 'we are going to record you guys and here is the melody we want you to sing'. We put up a couple of microphones and an audience participation time, that was fun and it turned out really well.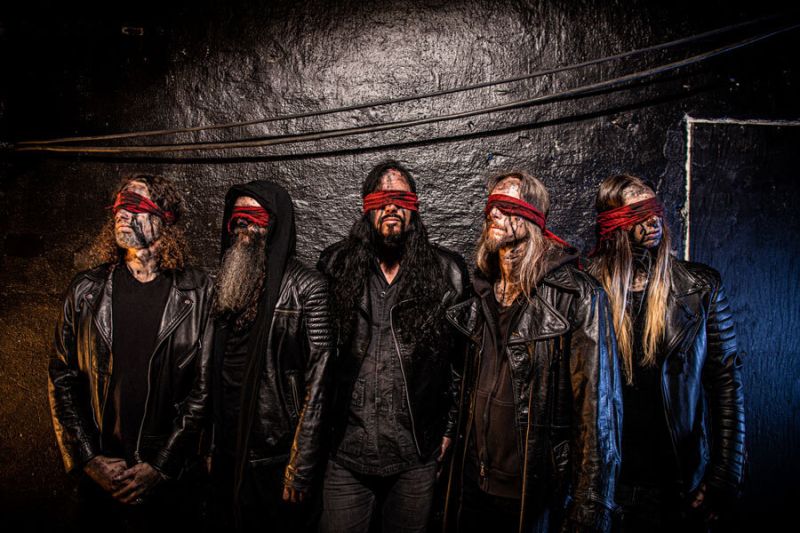 Did you do something with the other bands or projects you had once during the downtime due to covid-19?
Yes I have a side project, which is called Hollingshead. We did one record which was released pretty much at the same time as 'Escape Of The Phoenix'. Then last summer we started recording album number two. That's what we are working on right now. It is progressive music and there are no guitars. It is drums, bass, organs with a lot of distortion, so you are not going to miss the guitars, unless you are a guitar player. We make a lot of noise.
Great to free your demons…
Oh yeah! Everybody gets plenty of room to exorcise the demons so to speak.
What is going on with Tiamat, because the last time we talked, you were going to Russia and Ukraine and Belarus…
When was this? (thinks) I wonder if I went with them, I don't think so, but in 2019 or 2018 we went to Colombia. One festival and then we flew home. Incredible. It wasn't in Bogota either, it was in a place called Manizales. That trip took forever. You fly to Bogota, then you change, so you fly domestic in Colombia to Manizales and then there was a two hour drive from the airport to the festival.
You saw something from the country at least!
Absolutely. It is beautiful! Mountains and forests are spectacular.
It is not the first time that Evergrey switched label, but can you tell something about the change from AFM Records to Napalm Records? Is this important or do you think 'nevermind…'?
For us it is important to have a good label, I mean, for several reasons. First of all, if we would start our own label, that would be a lot of work for us of course and we don't have the connections that our labels have. They have the distribution channels and everything. It is good to have a label that really believes in you and loves what you are doing. Napalm Records were really enthusiastic about this record, they are very happy with it. That makes things easier for them and for us. If everybody is happy, everybody will do his best to sell and promote it. I look forward to good touring packages.
In the past you would like to play guitar in a band instead of bass. What about current intentions?
That changed again, back to bass. I haven't played guitar for three years now, something like that, and I haven't felt the need to do. So I am quite happy playing bass.
I think it is a more relaxed job than being the lead guitarist…
Oh yeah! It fits me better.
There are three video clips and there is a story running through them. Can you tell something more about that?
We are working on yet another video, so there will be three. The first video is sort of the last in the chronological order. So this new one, that we are working on, that is like the first piece. It is kind of fun, we have never done videos like this before. It is different for us, but it is fun. We get to act and we are not Al Pacino, but it is fun and it is another creative outlet so to speak, instead of having the same kind of performance video we have done in the past, but everybody does. And it works, sometimes it is nice to do something else. We worked with Patric Ullaeus and he has done every video since 'Broken Wings', but he is great. We have a very good communication with him. He understands very well what we are trying to do and his sense of aesthetics and how things should look is appealing to us. It speaks to us, that is a good thing.
In September a long EU tour is planned, so let's hope it will happen…
Let's hope indeed. It should be fun, although I am a little bit concerned, because it has been so long since we lived on a tour bus. Being away from home for so long, I am a bit nervous, but I really look forward to that as well.