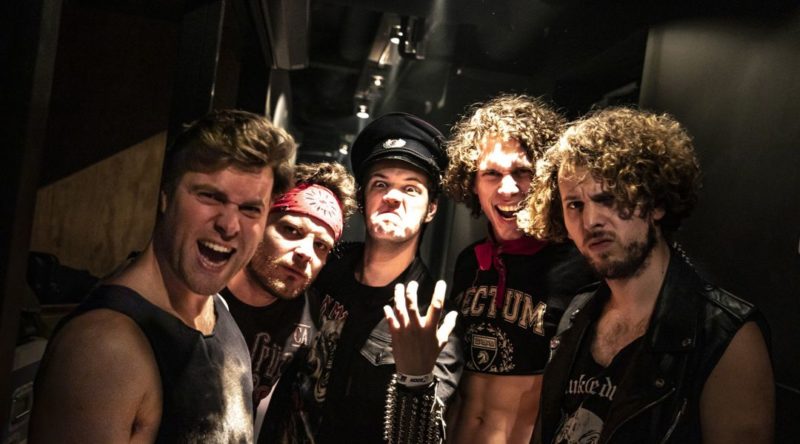 X Raiders – The Crooked – All over Again
Dit concert stond eerst gepland op vrijdag 13 maart en is ivm de coronamaatregelen verplaatst naar vrijdag 2 oktober. Reeds gekochte kaartjes blijven geldig en iedereen die al een kaartje had gekocht is ingelicht!
De X Raiders komen hun nieuwe album in je gezicht rammen! De mannen (geboren in '89) hebben inmiddels de niet-zaligmakende leeftijd van dertig gehaald. Hun studententijd van nachten doorhalen, Schultenbräu drinken en Turbonegro luisteren zijn over. Ze zijn te jong om zich bij hun rugklachten en burn-outs neer te leggen, maar zeker ook te oud om voldoening te halen uit het posten van selfies. Deze bom van frustratie en energie hebben ze vertaald in een genadeloos nieuw album: Weltschmerz '89, wat op 31 januari 2020 uitkomt. Onvervalste heavy metal rock 'n roll! "The loudest band I've ever recorded", zei producer Attie Bauw (Judas Priest) er over. Ze hebben het album live opgenomen, en met hun buitengewone live-reputatie op festivals als Zwarte Cross en FortaRock kan dit voor deze avond maar één ding betekenen: keihard knallen!
Voorprogramma:
The Crooked is een vierkoppige alternatieve rockband en brengt je een combinatie van stevige rock-songs, die door de overliggende popelementen makkelijk blijven hangen. Stevige drums, opzwepende baspartijen en vette gitaarriffs worden naar je oren geslingerd.
All over Again laat zich inspireren door de grunge scene gecombineerd met psychedelic / stoner invloeden. Het ruige stemgeluid samen met scheurende gitaarsolo's en dikke modderige riffs maken de harde, melodische nummers tot een ware vertolking van het rock genre. De band was tot 3 keer op een rij te zien op het Veenhoop Festival waar ze openingsact waren voor grote bands zoals Europe & The Guano Apes. In oktober 2019 heeft de band zijn debuut Weekendcheaters gereleased.
Let op: vanwege de corona-maatregelen hanteren we zitplaatsen. Per bestelling kun je maximaal 2 kaartjes kopen. Het is wel mogelijk om meerdere kaarten te kopen, maar dat betekent meerdere keren bestellen en het is niet mogelijk om met meer dan 2 personen naast elkaar te zitten. Vanwege de 1,5 meter maatregel zijn beperkt tickets beschikbaar, dus wacht niet te lang!