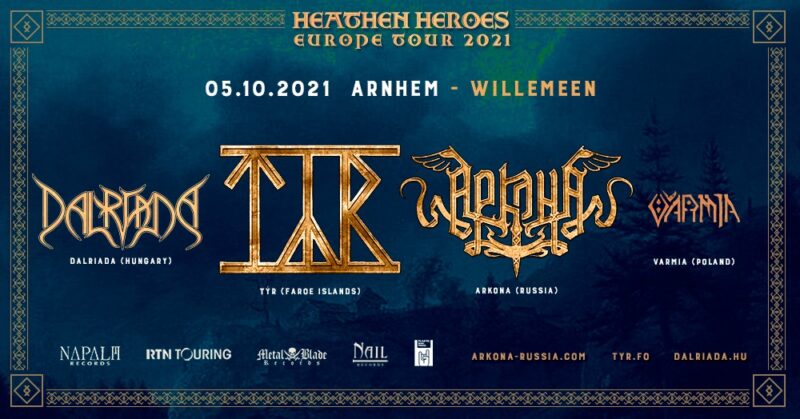 Týr – Arkona – Dalriada – Varmia
New Tour date: 5 oktober 2021!
HEATHEN HEROES TOUR, Arkona and Týr are teaming up for a double headliner tour in 2021!
Faroese Týr and Russian Arkona have announced a double headliner Heathen Heroes tour across Europe in the fall of 2020. The tour will run all the way from the eastern part or Europe, through the Baltics and the whole of Scandinavia, to the western shores. It will also be featuring a special guest, Hungarian folk-metal heroes Dalriada, and further supported by black metal Varmia from Poland.
Týr's most recent album "Hel" was released in March 2019, and it was followed by a very successful "Tour From Hel" to promote the album in mainland Europe, North America and Russia. The album has been very well received by the audience and press.
Arkona, led by mighty Masha Scream, will be back on the road, being in the middle of the recording of their 9th album. After the release of "Khram" in 2018 the band played worldwide and this tour will mark the end of the Khram era.
Both bands will play a mixture of old Pagan classics and Heavy Hitters from the recent albums, so prepare for a night to remember!
Special guest Dalriada from Hungary will be join as well, presenting a new album (Őszelő), release is scheduled for the end of August.
The opening position will be the Polish Root Metal band, Varmia
the bands statement about the announcement during the Covid-19 times:
"We are aware of the current situation with the travel- and crowd restrictions.
We hope the current efforts of the authorities, and the many responsible people already staying at home or limiting themselves, will stop the spread of the virus.
We will follow the news, regulations and recommendations of the authorities. We will not risk anyone's health or safety.
September is far away, so there is a decent chance the tour will happen. We want to give our fans something to look forward to. The more you stay at home – the sooner we can meet again."
TYR (Metal Blade Records) current album: "Hel" just out
ARKONA (Napalm Records) current album: "Khram"
DALRIADA (NAIL Records) new album "Őszelő" comes before the tour
VARMIA (Pagan Records)