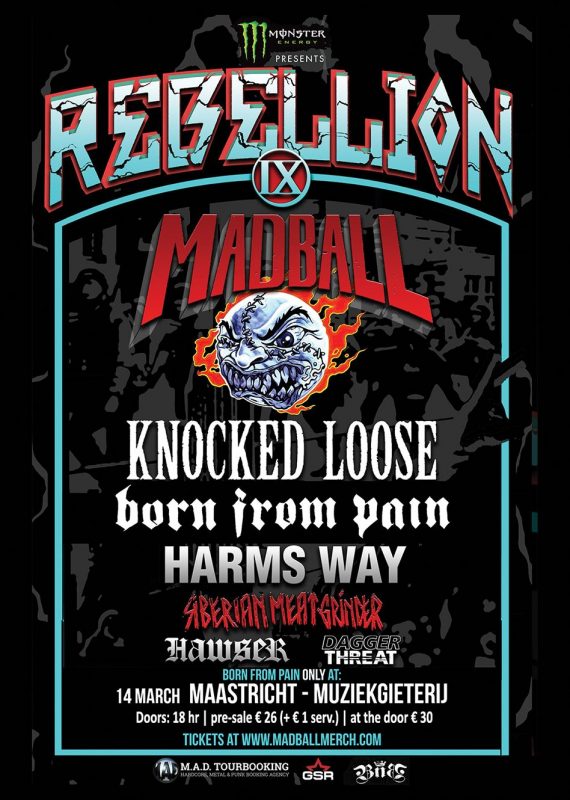 AFGELAST – Rebellion IX: Madball – Knocked Loose – Born From Pain – Harms Way – Siberian Meat Grinder – Hawser – Dagger Threat
Heeft MADBALL eigenlijk een introductie nodig? Al meer dan 30 jaar is dit instituut de hardstwerkende én hardste band van New York City. In al die tijd is de Lower East Side crew nooit z'n urgentie, authenticiteit of integriteit verloren. De groep werd eind jaren tachtig opgericht door Freddy Cricien, het broertje van Agnostic Front-frontman Roger Miret. Sindsdien staat de band garant voor die kenmerkende, groovende en street-level hardcore tracks, zoals alleen Madball dat kan.
Na een uitverkochte show in Patronaat komt Knocked Loose terug naar Nederland! De zaal werd afgebroken dankzij hun energieke liveshow, death metal-riffing en loodzware beatdown breakdowns, vastgelegd op hun nieuwe album 'A Different Shade Of Blue'. Knocked Loose is niet te stoppen!
Harms Way leverde met 'Posthuman' een van de beste hardcore-platen van 2018. Uitgegeven door Metal Blade Records, mixt de band loodzware gitaarriffs met industrial noise en nu metal-grooves.
Het Russische Siberian Meat Grinder speelt crossover thrash alsof het eigenlijk bivakkeert in Venice Beach. De gemaskeerde posse combineert catchy thrash riffs met hardcore breakdowns en een nodige dosis humor!
Als een van de vaandeldragers van de Nederlandse hardcore-scene is het Rotterdamse HAWSER een band om rekening mee te houden. Na het meedogenloze 'Tough Love' komt er in 2020 een nieuwe plaat!
Het Duitse hardcore-kwintet Dagger Threat bracht in 2019 het langverwachte debuutalbum 'Gestaltzerfall' uit op het gerenommeerde BDWH Records.