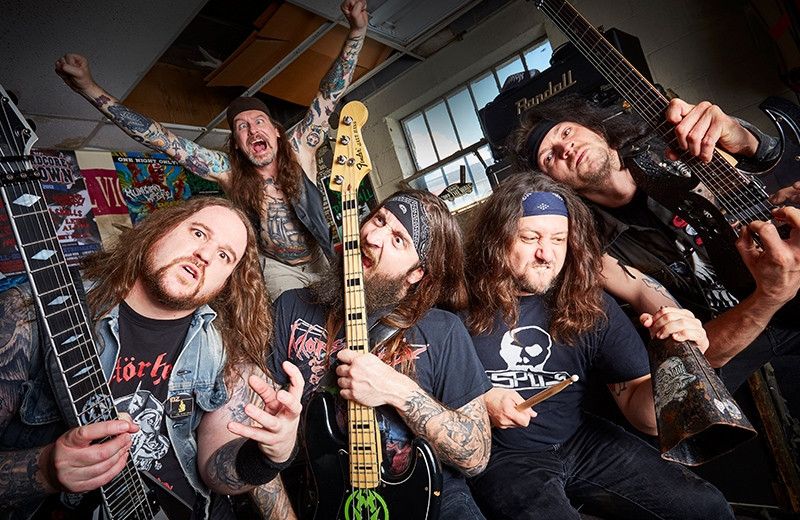 AFGELAST – Municipal Waste – Svetlanas
In de zomerstop gaan we speciaal 1 avond open en wel voor een exclusieve NL clubshow van MUNICIPAL WASTE een band die je overigens sowieso weinig in de "kleine" clubs ziet uniek mis dit niet!
MUNICIPAL WASTE So what happens when a band's riotous reputation catches up with them? Precautionary measures are taken and they – of course – get banished, only this time, it's into space! When the greedy ship captain hordes the food rations, the crew kicks into survival mode, commit mutiny, and devour their captain skewing the story into a horrific yet fantastic cannibalistic voyage into space that cult movies are made of. their utmost respect for headbang-inducing riffs, their trademarked aggression, their tongue-in-cheek sense of humor, and their talent for extracting meaning out of the absurd.
Rising from the squalor of a cursed punk house for their live debut at a New Year's Eve keg party welcoming in 2001, founding members Ryan Waste and Tony Foresta quickly embraced a DIY ethic to spread the word about their band and graduated to booking shows out-of-state and even in Mexico. After a self-titled EP and the Waste 'Em All debut album in 2003, bassist Phil "LandPhil" Hall and former Melt Banana drummer Dave Witte were ushered into the fold. Earning such accolades throughout their career as "MUNICIPAL WASTE do it so well that any track could squeeze comfortably between D.R.I. and Gang Green on a mix tape" from Spin Magazine, "No band sound more authentic," from Alternative Press, "A gold standard" from Decibel magazine, and "Undeniably the best at what they do," from Outburn magazine. Visually, the band also delivered, as evidenced by the success of the devil-may-care and often outrageous attitude of their videos which have all become fan-chanted anthems at their live shows. The fact is, no one could argue against MUNICIPAL WASTE's reputation as the ultimate feel-good party band.
Aptly hailed as "an interstellar thrashterpiece" by Decibel magazine, MUNICIPAL WASTE's The Fatal Feast debuted at #3 on the Billboard Heatseekers chart. Not bad for a band from Virginia, eh? Space may be a noiseless vacuum for amateurs who don't travel with their own P.A. system, but seasoned veterans of extreme situations MUNICIPAL WASTE always know better than to leave home without it!
SVETLANAS have often been called "The Most Dangerous Band in the World" thanks to their super intense live performances at such international festivals as Vans Warped Tour (USA), South by Southwest (USA), Punk Rock Bowling (USA), Rebellion Festival (UK) Extreme Fest (FR) and more. While maintaining a 100% DIY attitude, the band has earned praise and respect from such punk and rock heavy hitters like Gene Simmons ("Their music will be listened to by 40 millions of Americans."), Jello Biafra ("Olga has quite an unusual voice, kind of like an angry cornered mongoose.") and The Adolescents, who they partnered with on a split release titled "Hot War". In 2015 the band teamed up with Blag Dahlia of The Dwarves for a 7″ split and an European tour that captured the attention of bass player Nick Oliveri (Queens Of The Stone Age, Kyuss, Mondo Generator, The Dwarves) who officially joined the lineup during the recording sessions in 2016. After a full month residency at the legendary Whisky a Go Go in Los Angeles, SVETLANAS put out their brand new album "This is Moscow Not LA" , which was recorded at Josh Homme's Pink Duck Studios.