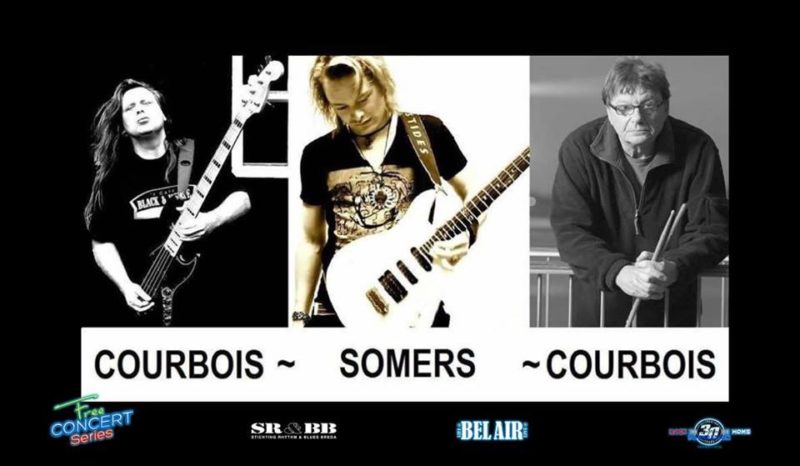 Courbois Somers Courbois
Bel Air Breda Proudly Presents! … Courbois – Somers – Coubois! Dit extreem muzikale trio is iets bijzonders. Barend is wat ons betreft Leading en enig in zijn soort! Wij menen na Jaco P. Toonaangevend voor Nederland. Timo Somers is en muzikale duizendpoot die wat dat betreft niets uit de weg gaat om zijn doel te bereiken. Sir Pierre Courbois, … T'ja! Need we say more! Seen It, Don It, Been there! Gespeeld met de groten der aarde. Kort om. Mis deze unieke kans niet en? Deel! Nodig Uit! Zet in je agenda en wees er bij! WEES ER SNEL BIJ EN RESERVEER JE PLEK! GRATIS ENTREE! … VOL = VOL!
Barend Courbois… (o.a. Blind Guardian, TANK, Ozzy's Zakk Wylde, Vengeance, Jan/Timo Somers, Walter Trout, Eric Gales, Adrian VandenBerg, Whistler-Courbois-Whistler, Jasper van 't Hof's Pili Pili…)
Timo Somers… Next to Delain, Vengeance and Tri-Head, Timo is also a very well sought after session player/producer, playing on different recording projects all over the world, playing live with his own projects, doing clinics and always producing new songs, whether it be for himself or for others.
Sir Pierre Courbois… (o.a. Association PC, Jean-Luc Ponty, John Coltrane, John Mc Laughlin, Charles Minges, Don Cherry, Slide Hampton, Stan Getz etc, etc.).