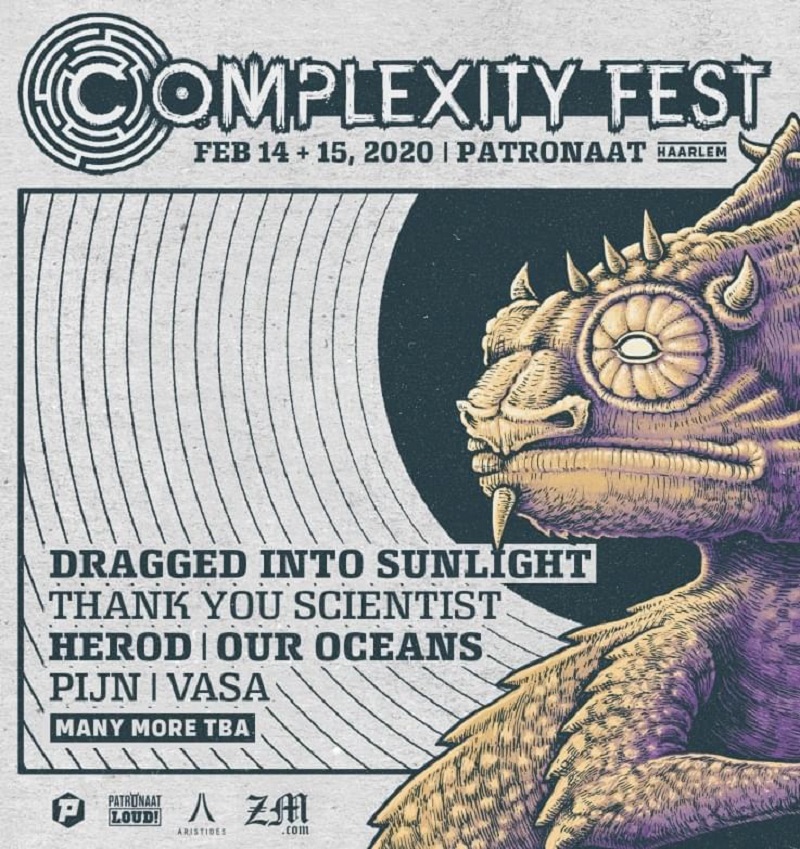 COMPLEXITY FEST 2020
Dragged into Sunlight (UK)
Thank You Scientist (USA)
Herod (CHE)
Our Oceans
Pijn (UK)
Vasa (UK)
After four previous editions COMPLEXITY FEST returns for the fifth time to all halls of Patronaat Haarlem on the 15th of February 2020 with a special pre-party the day before, February 14th. COMPLEXITY FEST is an indoor festival that is all about adventurous and boundary pushing heavy music. After the most diverse acts have graced the stage of Complexity, the festival is once again looking to outdo themselves with a surprising and eclectic rollercoaster ride of a line-up.
Complexity Fest adds 6 new bands from a multitude of different genres, including two sets by And So I Watch You From Afar, Raketkanon's farewell show, the amazing Japanese band GOAT, Otoboke Beaver, NI (one part of last year's sensation PiNiol) and STUFF. 
Complexity Fest 2020 finalises its line-up for February 15 by adding NIGHT VERSES, ITHACA, COLD NIGHT FOR ALLIGATORS, BIELDERMANN and ZALM to the line-up. Moreover, with the addition of Complexity-alumni BEATEN TO DEATH and MARY FIELDS, and post-rock phenomenon ASTROSAUR the line-up for the pre-party is completed too.
"Complexity knows that everyone who has played this weekend isn't about selling out or doing anything by numbers. It's about passion, heart and a pioneering spirit." – Metal Hammer (2018)