DIMEBAG's Longtime Girlfriend RITA HANEY Reveals Ovarian Cancer Battle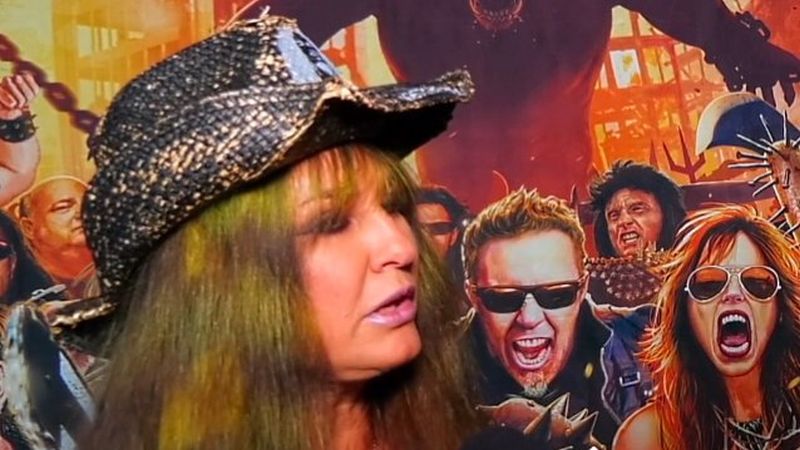 DIMEBAG's Longtime Girlfriend RITA HANEY Reveals Ovarian Cancer Battle
Rita Haney has spoken publicly for the first time about her battle with ovarian cancer. The longtime girlfriend of late PANTERA guitarist "Dimebag" Darrell Abbott discussed her health scare in an interview with "The Blairing Out With Eric Blair Show" on the red carpet of the Ronnie James Dio 10th Memorial Awards Gala this past Thursday, February 20 at the Avalon in Los Angeles.
Asked what is important about the Ronnie James Dio Stand Up And Shout Cancer Fund to her, Haney said (see video below): "A few years ago, I had a bout of ovarian cancer that I had to deal with. For a whole year, I was doing treatments, and I had no clue what was gonna happen. I kept it pretty quiet. But Wendy [Dio, Ronnie's widow and longtime manager] works with some great people, and these people helped me. It means a lot to me, for this foundation, to just bring awareness to any sort of cancer. So, yeah, it's more than words."
Ovarian cancer is the fifth leading cause of cancer-related death among women, and is the deadliest of gynecologic cancers.
When ovarian cancers are caught in the early stages of the disease (stage I or II), the five-year survival rate is more than 90 percent. Check de onderstaande socials voor meer informatie over deze band.