MANOWAR's JOEY DEMAIO 'can't wait to get to court' in band's dispute with HELLFEST organizers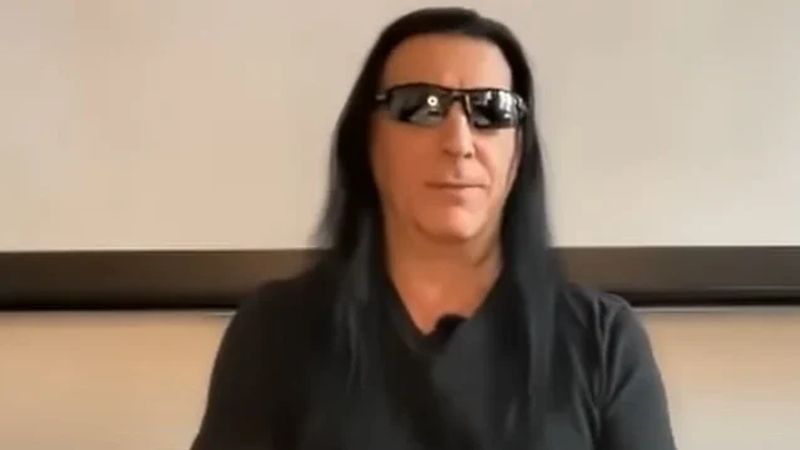 MANOWAR bassist Joey DeMaio says that he is looking forward to presenting his case in court in his dispute with the Hellfest organizers over the cancelation of the band's concert at the 2019 edition of the French heavy metal festival.
It was reported on June 21, 2019 that MANOWAR's performance at the annual event in Clisson was called off just hours before the veteran metal group was supposed to take the stage.
The Hellfest organizers later issued a statement saying that the MANOWAR members "decided to leave the site" and insisting that the cancelation was caused by "reasons beyond our will."
MANOWAR disputed Hellfest's version of the circumstances that led to the band's non-appearance at the event, claiming that the Hellfest organizers canceled the show after they "chose not to honor their contractual obligations."
In July 2019, DeMaio announced during MANOWAR's concert in Istanbul, Turkey that he and his bandmates had filed a lawsuit against the Hellfest organizers, explaining that "we don't fuck around. People try to fuck with our fans… Nobody's gonna push MANOWAR around," he said. "We're not gonna give our fans less than a hundred percent. We don't take shit from anybody. And yes, we would rather give a hundred percent or nothing."
DeMaio discussed the Hellfest legal dispute during a new appearance on Germany's "Metal Hammer Podcast". He said: "I think about it every day. I can't wait to get to court. I can't wait. And I hope all the people that were stupid enough to piss on me and the band and call me an asshole and say that I canceled, not one of them can find a cancelation on my web site. I never canceled. It's a fucking dream. It's a lie. They canceled — not me. Why would I show up in France with all my trucks and 50 people if I wasn't prepared to play and wanted to play?
"But don't worry — we're going to court, and on that day, it will be the day of deliverance," he promised. "People will find out what really goes on in this business. So I invite anybody who's out there, when the day comes, come and watch me in action when I get a chance to tell my story to the judge. And I hope everybody who condemned me will use that same energy to apologize. Not to me — I don't give a fuck — but apologize to the fans that believed in the band and stand behind us."
When DeMaio first announced MANOWAR's lawsuit against the Hellfest organizers, he said that he wanted "the world to know the fucking truth, exactly what happened over there. It was the promoters that caused every fucking problem — not MANOWAR."
He added: "I believe we will win this lawsuit, and when we do, we're gonna take some money and we're gonna find a country and we're gonna find a city in that country that will have us, and we're gonna play a free concert, and the whole fucking world is invited. You have my fucking word that that will happen… And don't listen to these fucking ass-kissing motherfuckers on the Internet talk shit about MANOWAR and their rumors. None of those fucking assholes were even there. Do they have a copy of our contract? Were they backstage? Did they see what happened? No. They've got nothing better to do than play with their fucking little dicks and type on the fucking Internet and talk shit about people. But we're the band that showed up there with eight fucking trucks, or however many we had, ready to play. And guess what? We never canceled. Yeah, that's right. The announcement came from them, on their site. But it was nice for people to say we canceled so they wouldn't have to listen to the fans bitch. So maybe those people should ask these fuckers some questions about what really happened."
Last year MANOWAR announce the addition of guitar shred pioneer Michael Angelo Batio to their ranks. He will temporarily fill in for EV Martel.
Message from our brother E.V. Martel
For personal reasons I will take a break from touring for a while and will therefore not be able to perform on the upcoming "Crushing The Enemies Of Metal" Tour 2023.
MANOWAR, their crew, along with all the Manowarriors around the world have been really great to me from the first moment I came onboard. I could not be more thankful for the good times we have shared.
With everything that is being prepared for next year's tour I know you are all going to have an amazing time Crushing The Enemies Of Metal.
Thanks to all of you again.
MANOWAR bassist Joey DeMaio said: "We love and respect E.V. and support his decision. He is a true brother, and we'll forever share unforgettable memories like playing near the Arctic Circle or in Mexico for the first time!"
Batio, who will play his first shows with MANOWAR starting February 2023, is a veteran both in the studio and on stage.
Voted by Guitar One magazine the "No. 1 Fastest Guitar Shredder of All Time", Chicago native Batio is an accomplished musician in many genres, but is best known for his lightning-fast metal performances. He is renowned the world over for his technical mastery of the fretboard, extremely fast picking and his invention, the "MAB Over Under" technique. His ability to play a double-necked and quad-necked guitar using both hands has earned him the respect of fans and fellow musicians alike.
"We've known Michael for many years and have always admired his work," said DeMaio. "His technique is astounding. When we invited him to come and jam with us, we played together at the speed of light. Everything fell into place immediately. We're ready for a killer tour!"
Michael Angelo Batio said: "I could not be more excited! I love metal more than anything, and it doesn't get more metal than MANOWAR! I can't wait to get on stage and play for the MANOWAR fans!"
MANOWAR's "Crushing The Enemies Of Metal Anniversary Tour 2023" celebrates the band's over-four-decades-long career and iconic albums such as "Battle Hymns", "Into Glory Ride", "The Triumph Of Steel" and "Warriors Of The World".
Martel, who previously played with the Brazilian MANOWAR tribute band KINGS OF STEEL, ended up joining MANOWAR as the replacement for longtime MANOWAR guitarist Karl Logan. This past July, Logan was sentenced to five and a half years in prison for possessing child pornography.
Karl joined MANOWAR in 1994 as the replacement for David Shankle.
Prior to hooking up with MANOWAR, Logan played several bands in northeastern Pennsylvania, including ARC ANGEL and FALLEN ANGEL.