DELAIN soon to announce new singer Glennis Grace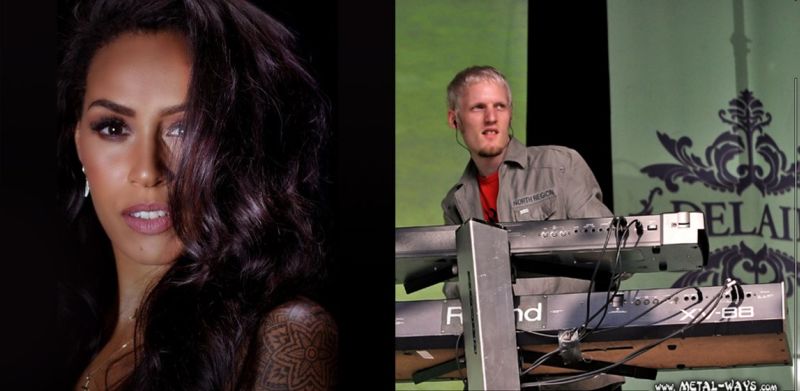 Delain keyboard player Martijn Westerholt has confirmed to Arrow Lords Of Metal that Dutch soul singer Glennis Grace will have a "substantial" and "dominant" role on the new, yet to be announced Delain album. Delain made headlines last month, when all members of the band quit at the same time, leaving band leader, main composer and founder Martijn Westerholt. Westerholt now exclusively revealed that the vocals on the new album will be centered around Glennis Grace.
Says Westerholt:
"Well, that was not suppose to come out before June, but okay… yes, we met up through the management of my brother (Robert Westerholt, guitarist and founder of Within Temptation) and since I had the opportunity to do something completely new and I had the chance to surprise everyone, including myself, I just wanted to give it a shot with her. Initially for one song, but I fell in love with her voice and it opened up so many great new ideas for me. I tried and tested her, there was nothing she couldn't reach, she is impossibly good and very professional to work with. We have around 11 songs more or less ready for the new album, and she has a substantial and dominant role on all of them. We might bring in some guest vocalists, probably more traditional metal voices, but for now, this is too inspiring to not go with it. Don't worry, the songs will be 100% Delain, no matter who sings, I will make sure of that. But thanks to you, I think we have to speed up the announcement of the role of Glennis, now".
Confronted with the words of Westerholt, Grace added:
"I know this was unexpected. I saw Floor Jansen (Nightwish) on a tv show and I thought that was so uplifting, I had never seen something like that. Those vocals, with heavy guitar music and the dramatic keyboards behind it. It was a long time ago someone gave me goosebumps like that. My management suggested I'd have a chat with Robert (Westerholt) to see if we could do a one off cooperation, or something. He then introduced me to Guus (Eikens, ex Orphanage) and Martijn, Robert's brother.
I had honestly never heard of Delain before, but these guys are huge, all over the world. The new material sounds like you are stepping into a movie and Martijn and I just kept pushing eachother to get out of our comfort zones. I am a soul singer and not a metal singer. And he doesn't ask me to be someone or something else. For now, this is just a studio project and that is all we intend to do with it. But maybe we will take it to the stage one day. I secretly hope we will. But for now, you just have to wait until we are ready to bring something out. But it will be very exciting".
Delain's last album 'Apocalypse & Chill" came out in February 2020, under Napalm Records. It marked the band's sixth album and the last one recorded with the live line-up, singer Charlotte Wessels, guitarist timo Somers, bassist Schimmelpenninck van der Oije and drummer Joey Marin de Boer.
Martijn Westerholt was a founding member of Within Temptation, when Pfeiffer's disease forced him to exit the band to focus on his study, right after having written the band's breakthrough album 'Mother Earth'. He formed Delain in 2005, with the intention to let it be a studio project, with a variety of guest singers. Over the years however, the project started to shape up like a band, with a solid core of band members. With the new situation, Westerholt brings Delain back to its original purpose.