Ex-MEGADETH bassist DAVID ELLEFSON announces European 2024 Bass Warrior Tour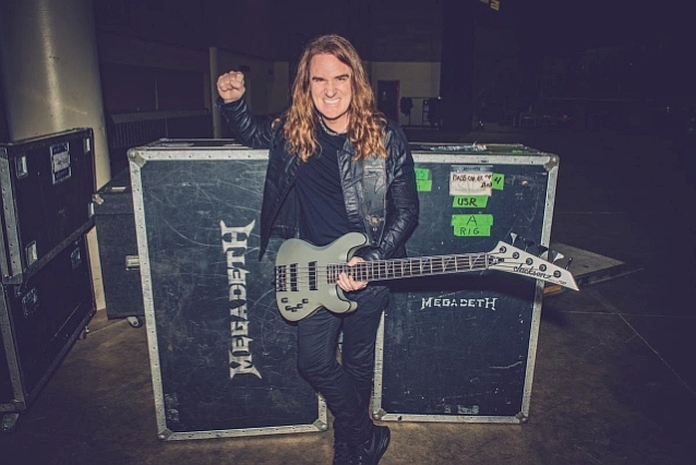 Former MEGADETH bassist David Ellefson has announced his inaugural "Bass Warrior Tour", gracing select European cities with a captivating evening of cherished classics, deep cuts, and insightful storytelling from his illustrious career. This journey will encompass his role as a co-founding member of MEGADETH, his ELLEFSON solo material, and more.
Ellefson, with enthusiasm, expressed: "I've approached my career as that of a musical warrior, always accompanied by my bass guitar. I eagerly anticipate bringing these songs back to the stage, while sharing introspective and entertaining anecdotes about their creation. It's been a wild ride of low notes and high stakes!"
Accompanying him on this tour is Italian guitarist and musical director Andy Martongelli, a longtime friend and collaborator who has been by Ellefson's side during his solo ventures, "Basstory", ELLEFSON-SOTO and ALTITUDES & ATTITUDE tours across Europe. On drums will be Roberto Pirami (Michael Angelo Batio, Rowan Robertson, Gus G.),on vocals Titta Tani (EHFAR, ex-drummer of Claudio Simonetti's GOBLIN),and on rhythm guitar Walter Cianciusi (Geoff Tate band).
Tour dates:
Feb. 23 – Borderline Club – Pisa (Italy)
Feb. 29 – Kill Joy – Roma (Italy)
Mar. 01 – Il Druso – Bergamoo (Italy)
Mar. 02 – Il Giardino – Lugagnano (Italy)
Mar. 05 – Analog Live hall – Budapest (Hungary)
Mar. 07 – Reigen Live – Vienna (Austria)
Mar. 08 – Eden Klub Underground – Broumov (Czech Rep)
Mar. 09 – L.A. Live Style Club – Cham (Germany)
Mar. 10 – The Pitcher – Dusseldorf (Germany)
Mar. 12 – Mdn – Kolin (Czech Rep)
Mar. 13 – Bounty Rock Cafe' – Olomouc (Czech Rep)
Mar. 14 – Kino Regis – Bochnia (Poland)
Mar. 15 – Rc Mlyn – Vrutky (Slovakia)
Mar. 16 – Kollosseum – Kosice (Slovakia)
Mar. 17 – Randal – Bratislava (Slovakia) Ellefson was fired from MEGADETH two and a half years ago, just days after sexually tinged messages and explicit video footage involving the bassist were posted on Twitter.
Shortly before Ellefson was dismissed from MEGADETH, he released a statement on Instagram denying all social media chatter that he "groomed" an underage fan. He also filed a report with the police department in Scottsdale, Arizona alleging unlawful distribution of sexually explicit images of him by unknown offenders.
Dave Mustaine — who formed MEGADETH with Ellefson in 1983 — released a statement on May 24, 2021 announcing the bassist's departure from the band. In the statement, Dave said: "We do not take this decision lightly. While we do not know every detail of what occurred, with an already strained relationship, what has already been revealed now is enough to make working together impossible moving forward."
This past June, Ellefson told Andrew McKaysmith of the "Scars And Guitars" podcast that he was prepared for his latest exit from MEGADETH.
"When my departure from MEGADETH happened, a lot of people were hitting me up and saying, 'Oh my God. It's so terrible. It's so terrible,'" he recalled. "And I said, 'Yeah, believe me, it's not.' (Laughs) It really isn't. I was ready for it. I didn't think it was gonna go down that way; I didn't see that coming. But the fact that it happened, I was not sad about it. I was okay with it. Because I knew there's another journey ahead, and that journey wasn't gonna start until I was out of the old one.
"When you're in a group, you're in a setting, you've gotta play company man and you kind of go along with the narrative that's been set forth.
"There was a lot of things, a lot of the narrative in that band that I never agreed with," Ellefson admitted. "A lot of that band was started on a grudge and a hardship of the firing (of MEGADETH leader Dave Mustaine) from METALLICA. That was never my story. I was always a METALLICA fan and I became friends with those guys. I have nothing but gratitude for that group and those gentlemen for what they've done for all of us, and I think they deserve the biggest applause. So it was hard to be in a band that always had this saltiness around that whole narrative, because it was never my narrative. So I went along to get along, but now I don't have to do that. And now I can be on my own path. These are my words; it's my story now. And maybe the events that happened a couple of years ago, I needed to have my own story to tell. 'Cause when you quit a band, everyone's pissed at you; they hate you: 'Oh, fuck you. You quit. You quit my favorite band.' But when you get tossed out… And I'm not looking for the sympathy card. You don't have to feel sorry for me; you don't have to do any of that. But it's interesting that, I guess the way it happened… it went down in a way that it was certainly visible enough and on a level that… It was sort of, like, okay, well, what's gonna happen next? And I just tried to be faithful to just following my heart, following the path."
In 2004, Ellefson filed an $18.5-million lawsuit against Mustaine, alleging the frontman shortchanged him on profits and backed out of a deal to turn Megadeth Inc. over to him when the band broke up in 2002. The lawsuit was eventually dismissed and Ellefson rejoined MEGADETH in 2010. David Ellefson has done the narration for the long-awaited Nick Menza documentary film "This Was My Life: The Story of Nick Menza". A 30-second clip of Ellefson in the studio is now released.
Watch the 30 second clip below.
Executive producer, director and editor Holly Mollohan from the West Virginia-based Screaming Butterfly Entertainment is currently in the studio editing the film's official trailer.
"This Was My Life: The Story of Nick Menza" will be released later this year.
Menza's longtime personal manager Robert Bolger stated: "Going through all of Nick's personal and private VHS tape collection, photos and audio files was by far the best part of making this documentary. There's so much material I went through, listening to all the unreleased drum tracks, gathering all the footage from the live shows, backstage, on the tour bus, in the studio, fans and the interviews was an absolute amazing task piecing everything together. What amazing life Nick lived and a legacy he left behind."
Ellefson previously stated about his involvement with the film: "The making of the Nick Menza documentary has been such a joy for all of us, like a sort of MEGA family reunion where we shared stories, laughs and even a few tears around Nick and what he meant to so many of us. I think this film and soundtrack will touch the hearts of the fans and viewers in the same way, as we remember his larger-than-life character behind the drum kit, but also his lovable charm and warmth that made him the beloved one of a treasured musical legacy."
The Menza family previously stated: "We are excited for the fans to see the life Nick lived before, during, and after MEGADETH, it was quite the journey. Stay tuned for an epic documentary. As Nick would say, 'It's gonna be RAD."
"This Was My Life" will be the first-ever film to memorialize Menza's legacy and celebrate his life exactly how it was. It is described in a press release as "an unflinching exploration into the life of one of the most successful thrash-metal drummers of all time, authorized by the Menza family. From his childhood all the way through to the end of his life including a true blow-by-blow account of the repeated failed attempts of the classic 'Rust In Peace' lineup."
"This Was My Life" will feature rare and never-before-seen photos and video footage from Nick's archived VHS tape collection, personally filmed by Menza himself from 1988 through 1991. Included will be exclusive content showcasing Nick working at the studio, personal home movies, casual time and party time with his fellow bandmembers, as well as other well-known artists of the era that Nick toured with.
"This Was My Life" will include interviews with the Menza family and close friends, and former MEGADETH members Chris Poland, Jeff Young, former LAMB OF GOD/MEGADETH drummer Chris Adler, former MEGADETH tour manager Skip Rickert, Nick's drum tech Rob Corsie, legendary rock and roll photographer Gene Kirkland, film director, late metal historian, journalist and filmmaker Bob Nalbandian, James Rota and Emily Burton of FIREBALL MINISTRY, Terri Evans, Peter Flyn, John "Gumby" Goodwin, Bert Wolf, David Randi, Rob Schaefer, Juan "Nico" Alvarez, Robertino "Pag" Pagliari, Iki Levy of Soultone cymbals, and David Corral of L.A. CALLING.
Late in the evening on May 21, 2016, Nick collapsed behind his drum kit after suffering a heart attack during a concert with Chris Poland and Robertino "Pag" Pagliari in their band OHM: at The Baked Potato in Studio City, California and was pronounced dead upon arrival at the hospital. The Los Angeles County Department of Medical Examiner-Coroner said Menza died of hypertensive and atherosclerotic cardiovascular disease.
Menza rightfully earned his place as heavy metal's fiercest drummer during MEGADETH's 10-year peak at the top. The highlight of his career, Nick said, was playing Rock In Rio before more than 100,000 people. The lowest point was being fired by MEGADETH mainman Dave Mustaine while he was still in a hospital bed after surgery to remove what doctors feared was a cancerous growth.