DAVID COVERDALE wants to invite former WHITESNAKE members to participate in 'Farewell' studio album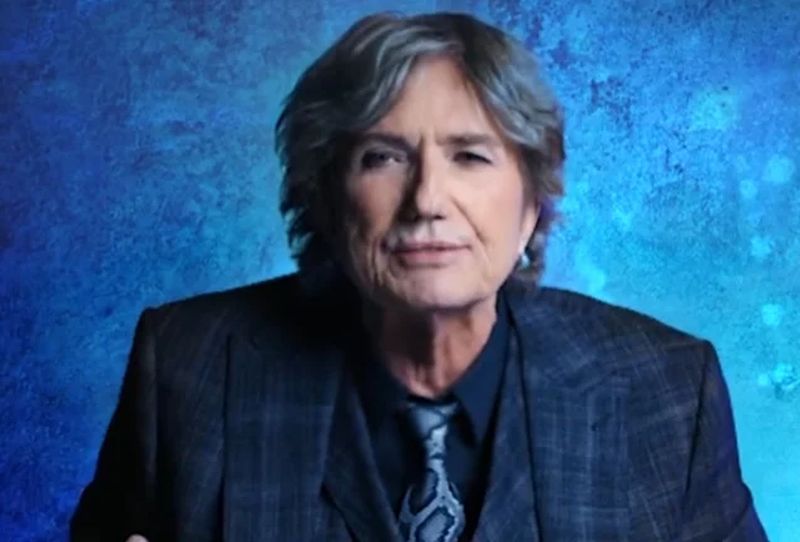 During an appearance on the latest episode of the "Totally 80s" podcast with host Lyndsey Parker, former DEEP PURPLE frontman and current WHITESNAKE leader David Coverdale was asked if he is retiring from music. The 72-year-old British-born singer responded: "No. I can't retire from music; it's oxygen to me. I've got at least three to five years of projects planned. As soon as we finish this thing, which is planned for, to celebrate PURPLE later this year ('The Purple Album: Special Gold Edition'), we're gonna start working on the farewell DVD, farewell album from the last (WHITESNAKE) tour. And the band was spectacular. I don't know whether you saw, I had a beautiful woman called Tanya O'Callaghan I got from Steven Adler on bass — just a breathtakingly beautiful, talented woman. Why I haven't had a woman in WHITESNAKE before, I will never know. But we had Dino Jelusick, two keyboard players, two guitar players. Tommy Aldridge is the equivalent of six drummers. And the places and the audiences, it was all very emotional. So I think we've captured that on the recording and the video stuff for people who could not make the actual shows. It's gonna be a very defining thing… On the British tour of last year, we used a huge production. It's gonna be a selection of WHITESNAKE stuff from the beginning to the end. It's pretty cool."
Coverdale went on to say that there are also tentative plans for WHITESNAKE to work on some new music. "I'm soon to be talking with my band about the idea of a farewell WHITESNAKE studio album and to invite some former members to participate to make it more complete — Adrian (Vandenberg) perhaps, Doug Aldrich, see if they would wanna come in," David revealed. "Michael Devin — all people I adore, and to see how it would go. But I think rather than just farewell to this current chapter, it's farewell to a lot of guys that have been involved. It could be interesting."
Brett Tuggle dead aged 70
He added: "I've got (WHITESNAKE guitarist) Joel (Hoekstra) coming in soon and see what music he has there. These guys are really inspiring to me. I'm not interested in trying to do it on my own. It's a collaborative band thing. I see the big picture. I want the best for all of them."
Last year, WHITESNAKE canceled several European shows and pulled out of a previously announced North American tour with the SCORPIONS due to what was described at the time as Coverdale's "continued treatment for a persistent upper respiratory infection."
On June 28, 2022, WHITESNAKE scrapped three shows on its spring/summer European tour due to Coverdale's infection of the sinus and trachea. Three days later, the rest of the trek was also called off. At the time, David blamed the decision on "continuing health challenges, doctor's orders, and our concern for everyone's health and safety."
David was not the first member of WHITESNAKE to fall ill during the group's spring/summer 2022 European tour. Guitarist Reb Beach missed several shows on the trek in June 2022 after being "under the weather." On June 25, 2022, WHITESNAKE canceled its show at the Rock Imperium festival in Spain due to the fact that drummer Tommy Aldridge "went down" and "was bad enough at the time to have missed the first show ever in his career," according to Coverdale.
WHITESNAKE launched its farewell tour on May 10, 2022 at Dublin, Ireland's 3Arena. The band's 14-song set, which was part of a European tour with special guests EUROPE and co-headliners FOREIGNER, marked WHITESNAKE's inaugural performance with the group's two latest two additions, Jelusick and O'Callaghan.
Coverdale had both his knees replaced with titanium in 2017 after suffering from degenerative arthritis. He later explained that he was in so much pain with arthritis in his knees that it hampered his ability to perform live.
Prior to the pandemic, WHITESNAKE had been touring in support of its latest album, "Flesh & Blood", which was released in May 2019 via Frontiers Music Srl.