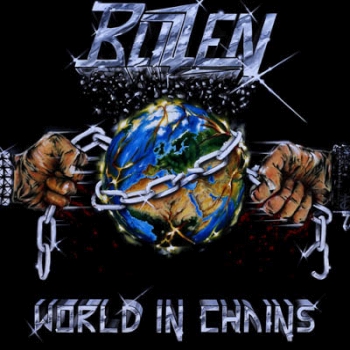 "Zeker een poging waard voor de liefhebber."
Cor Schilstra I 15 april 2020

Het Duitse Blizzen neemt ons mee terug in de tijd dat er nog cassette demo's werden gemaakt in Franky's Recording Kitchen, strakke spandex broeken, bijbehorende vocalen en bij voorkeur een vrij scherpe Charvel of Jackson in combi met Marshall sound. Zelfs qua totaalgeluid komt dit echt heel dicht in de buurt van een (goed uitgemixte) ouderwetse democassette. 'World In Chains' wordt zeer toepasselijk dan ook uitgebracht op CD, elpee en cassette (!).
De door hen zelf gehanteerde kwalificering als New Wave Of Traditional Heavy Metal dekt behoorlijk de lading ook al neigen sommige nummers qua snelheid in snaaraanslagen toch echt naar speed metal. Vergelijkingen met landgenoten Railway, Edguy en Seventh Avenue zijn snel gemaakt en het spelen op Harder Than Steel en Metal Assoult waren dan ook zeer geschikte etaleerpodia voor Blizzen. Zelfs het uiterlijk van 'World In Chains' doet denken aan de gloriedagen van de heavy metal en waarschijnlijk hadden ze destijds ook als subtopper mee kunnen draaien, iets wat met de hedendaagse muzikale voorkeuren misschien iets moeilijker zal zijn. Desalniettemin zeker een poging waard voor de liefhebber.
Check de onderstaande socials voor meer informatie over deze band.