BLIND GUARDIAN TWILIGHT ORCHESTRA - offer insight into the recording process with an orchestra and choir in new album trailer BLIND GUARDIAN TWILIGHT ORCHESTRA – offer insight into the recording process with an orchestra and choir in new album trailer
Promising to be one of the most ambitious projects in metal history, BLIND GUARDIAN's upcoming release will be well worth the wait. The idea of recording an orchestral album originally formed in the minds of the two leading lights of the BLIND GUARDIAN universe – guitarist André Olbrich and singer Hansi Kürsch – during the 1990's when BLIND GUARDIAN started to use orchestral elements to enhance their opulent sound. The monumental project started to take shape over recent years, and mirroring its epic sound cascades, the lyrical concept was developed. To create the concept, André and Hansi worked alongside German bestselling author Markus Heitz, whose latest novel »Die dunklen Lande« was released on March 1st, 2019. The book is set in 1629 and contains the prequel to BLIND GUARDIAN TWILIGHT ORCHESTRA's opus »Legacy Of The Dark Lands,« which will be out on November 8th, 2019.
Today, the band reveal their second trailer, in which they offer an insight into the recording process with the orchestra and choir.
Watch the new clip AT THIS LOCATION.

Hansi states:
"Finally, after ages of talking about it, it is time to unleash the beast. We have heard your pleas and here it is, a first glimpse of what »Legacy Of The Dark Lands« is about. We have reached the 'Point Of No Return' and there for sure will be no taking back. »Legacy Of The Dark Lands« will be released on November 8, 2019. Enjoy listening to the first single of this wonderful album. 'Point Of No Return' is a very vivid song and already gives you a very good insight of what to expect from the upcoming release. The song has it all, it is intense, very melodious and epic at the same time. Don't forget to check out the lyric video for 'Point Of No Return.' But now enjoy this first short trip to the »Dark Lands.« Still, this is just the beginning."
In addition, BLIND GUARDIAN TWILIGHT ORCHESTRA have announced the release of a 7″ vinyl single titled »This Storm,« (its cover art can be seen below) for October 4th, 2019, which can also be pre-ordered in various colours (clear, gold, red/black splattered) AT THIS LOCATION.
»Legacy Of The Dark Lands« will be available in the following formats:
– 2CD Digipak
– 2LP Gatefold (different colours, picture)
– 3CD Earbook (album, instrumental, no interludes version)
– 4CD Earbook (album, instrumental, no interludes version, audiobook) *SOLD OUT*
– 5LP Box (album 2LP, instrumental 2LP, audiobook LP)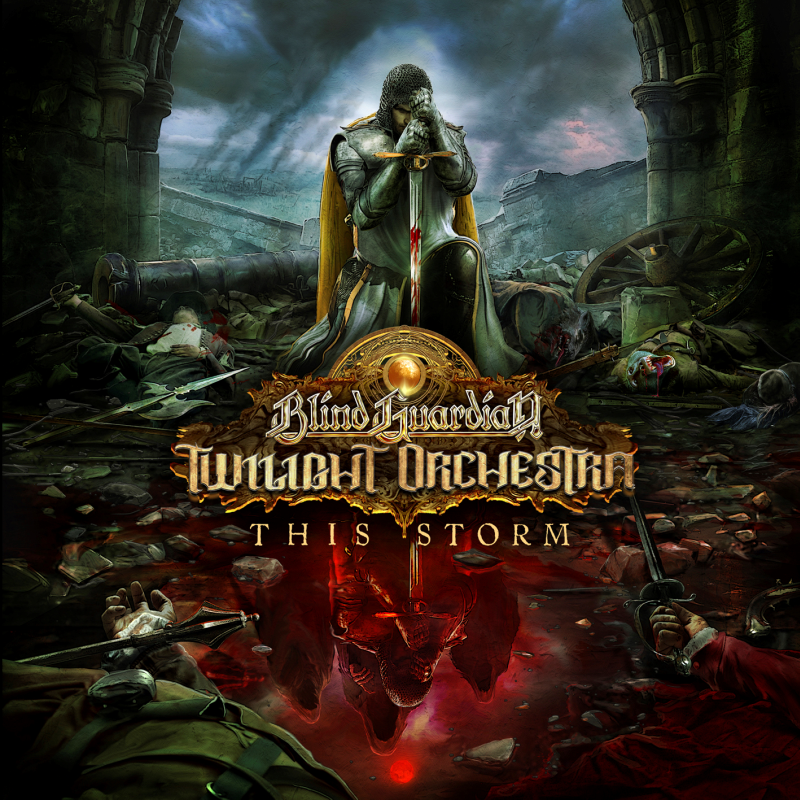 Check de onderstaande socials voor meer informatie over deze band.