AMON AMARTH plays surprise set at Germany's WACKEN OPEN AIR festival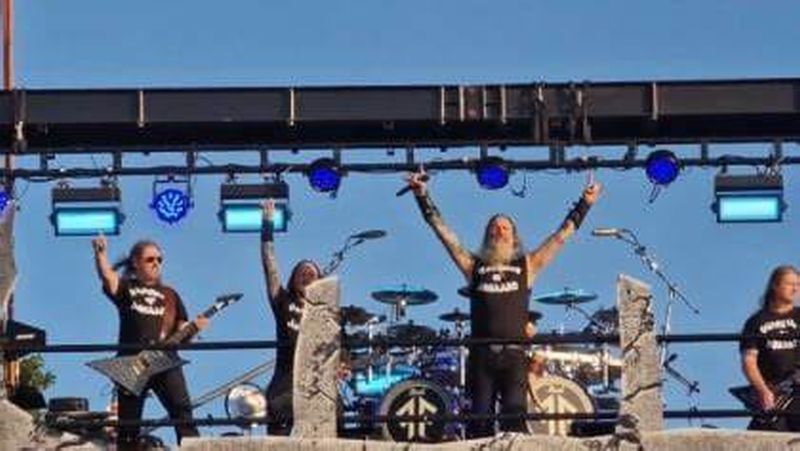 Swedish melodic death metallers AMON AMARTH played a surprise set at this year's Wacken Open Air festival on Thursday, August 4 in Wacken, Germany.
After the performance, the band took to its social media to share a short video of the concert, along with the following message: "Heathens! Thank you for joining us today on the glorious battle ground of @Wacken for a surprise set. Until next time!"
Watch film-filmed footage of the show at Wacken 2022 below.
Earlier this week, AMON AMARTH teased the show as an appearance from a band called GUARDIANS OF ASGAARD, which, they said, would make "a brief appearance at Wacken on Thursday to play some of your favorite AMON AMARTH hits."
Wacken Open Air takes place annually in the village of Wacken, which has a population of just about 2,000.
Up to 85,000 people attend the event, which is 32 years old.
200 bands are scheduled to perform at this year's Wacken Open Air, including headliners SLIPKNOT, POWERWOLF and JUDAS PRIEST.
Wacken Open Air was forced to take a break for two years due to coronavirus restrictions.
AMON AMARTH has just released its twelfth studio album, "The Great Heathen Army", via Metal Blade Records. The LP was recorded with acclaimed British producer Andy Sneap, who previously worked with the band on 2013's "Deceiver Of The Gods" and 2016's "Jomsviking" albums.
This past February, AMON AMARTH released a standalone single, "Put Your Back Into The Oar", an ode to the epic Viking row. The track was recorded and mixed in January 2021 at Fascination Street Studios in Sweden with producer Jens Bogren and was made available via the band's own label Victorious Music.
The "Put Your Back Into The Oar" video was shot in England over three days in October 2021. The atmospheric, cinematic clip was produced by Twin V and directed by Ryan MackFall at Crashburn Media.
AMON AMARTH will team up with MACHINE HEAD for the "Vikings And Lionhearts" co-headlining European arena tour in September and October. A North American tour with CARCASS, OBITUARY and CATTLE DECAPITATION will follow in November and December. AMON AMARTHThe Great Heathen ArmyTrack Listing1. Get In the Ring 2. The Great Heathen Army 3. Heidrun 4. Oden Owns You All 5. Find a Way or Make One 6. Dawn of Norsemen 7. Saxons and Vikings 8. Skagul Rides With Me 9. The Serpent's Trail Album pre-orders are available now from metalblade.com/amonamarth and feature a host of exclusive vinyl variants.
Armed with their 12th and arguably finest album to date, AMON AMARTH are poised to return to full action with a bloody, broadsword-wielding vengeance. The release of 'The Great Heathen Army' will kick-start another relentless global campaign, commencing with a co-headlining tour of Europe alongside Machine Head and fellow countrymen The Halo Effect. Still ruthlessly devoted to the ways of the warrior, AMON AMARTH have Odin's wind in their sails like never before. For tickets and further information head to AmonAmarth.com. Full dates listed below.
SEPTEMBERThursday 8 – NOTTINGHAM, UK, Motorpoint Arena Friday 9 – CARDIFF, UK, Motorpoint Arena Saturday 10 – LONDON, UK, The SSE Arena, Wembley Monday 12 – MANCHESTER, Uk AO Arena Tuesday 13 – DUBLIN, Ireland, 3Arena Friday 16 – ZURICH, Switzerland, Hallenstadion Saturday 17 – VIENNA, Austria, Stadthalle Sunday 18 – KRAKOW, Poland, Tauron Arena Tuesday 20 – TALLINN, Estonia, Saku Arena Wednesday 21 – HELSINKI, Finland, Ice Hall Friday 23 – OSLO, Norway, Spektrum Saturday 24 – STOCKHOLM, Sweden, Hovet Monday 26 – COPENHAGEN, Denmark, Forum Black Box Tuesday 27 – HAMBURG, Germany, Barclays Arena Wednesday 28 – FRANKFURT, Germany, Festhalle Friday 30 – OBERHAUSEN, Germany, König Pilsener Arena
OCTOBERSaturday 01 – BERLIN, Germany Velodrome Sunday 02 – AMSTERDAM, The Netherlands, Afas Live Tuesday 04 – MILAN, Italy, Lorenzini District Thursday 06 – BARCELONA, Spain, Sant Jordi Friday 07 – MADRID, Spain, Vistalegre Saturday 08 – LA CORUNA, Spain, Coliseum Sunday 09 – LISBON, Portugal, Campo Pequeno Wednesday 12 – PARIS, France, Zenith Friday 14 – MUNICH, Germany, Olympiahalle Saturday 15 – LEIPZIG, Germany, Arena Sunday 16 – PRAGUE, Czech Republic, Tipsport Arena Tuesday 18 – BUDAPEST, Hungary, Barba Negra Thursday 20 – ESCH SUR ALZETTE, Luxembourg, Rockhal Friday 21 – BRUSSELS, Belgium, Forest National Saturday 22 – STUTTGART, Germant, Schleyerhalle