TESTAMENT's ALEX SKOLNICK launches rap alter ego SKOLY-D, releases 'B.I.G. L.I.E.' video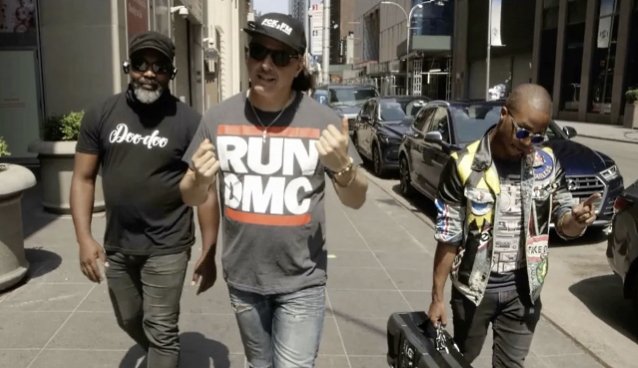 HU$H MONEY, the rap duo featuring Skoly-D, the alter ego of TESTAMENT guitarist Alex Skolnick, and Kimmy G (Kimmy Gordon), has released its first video, "B.I.G. L.I.E.", a take on the events that took place one year ago, January 6, 2021, in Washington, D.C.
Watch "B.I.G. L.I.E." below.
"B.I.G. L.I.E." deals with plenty of non-laughing matters, yet we can all use a little comic relief," says Skolnick, who is also the song's composer and producer. "What better way to point out the absurdity of it all than some classic rap grooves with humor inspired by the founding father of funny sociopolitical music, Mr. Zappa?
"We don't expect to change any minds here, but hope that whether someone agrees with the song or not, they will — at the very least — be entertained. And for those who aren't: We eagerly await your online rants and zingers. Make 'em good!"
"You can see the fun we had doing this. It's right there!" adds Kimmy G.
Directed by Frankie Fulleda, "B.I.G. L.I.E." was shot "guérilla style" in July 2021 at the Fox News HQ, Times Square and Washington Square Park and is said to be as much a tribute to New York, its resilience and ever-present wackiness as it is a takedown of nationwide right-wing echo chambers. In a t-shirt emblazoned with the oversized logo of the influential RUN-DMC, Skoly skewers Fox News, election denialism and insurrection revisionism. The video also features comic J-Hype (Jonathan Hyppolite) and Karl Lake, best known as "Robot Guy" from "Chappelle's Show". Hot tip: Alex, Kimmy and the video director once performed on the "Maury" show under the name VICIOUS DNA.
In the fall of 2020, Skolnick released two anti-Donald Trump rap songs, "Trump Sucks" and "Wear A Fucking Mask".
An outspoken critic of America's 45th president, Skolnick explained his foray into rap at the time of "Wear A Fucking Mask"'s release, writing on social media: "My recent homespun rap track 'Trump Sucks' got so much attention, from being labelled 'an anthem' and 'brilliant' to 'pathetic' and 'cringeworthy,' that I just had to follow it up.
"Staying in my lane is something I've never been good at.
"I realize a jazz/rock guitarist widely known for his thrash metal work releasing old-school rap tunes with a sociopolitical message and Zappa-esque satire might not make sense. But my question to you is: Does anything make sense these days?"
He added: "This sequel had more energy put into it so I hope everyone who appreciated the first one feels similarly about 'WAFM'.
"To anyone who thought the first track represents the pinnacle of my rap technique, three words: HOLD MY BEER".
The 53-year-old guitarist has made no secret of his political views, frequently tweeting against Trump's policies, including the then-administration's handling of the outbreak of of COVID-19, the disease caused by the novel coronavirus first observed in China. In March 2020, the guitarist blasted Trump for not being able to "convey a sense of reassurance during a time of emergency."
TESTAMENT's latest album, "Titans Of Creation", was released in April 2020 via Nuclear Blast.