ACCEPT performs Toronto shows without singer MARK TORNILLO
drummer Christopher Williams explains the band's decision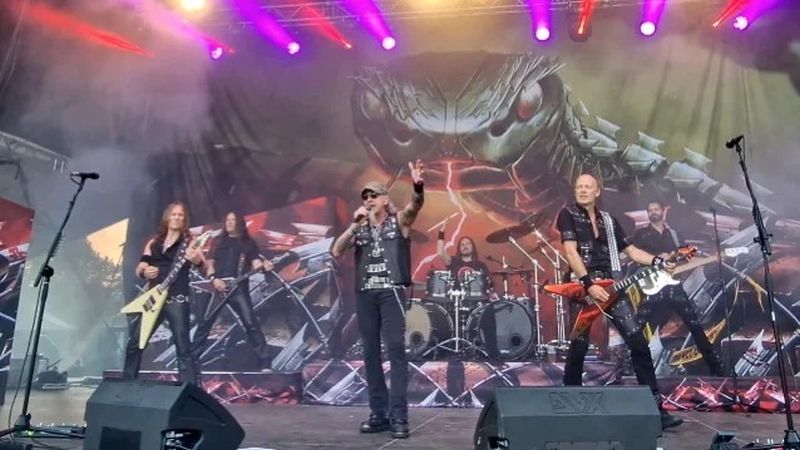 ACCEPT drummer Christopher Williams has explained the band's decision to perform without lead singer Mark Tornillo this weekend (Sunday, October 16) at The Phoenix in Toronto, Ontario, Canada.
It was announced prior to the concert that the 68-year-old Tornillo, who joined ACCEPT in 2009, would be unable to play the gig because he was having vocal issues and could have risked losing his voice had he gone ahead with the performance.
ACCEPT played an hour-long set in Toronto, with Williams, bassist Martin Motnik and some of the other members handling the vocal parts.
Earlier today, Williams shared a statement below The Metal Voice's Facebook post regarding last night's gig, writing: "Look: we could have cancelled the show, then there would have been nothing. That's it, good night, go home. Rather than that, we wanted to at least do SOMETHING for the fans, especially since it's been so long since the band has performed in Canada.
"I don't sing the ACCEPT songs, I play drums and sing backing vocals. During a show I'm not thinking about the lyrics for the full song, I'm performing. Same with Motnik.
"We tried to do something for the people that were there. We could have bailed out and done nothing. The situation was a major bummer but we did what we could.
"I can say this 1000% on record: Replacing Mark isn't an easy task. We still play in the original album key, tuned to standard. We don't drop tune like a lot of vocalists prefer which makes it 'easier' to hit the notes. We don't use backing tracks, it's all live. It's not like Mark can change a set of strings or sticks… We took a shitty situation and did what we could.
"Mark will be back up there in no time kicking ass like he always does." Tornillo joined ACCEPT as the replacement for the band's original lead singer, Udo Dirkscheider. He can be heard on ACCEPT's last five studio albums, "Blood Of The Nations" (2010),"Stalingrad" (2012),"Blind Rage" (2014),"The Rise Of Chaos" (2017) and "Too Mean To Die" (2021).
ACCEPT's North American tour, featuring support from NARCOTIC WASTELAND, kicked off on September 29 in Nashville, Tennessee and is scheduled to conclude on October 29 in Columbus, Ohio.
ACCEPT will start their long-awaited "Too Mean To Die" European tour on January 14, 2023 in Oberhausen. The metal Teutons will tour across Europe from mid-January to the end of February, playing 29 gigs in 13 countries, ten of them in Germany alone. The band now announce the support act for the tour, which is the American all-female IRON MAIDEN tribute band, THE IRON MAIDENS.
Tickets for the "Too Mean To Die" European Tour 2023 are now available. Get your exclusive VIP access for the shows of your choice (incl. meeting and photo with ACCEPT) AT THIS LOCATION!
ACCEPT live 2023:
"Too Mean To Die" Tour 2023:
14.01.23 DE – Oberhausen / Turbinenhalle
15.01.23 BE – Brüssel / La Madeleine
17.01.23 DE – Frankfurt / Batschkapp
18.01.23 FR – Paris / Bataclan
20.01.23 ES – Pamplona / Totem
21.01.23 ES – Madrid / La Riviera
22.01.23 ES – Barcelona / Razzmatazz 1
24.01.23 FR – Toulouse / Bikini
25.01.23 FR – Lyon / Transbordeur
27.01.23 CH – Zürich / Komplex
28.01.23 AT – Telfs / Rathaussaal
29.01.23 HU – Budapest / Barba Negra
31.01.23 CZ – Zlin / Hala Euronics
01.02.22 PL – Warsaw / Progresja
03.02.23 EE – Tallinn / Helitehas
04.03.23 FI – Helsinki / House Of Culture
05.02.23 FI – Tampere / Pakkahuone
07.02.23 SE – Stockholm / Fryshuset
08.02.23 NO – Oslo / Rockefeller
10.02.23 SE – Gothenborg / Trädgår'n
11.02.23 DK – Kopenhagen / Vega
12.02.23 DE – Bremen / Aladin
14.02.23 DE – Berlin / Huxley's
16.02.23 DE – Ulm / Ratiopharm Arena
17.02.23 DE – Munich / Tonhalle
18.02.23 DE – Filderstadt / FILharmonie
19.02.23 DE – Geiselwind / Eventzentrum
21.02.23 DE – Leipzig / Haus Auensee
22.02.23 DE – Saarbrücken / Garage