Watch: Abbath Throws Guitar, Throws Himself Into Crowd. Show Stopped After Two Songs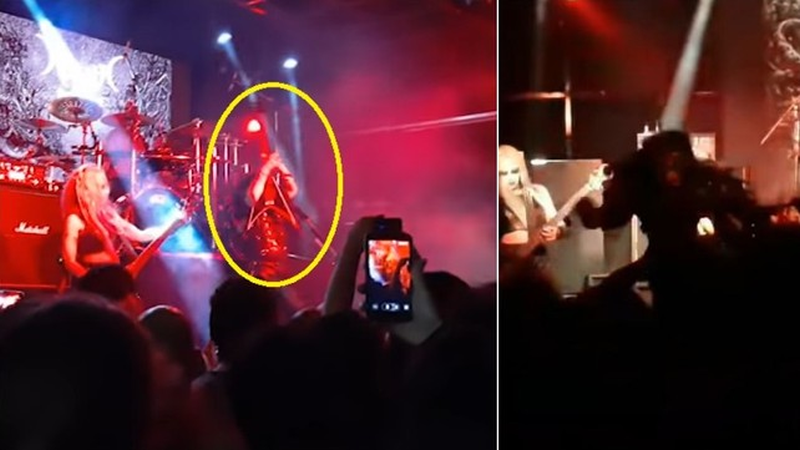 Watch: Abbath Throws Guitar, Throws Himself Into Crowd. Show Stopped After Two Songs
UPDATE: The entire tour has been canceled due to "health issues."
According to a report from El Culto, Abbath stopped a show after two songs this Wednesday, Nov 13, at Club Palermo in Buenos Aires, Argentina. As the source states, the first problems occurred with the venue doors opening two hours late, making opening bands Medium and Descarnado cut their sets short.
Abbath finally appeared on the stage, but without guitarist Ole André Farstad who allegedly stayed in the hotel and decided to skip the show after getting into an argument with the namesake frontman. The source further explains that Abbath was clearly drunk and that he tried to open the show with "Count The Dead" twice, after which he threw the guitar on the ground and attempted to throw himself into the audience. After trying to start off "Tyrants" as the second song that night, the frontman stepped down from the stage and was taken to the dressing room, which marked the end of the show.
Angered fans took to social media to express their anger over the failed show and to publically ask for a refund. Thursday, Nov 14, performance in the Argentinian city of Comodoro Rivadavia was canceled by the promoter for yet unrevealed reasons.
You can check out what it looked like in fan-filmed footage from the show below. After the first guitar drop and the jump into the audience, the musician threw his guitar into the crowd. You can see that in the second embedded video.
UPDATE: The band revealed through their social media channels that the remaining tour dates have been canceled. The statement can be found below:
Check de onderstaande socials voor meer informatie over deze band.