WEDNESDAY 13 releases new single "Insides Out"
New album Horrifier out October 7, 2022 via Napalm Records Heavy horror punk icon WEDNESDAY 13 announces his new album for a October 7, 2022 release on Napalm Records. The second single from the album, "Insides Out", is now released.
Watch "Insides Out" below. 
"Our latest single 'Insides Out' is a very heavy song, so it only made sense to make a video to match the sound! Torture and violence is the main theme of this song, and we continue along the lines of the last music video with another horror movie theme here too."
Also watch the previously released "You're so Hideous" below. 
Horrifier was produced and recorded by WEDNESDAY 13 with mixing and mastering by Brent Clawson, and features stunning album artwork by Jonny Bush. A dynamic journey into the 20-year career-spanning sound of WEDNESDAY 13, Horrifier revitalizes with something for every listener to latch onto – boasting intensely fun horror punk energy with gruesome metallic attitude!
WEDNESDAY 13 offers about Horrifier:
"The last three releases have seen the band explore new ground with heavier songs, drums, and vocals. Coming out of the Covid crisis, I promised I would not release a sad, depressing record. I wanted to make a fun, horror themed rock record that would be reminiscent of the first few WEDNESDAY 13 records. The new album is a fun, fast-paced, thriller!"
Pre-Order Horrifier AT THIS LOCATION.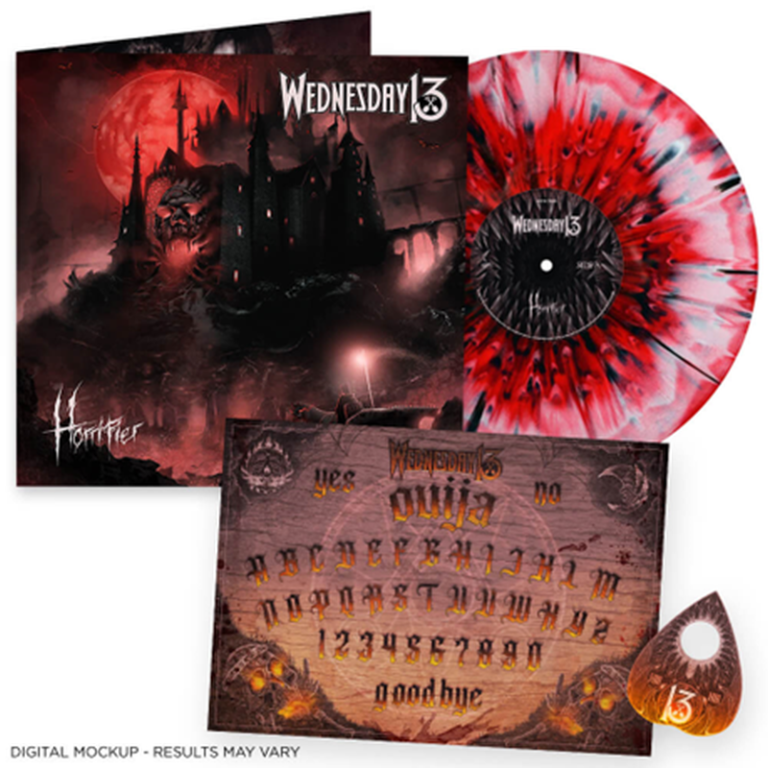 Horrifier track listing:
Severed

Insides Out

Exhume and Devour

You're so Hideous

Good Day to Be a Bad Guy

Return to Haddonfield

Horrifier

Hell Is Coming

Halfway to the Grave

Christine: Fury in the Night

The Other Side
Horrifier is available for pre-order in the following formats:
-1-CD Digisleeve
-1-LP Gatefold BLACK
-1-CD Digisleeve + Shirt – Napalm RoW Mailorder Only
-1-LP Gatefold SPLATTER RED/WHITE/BLACK w/ Ouija Board incl. Planchette – Napalm Mailorder Only, limited to 500 worldwide
-Digital Album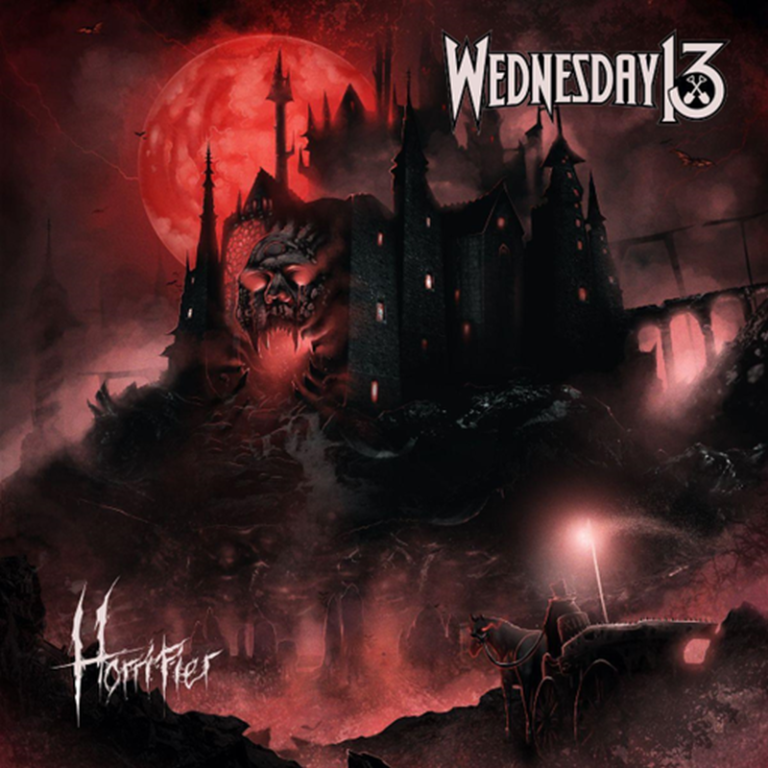 WEDNESDAY 13 European tour dates with Ministry & The 69 Eyes:
10/28/2022 – Germany Dortmund – FZW
10/30/2022 – Netherlands Tilburg – 013
10/31/2022 – Germany Frankfurt – Batschkapp
11/2/2022 – England London – o2 Shepherd's Bush Empire
11/3/2022 – Scotland Glasgow – SWG3 TV Studio
11/4/2022 – Ireland Dublin – National Stadium
11/5/2022 – Birmingham UK – Asylum – Co-headline with WEDNESDAY 13 and The 69 Eyes only
11/7/2022 – France Paris – Elysée Montmartre
11/8/2022 – France Rennes – Antipode
11/9/2022 – Spain Bilbao – Santana 27
11/11/2022 – Spain Madrid – But
11/12/2022 – Spain Murcia – Gamma
11/13/2022 – Spain Barcelona – Razzmatazz
11/14/2022 – France Lyon – Transbordeur
11/16/2022 – Switzerland Zürich – Komplex
11/17/2022 – Germany München – Muffathalle
11/18/2022 – Italy Milan – Fabrique
11/19/2022 – Slovenia Ljubljana – Kino Šiška
11/21/2022 – Hungary Budapest – Barba Negra
11/22/2022 – Czech Rep Prague – Forum Karlin
11/13/2022 – Poland Warsaw – Progresja
11/24/2022 – Germany Berlin – Huxleys
11/26/2022 – Germany Hamburg – Gruenspan
11/27/2022 – Denmark Roskilde – Gimle
11/28/2022 – Norway Oslo – Rockefeller
11/29/2022 – Sweden Stockholm – Fållan
12/1/2022 – Finland Helsinki – Black Box