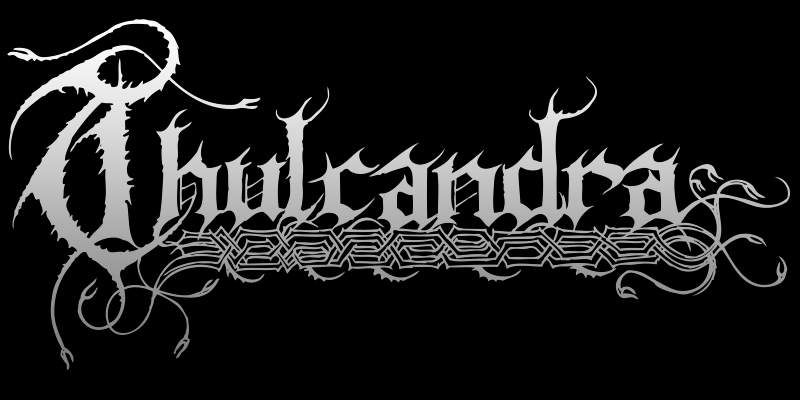 Thulcandra – interview met Steffen Kummerer (vocals, guitars)
Steffen Kummerer: "I would like to play a couple of more shows, but we are not overdoing it. Every show needs to be something special for the band. There are bands you see at every festival. We just don't have that aim. We want to keep it a little bit more original and special."
De pauze tijdens de coronacrisis heeft ook Thulcandra nuttig benut om nieuw materiaal te schrijven voor de band. Zo kunnen we anderhalf jaar na 'A Dying Wish' al genieten van 'Hail The Abyss' waarop de band in topvorm is. Steffen Kummerer is een bezig baasje. Hij heeft ook nog 'een drukke baan' bij Obscura, maar was zo vriendelijk om ons,  in deze hectische tijd waarin alles plots terug op gang komt, te woord te staan over 'Hail The Abyss' van Thulcandra.
Vera Matthijssens Ι 4 augustus 2023
Hi Steffen, it is about a year ago that we also did an interview, about the previous album 'A Dying Wish'. How are you doing?
Fine. I am taking care of PR and many interviews at the moment, because our new album 'Hail The Abyss' will drop on Friday, combined with the release show, so we are preparing the concert in our hometown and we will play the whole record, so we have to rehearse, but we are looking forward to Friday.
It was not so long ago since we had the former album 'A Dying Wish' which was dedicated to the bass player. Does it mean that right after this former album, you already started writing for this new album?
Yes and no. The fact that the recent album 'A Dying Wish' was released at the very end of the pandemic, it meant that we had not the chance to play many shows. So we had intended to do a national tour, but a big part of those shows had been postponed or later cancelled. So we did not know how long it would take to be back on the road, how long it may take to just play concerts overall again. Instead of forcing new shows, we'd rather sat down and started writing new songs. Instead of waiting and just wasting our time, we thought 'okay, maybe that's it for the moment, we better record a couple of music videos and write some new music together. That is the reason why the album is here so early.
That is nice. The only good thing on the pandemic was that there was more free time and that many bands have used this time to be creative…
Absolutely and we are one of the – I don't know, million bands – that faced the same issues. So we just tried to see the positive things. Yes, we had more time, but at the same time we were also able to make video productions. For the previous album we made one music video for 'the title track with Grupa 13 in Poland. It was a very nice experience, so looking back it was, not only successful, but also the theme of Grupa 13 was excellent prepared and it worked super well and we are very happy how the music video turned out. So for the next album, we just thought 'okay, if this worked, let us record two music videos. So that is the reason why we have 'Hail The Abyss' and 'As I Walk Through The Gateway'. These are the first two singles and we combined it with some nice quality videos. The pandemic had some problems and big issues, but on the other hand, as you said, some bands had more time for writing music. We took the time for writing music and also for the music videos. We are looking forward, not backward.
The world is more or less back to normal – except that it is more expensive – but recently you toured for the first time ever in the US. How do you look back at this adventure?
Well, we have been in the situation that Obscura worked on a North American tour and I am playing in both bands. I have been able to bring Thulcandra on the road and with the combination of both bands, it made sense, because we could share the crew. We always work with the same people, we also work with the same backline and therefore it was a good start for Thulcandra. So the entire tour was a big success. We had nine or ten sold out shows in North America. It was a co-headline tour of Obscura and Fleshgod Apocalypse from Italy and Wolfheart from Finland and Thulcandra supporting the entire fest. It was a really nice experience. All the bands worked with the biggest respect for each other. We always helped each other in case there were some problems. For example we had to face the issue that one of the mountain passes we had to pass was entirely frozen and not anyone could go through it, so long story short, we arrived very, very late at the next venue. Then we had just 45 minutes to set up everything, but instead of cutting the support band, all the bands – without discussing about it – said: 'okay, everybody plays, but every band plays a shorter set. So we had all the four bands on stage. This is real comradeship. I would play a tour with all of these bands in a heartbeat again. If they say it was a tough tour, if they say it was a successful tour, all of this for me is right, but for me it is not only about having a successful tour, it is about how you do it. With those bands, it was simply excellent and for Thulcandra it was the best way to introduce the band to the North American audience and we have been able to play proper shows every day. Only half an hour, but as opening act, this is just normal. But people really seemed to like the band. So there was a very good feedback and they also made us think about maybe playing another North American tour next year.
You did a long tour there, isn't it?
Yes it was about five weeks long and we did all major markets, so we had one day off. We enjoyed it. We enjoyed every minute of it.
Going back to the writing process: what were you inspired by to write lyrics this time?
I would say that the entire album is very diverse. So each song is different from the other. There is no song that gets repeated by itself again. So therefore we also thought that the lyrics should be very diverse as well. We on purpose decided that it was not going to be a concept album. It has all kinds of loose, different stories, but they all focus around the topics we also worked with in the past. So it is not a concept album, it is more the idea of writing a very diverse record with many different pallets if it comes to music, but also to lyrics.
'The Final Closure' struck me because it is very intense and your voice almost sounds weird and sick in that song. Can you tell something about that song?
'The Final Closure' was actually meant to be an extension of the title track of our previous record, There is one song, called 'A Dying Wish', which we thought was going to be the slowest song of our entire career, but in the end we thought 'okay, on this new record we want to go a little bit further with everything, so we wanted to play shorter songs, faster and more aggressive and we thought 'maybe we can do that, but also go into the other direction'. So on purpose this song was meant to be even slower than 'A Dying Wish'.
It is also nice that you have those semi-acoustic parts in the music and this time I have the impression that it is more focused on two interludes and that the entire album as a whole is more heavy. Do you agree with that?
I have to say from my point of view. We include acoustic guitars, because you have so much more dynamics and you can say so much more. It is simply a third stringed instrument for me. It is not only the bass or the guitar, it is an acoustic guitar and that offers so much more and the thing is also part of the musical DNA of the band these days. So we need to include it somehow. At the same time the acoustic guitar is an instrument you cannot edit the same way as the electric guitar. So there is always something very, very personal in the playing. This is something you cannot fight it, you cannot edit it and I love it, because it is absolutely honest and true. I remember Carsten came in as new bass player, so I think that was a positive thing to do, because now he is still in the band I see?
Yes, we know each other since a tour with Nailed To Obscurity, his previous band he used to play in and we asked him to step in for a couple of shows, but we got along so well and also not only on a personal level, but also on a musical level. Therefore he wanted to play in the band for a long term and that is something we do not regret. He will be here in a couple of hours, preparing for the show on Friday. It is a very balanced group of musicians and friends in the band. I am very happy how this turned out.
You have a rehearsal today?
We have a rehearsal tomorrow and today we just go through all the preparations for such a show. Everything is in motion. Everything is easy and I am really looking forward to Friday to make this happen.
How did the cooperation with the mighty Dan Swanö occur this time?
We simply wanted to work with him again. We call it a dream time since the previous record, because we sit and know each other a little bit better. The first production for 'A Dying Wish' was really nice and I love the record, so we decided to record the album in the same studios. The drums at FiveLakes studio in Gilching and everything else at Klangfabrik in Landshut and also work with Dan Swanö again. So it is simply the next step in the evolution of the band. We basically split the history of the band in two chapters: the first chapter was the trilogy of the three first records 'Fallen Angels Dominion', 'Under A Frozen Sun' and Ascension Lost'. Basically all these records had artwork from Kristian Wåhlin and were produced by V. Santura in his studio. Now, the second part of the band, we wanted to establish the same again. So we wanted to work with Dan for at least another record and also work with the same cover artist for another record. So we had three albums with that set-up, now three albums with this set-up and who knows what's going to happen afterwards? I would love to do another twenty years and another ten records. When it is not going to happen, I just make music for myself, that is also fun.
Things seem to be going very well, because in Metal Hammer you are album of the month…
Yes, that is true. That came as a big surprise, because Metal Hammer Germany is usually not very keen on extreme metal. They also cover power metal, thrash metal, heavy metal and so on, but a black metal band – or a black/death metal band, whatever you call it – becoming album of the month is definitely outstanding. We didn't expect that, so we are very surprised but also happy at the same time.
And 'A Dying Wish' was even in the German charts…
Yes that is true. Let us see if we'll make it to the charts again with this one. I am just happy about the response so far. I read a couple of reviews, not all of them, but we had feedback from our friends and people we are close with, so it is an honour. It is always fun and some kind of rewarding if people like what you do.
On the album one can find two live bonus tracks. Where did you record them?
Those two tracks are taken from our 15th year anniversary party when we played a hometown show and those recordings feature our late bassist Christian Kratzer, who was supposed to play on 'A Dying Wish', but he passed away before. So we simply wanted to publish those songs somehow, so he is also part of the new album production. So it is more like a personal thing. Napalm Records asked if we had any additional material and we thought 'okay, it might be nice to publish these songs with the previous setting, so Dan Swanö also mixed those live tracks. So we have something as a bonus, as a nice gesture.
Was that American tour the first tour you did after the pandemic or did you play live again before?
For 'A Dying Wish' we played a couple of festivals. I think three festivals in 2021 and in 2022 we tried a small tour, but a couple of those shows have been postponed and got cancelled. Unfortunately. We didn't play too much for 'A Dying Wish'. For us the American tour we played was part of the 'A Dying Wish' tour cycle. In Europe we did not play too much for the previous record, but we played 27 shows in North America, so we hope to do better with the new album. We are very picky when it comes to shows, so we play not everywhere. We are choosing the right tour, if we are doing a tour or the festivals. We will see. I would like to play a couple of more shows, but we are not overdoing it. Every show needs to be something special for the band. There are bands you see at every festival. We just don't have that aim. We want to keep it a little bit more original and special.
And you have to combine it with Obscura of course…
Yes, that is true. We had one show at a Summer festival and it is a coincidence that both bands played there. Obscura is definitely my main band, if you want to call it like that. This is where I make my living of. I always make it managing to have both bands in balance. You have to take decisions, but it is for the better. You cannot have both. It is alright. With Obscura there are only musicians that make a living out of music and with Thulcandra I am the only one who makes a living out of music while everybody else has regular jobs. So Thulcandra plays a little bit less, but special shows. It is fitting for everyone, because everyone enjoys it, nobody gets in trouble with jobs, everyone can just look forward to all the shows, even if it are only ten or twenty shows a year. Everybody in the band really looks forward to the shows and this is a gift we are really proud of, because it is not a job. It is passion.
I see there will be a German tour soon, starting with the release show. Are there already further plans that you can share with us?
Not yet. We have two days scheduled for the Netherlands on a weekend in December and we hope we can make it happen. We have the final talks and hope that this will work. For this year I am not sure if there is anything else happening, but we are going to celebrate our 20th year anniversary this year as well and we are working on a couple of nice surprises with our record label right now.
And what are you going to do for the 20 years celebration?
We are working on a reissue of our back catalogue on vinyl, because it is sold out and we also have a big archive of recordings since the very early days, so let us see what we will be coming up there. There are still talks with the record label, but we are working on a nice package and put some effort in it. We also have live recordings and an archive of photographs, from the early days the very first photos are still available, so let us see what we are going to do with that. At the end of the year we will come up with something nice.