 Jeff Burrows: "It is nice to be in that position, that you don't ever feel married to one thing or be restricted to certain styles of music. We don't have to worry about that and it is always nice to be able to just go with the flow."
In 2014 bracht The Tea Party het fantastische comebackalbum 'The Ocean At The Sea' uit en meteen werd dit opgepikt door fans over heel de wereld. Toch blijft het geen sinecuur om The Tea Party in Europa aan het werk te zien en de huidige gang van zaken heeft dit niet gemakkelijker gemaakt. Gelukkig klinkt de muziek van het trio tijdloos en dus kunnen we in Europa nu genieten van het album 'Blood Moon Rising' dat in Canada al eerder gesplitst werd in twee EP's: 'Black River' en 'Sunshower'. We hadden een hartelijk gesprek met drummer Jeff Burrows die ons bijpraat over de laatste zeven jaar en zijn persoonlijke activiteiten op muzikaal vlak. Eerst maar eens testen of dat touren in de VS en Canada nog steeds lukt na de versoepelingen, maar dat blijkt voor The Tea Party niet het geval te zijn.
Vera Matthijssens Ι 6 december 2021

Is the tour going on now or was it delayed as well?
No, we haven't been touring for over two years now, because we cancelled three Canadian tours due to covid-19 and two Australian tours and now the European tour that we were hoping to do wasn't started yet, so it is terrible.
The album 'Blood Moon Rising' is a special one, because it is a European release only. Can you go a bit deeper into the reasons for that?
What happened is that we released an album about seven years ago, 'The Ocean At The End', and then we released an EP in Canada and we were doing touring in Canada and touring in Australia and New Zealand. Then we had many anniversary dates from different albums. So we did two different anniversary tours and coupled with that, Jeff, the singer, lives in Australia and Stu lives on the West Coast of Canada, so Jeff is so far away and Stu is a six hours flight away, it is just hard to get together and do a whole album together. So we did an EP and then we did another EP and in Europe we put them together and created the album. So that is how it happened. The other EP was actually coming out three years ago, but the European label did not want an EP, they wanted an album, so we were pretty grateful that they allowed us to do this. A lot of people were excited about it, I just wanted the opportunity to get back to Europe and play, because it has been so long and the stories never aligned and I don't understand, but well, we are not The Foo Fighters. We cannot decide: okay, now we are going on tour and make it happen. There's so many things to be considered when you are in a band like The Tea Party.
In 2014 you created a brilliant comeback album 'The Ocean At The Sea', but that one was supported by a lot of touring, isn't it?
Yes, like I said we did a lot of touring for 'The Ocean At The Sea' and then we had the anniversary tours. I think the first tour we did was for 'The Edges Of Twilight' which was our 25th anniversary of that album and then we had an anniversary tour for 'Transmission' and then we also had a tour for our EP 'Black River'. Yes, it has been pretty busy when we are able to tour, but unfortunately nothing has been able to happen since then due to covid-19.
Were you still touring when the pandemic broke out?
No, we were off then and I think we were supposed to tour in January, but I cannot remember exactly. Everything is a blur because I barely know what day it is, because everything is different, but we were supposed to tour way after all of the lockdowns started happening.
And probably you found solace in writing songs?
Yes, but before that, we had written those songs. I mean, this album should have come out in Europe probably a year ago, but we wanted to tour with it and so on and so forth and because of covid-19 we said: 'okay, let us just do it now', because we were hoping that we could get a tour now when things were lightening up, but now we see that things are getting harsher in Europe again and I can imagine that will follow pretty soon here in Canada and the US. It is probably getting worse again, but who knows? We are truly hoping we are wrong, but if I see the covid-19 news from Europe, it does not look good, it looks like it is never ending. Travelling will not be easy.
You usually jam to create new songs. Did you work this way this time as well?
Yes, it is always the case. When we did this one, it was actually right before we did the last tour. This is generally the way we write now, before a tour and after a tour, so normally we meet at the West Coast of Canada, because a tour will start there anyway. So Jeff comes over and takes a couple of days of rest, because it is a huge difference in time zone and then we start writing and jamming… and rehearsing, because we have a tour coming up. Then we do the tour, we go back together and we tighten up any of the songs that we created and if we come up with any kind of ideas when we are on tour, we then work on those. Then we go into the studio and record them all at once. We have done that in Australia, we have done that in Canada, it works really well. It is just difficult to get everybody meeting up, only for song-writing. Everybody has his own life and does his own thing, but getting together before a tour makes sense, because we are able to not only writing, but also rehearse before the tour, which is nice, because when you are younger, you all live in the same city, you are always jamming, you are always doing stuff together, but when you get older, you move away, you get a wife and children and everything changes. It is the best way that works for us, I don't mind it, I love travelling, it is not a problem for me. Writing before and after a tour is best and usually after the tour the wives will join us, because at that point of the recording sessions, it is not really writing songs and long days with limited time in the studio. Usually we do four songs a day and work on them the next days. Then we take a day off and after that we record another three songs. That works well.
What can you tell about the things that inspired you to write lyrics this time?
That is a Jeff Martin question, sorry, I am the drummer (laughs). But as far as Jeff is concerned, I know he is more universal with his lyrics. He is not going to write about the political sides of things, he is always trying to make it understandable for anybody, regardless your race, your religion, your political views, where you live… it is all universal stuff. Not exactly easy to digest, his words, his poetry is difficult sometimes, but it is always more universal than one particular thing inspiring him I suppose.
When you listen to the lyrics while the music is there, it creates an atmosphere you cannot explain when you are just talking about a song, I understand that…
I appreciate that, that is a nice thing. What we are trying to accomplish is something creative. Many hearts create one enjoyable experience. It is a nice thing to do and if you are able to achieve that, that's awesome.
When talking about the production, I discovered that Jeff Martin is doing a lot of things himself…
Yes, he likes it now. This time we used a friend of ours in Windsor I worked a lot with to mix and I thought he did a really good job in bringing out the live sound, but at least a well recorded sound. I am very grateful for that and I know the guys like it too. It is great to be able to work with someone you really trust and make it sound well. When you listen to it, it is only a couple of minor changes you do, because when Jeff would mix – and he is always doing a great job, but – when he mixes it, he always mixes his guitar too low (chuckles) and we always turn it up. He is such a good guitar player.
Atmosphere has always been a keyword in the music of the Tea Party and one of those atmospheres is a kind of eastern flavour. Did you use any exceptional instruments to achieve it this time?
Yes, this bunch of songs that really called for that effect and I think this is one of the nicest things of being in this band, in The Tea Party, is we always get to change it up and we got to do whatever we feel at that particular time. And the people who enjoy this, are the people who buy our music, listen to our music, they like that about it. I think they liked the fact that 'The Edges Of Twilight' was very heavy influences by the eastern influences, whereas the 'Transmission' album was very electronic and very gritty and this one is almost full circle going back to our first independent album and the 'Splendor Solis' album that we put out on EMI. So it is nice to be in that position, that you don't ever feel married to one thing or be restricted to certain styles of music. We don't have to worry about that and it is always nice to be able to just go with the flow. There is a song called 'The Beautiful', it sounds very different from many of the other songs that we have ever done and someone mentioned that is has a sort of Depeche Mode mood and that's amazing, because I never would have thought that about that song. I knew it was very different, but I listened to it again after that person mentioned the Depeche Mode vibe and it is nice to be able to do that. I definitely see us writing an album, again, that has all of those types of influences on it, but it just depends on where we are this time and that is okay. I love the blues rock sorts of style that we have grown up with and kept in our catalogue.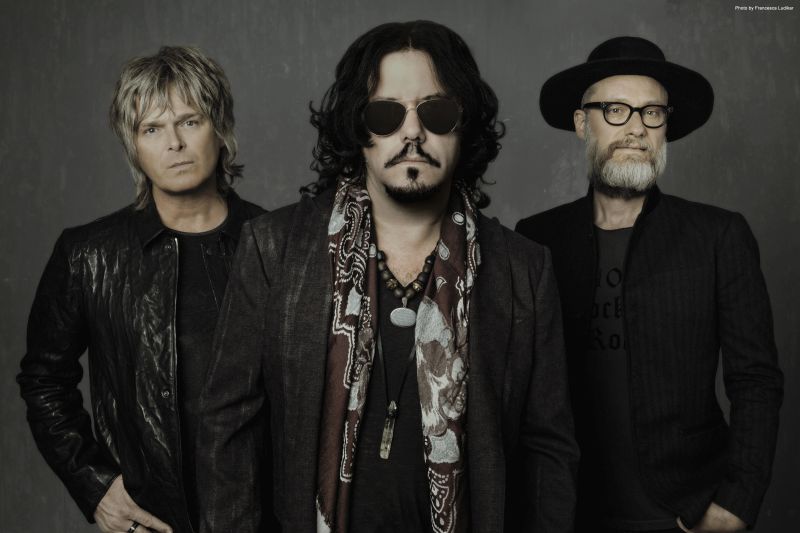 There are a few covers on the album, one of them is a song of Led Zeppelin 'Out On The Tiles' and nobody will be surprised if these guys are an influence of you…
Yes we got to play with them in Montreal – at least with Page & Plant – and that was a very special night for us. When we were a very young band, just starting and writing music, we didn't have enough of our own songs, we always had some cover stuff and people went crazy. It is no secret that Jeff Martin is a very devoted Led Zeppelin fan. I experience it in the way he likes the drums, I am a huge fan of John Bonham's drumming. It is pretty amazing and it should not come as a surprise, but it is nice to do some covers. It is something different…
Indeed, because the other covers from Joy Division and Morrissey, go back to the new wave era…
Yeah and that's what we really listened to in high school a lot. It was interesting. We grew up listening to Radio Detroit and we had four very big rock stations and they all played the same five hundred songs from Led Zeppelin, Pink Floyd, The Who, The Rolling Stones, Rush, and that was it. So we were always looking for something different and we were the weird ones in high school. And that was great because we ended up getting those sorts of influences, finding their way in different songs and different albums and I like that.
Another bonus track is a bluesy live version of 'Way Way Down'. Where did you record it?
We used The Rolling Stones mobile studio in Calgary, Alberta, Canada and it is in this sort of music museum… it is funny, but they have like a portable Rolling Stones studio there, they have all of these different guitars and keyboards and bass and drums from different artists over the years, like four or five decades. It is really incredible! We decided to do a kind of bluesy version of that track, because we had a day off and thought: let us do this, this is fun. The man who ran it was formerly with EMI in Canada, our label, so he invited us when we were on tour. It was just the perfect timing.
Are you going to make music videos, because I see there are only three lyric videos at the moment?
(sighs) You really don't have a media anymore. I mean, in the nineties we had much music. We had MTV, now it is just YouTube, although we did a lyric video twelve days before and we have way more looks and views on that than we ever had before. I think there is no need for more. It is a waste of money, you know. Unfortunately there is a business side to the music industry and a lot of people don't realize that. You do, as a journalist, but the average music listener does not realize that we as a band, we have to pay for that. I don't think it is necessary, you don't recoup that money of a video very quickly anymore.
There is at least one guest on the album, Todd Kerns. Can you tell something about the song 'Hole In My Heart'?
Todd Kerns is an old friend of ours, he played in a band in Canada in the nineties, called Age Of Electric. We have known him for many years and he guests on 'Hole In My Heart', because we have worked with him so many times. We just asked him and we did the high part on that chorus, because Jeff has such a big gloomy baritone voice. First guy we always think of is Todd. He is such a great guy and he is always willing to do almost anything for anyone, so it was a simple fix. The song sounds great and his voice sounds smashing. He is the only guest. We are not usually prone to use guests on our album.
On the track 'Blood Moon Rising' we have the addition 'Wattsy's song'. How come?
That is a song we wrote for and dedicated to our late sound man. He passed away very suddenly and we were all pretty devastated. I was in Las Vegas at that time, so it would have been early February 2019 when it happened. So we wanted to honour him and put a song on there. His name is John Watts. Beautiful song and just an apt album title, because he was such a great guy.
Except for touring if things get better, are there still other plans in the pipeline for the band for the near future?
The near future is blur, but I know that they are looking to start booking some dates in Canada in the Summer and then Australia/New Zealand in the Fall and winter of 2022 in Europe. So I hope that timeline works and I hope the situation is better by then and for all I know, Canada to be shut down in the summer I hope that won't happen. If things go sideways again, we will probably just start writing on line. It has been too long and everyone is really missing each other.
In the meantime did you do some side projects?
I am always busy, so yes, I do for charity an annual drum marathon where I play drums for 24 hours with different artists. So I start at midnight and I finish at midnight the next day. I coach shows and I do some work for the college here. I am always busy.
Didn't you work with the guys from Rush?
Oh yes, Alex and Geddy and me on drums were The Big Dirty Band and did a cover 'I Fought The Law' for the 'Trailer Park Boys' movie which was on Canadian TV. We did that for their movie and then I did a side project band as well called Crash Karma with a bunch of other guys from famous bands in Canada, like Our Lady Peace and I Mother Earth. That was fun and we might do another tour if these other ones are cancelled. So yes, I am always doing session work. That is always fun, because you get to know other people's music and now, coming up… I do an annual album, a Christmas type of album, this is our eleventh year in a row. And we do a big concert at the casino, between four and five thousand people there and all the money goes to food banks. That's what I am playing right now. Our show is in a month and it goes on sale in two days (laughs). Doing that kind of stuff is so much fun and it is charitable, so it is very nice. All of the band gives back to the community quite a bit, it is something I love to do: play music, so when you can collect money with something that you love to do, then everyone wins, right?