THE ABBEY signs to Season of Mist and release single & video "A Thousand Dead Witches"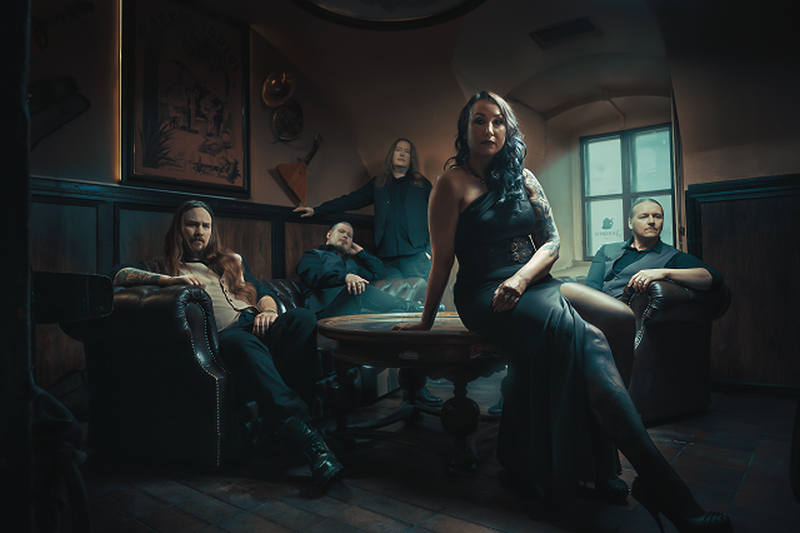 Season of Mist announce the signing of THE ABBEY, the emerging progressive doom metal band from Finland, featuring  Natalie Koskinen (SHAPE OF DESPAIR), Jesse Heikkinen (HENGET, ITERUM NATA, etc),  Vesa Ranta (SENTENCED, THE MAN-EATING TREE), and Janne Markus (THE MAN-EATING TREE). In conjunction with the announcement, the band is now revealing their bewitching first single, "A Thousand Dead Witches," along with a chilling music video that will certainly get you in the spirit of Samhain. The clip was directed by Ranta.
Watch the video for "A Thousand Dead Witches" below (age restricted in some areas).
THE ABBEY comments on the signing, " We feel honoured and privileged to get to write a new chapter in the history of Season of Mist – a distinguished label that has the courage and vision to do something extraordinary. We do believe that the collaboration between Season of Mist and The Abbey is going to lead us to great things."
Regarding the single, the band adds, "Our first single has all the basic The Abbey elements: big vocals, dissonant harmonies, hauntingly beautiful melodies and tempo changes. This is The Abbey's ode against oppression and tyranny."
"A Thousand Dead Witches" is taken from THE ABBEY's upcoming debut album, 'Word of Sin,' which will be released next year via Season of Mist! The cover artwork can be found below while more information will be revealed soon.
Aleister Crowley's Abbey of Thelema was located in Sicily, Italy, and functioned as ground zero for many of the occultist's most complex and groundbreaking hedonistic pursuits. Here, Crowley codified his ritual practices and took his concept of "Magick" to new, unforeseen levels. He rebranded the temple as "Collegium ad Spiritum Sanctum," translating to "A college towards the Holy Spirit." But the Abbey of Thelema was not without its controversy: A young disciple died in 1922 after contracting typhoid fever from the drinking water. And a year later, Crowley was evicted by Italian dictator Benito Mussolini's regime, yet the mystery and intrigue behind the Abbey of Thelema remain. 
Word of Sin, The Abbey's nine-song debut long-player.  The Abbey tale began when Heikkinen generated the sudden urge to try his hand at singing in a doom metal band after laying down guest vocals for fellow countrymen Fuzzifer. His idea was to form a doom metal band with "big vocals" — a project for fun's sake that would thrive off writing from the heart and improvisation. Those plans involved former Sentenced and The Man-Eating Tree drummer Vesa Ranta — the first name that came to Heikkinen's mind for the project.  Ranta, now a professional photographer and filmmaker, provided the steady backbone behind Sentenced's groundbreaking career that was brought to its conclusion in 2005. According to Heikkinen, Ranta plays "like a battalion of marching giants," a not-so-subtle nod to the drummer's mastery of the quarter-note. Ranta quickly took to Heikkinen's early demos and suggested they add a female singer. Enter Koskinen. Koskinen knew Ranta from a video shoot where she was serving as a makeup artist. Reluctant to try a new band considering her Shape of Despair and career obligations, Koskinen listened to Heikkinen's first demo and decided to give the project a go. Janne Markus (guitar, also of The Man-Eating Tree) and Henri Arvola (bass) were soon tapped to complete the band's lineup. Word of Sin was recorded between April and November 2021 in several locations across Finland. Drums, bass and Markus's guitars were tracked at Kratio Studio in Oulu by Kyösti Rautio. Rautio also served as co-producer and mixed the album, becoming the unofficial sixth member of The Abbey. Heikkinen, who recorded most of his vocals and guitars in his stepdaughter's room, surrounded by My Little Ponies, Disney figurines and a pile of esoteric literature, is careful to point out that The Abbey fails to drop into any neat, little subgenre.  "The album was made purely for self-expressive reasons," he says. "My music is the channel where I can be as true and authentic as possible. It is also a somewhat safe way to explore and express the dark side of myself and the collective consciousness. Word of Sin may seem like a tremendously dark piece as a rock album, but it's pretty lightweight for a doom metal album! The material proved so strong that it was obvious that it wasn't going to be another side project. I think using the means of improvisation made the music sound more like its creator instead of it being forced to be this or that — and that seemed to work really well for us!"  Regardless of where Word of Sin falls between the vast channels of doom and heavy rock, the vocal interplay between Heikkinen and Koskinen is undeniable. Each has songs where they take the lead, but their harmonies and trade-offs carry songs like "Rat King" and "Desert Temple" to the fore, creating a restless, captivating atmosphere resembling vintage rock from the 1970s. And, for his first go at singing lead in a band, Heikkinen proves to be quite the capable vocalist, carrying a smooth, almost airy delivery on "Crystallion" and "Widow's Will."  "I didn't think of it that much — my vocals all came naturally," he says. "I still think I'm more of a guitarist than a vocalist, really. During the writing and recording, I listened to King Crimson's Red quite a lot, so I'm sure I got some influences from John Wetton's singing on that album. The vocal harmonies were heavily inspired by bands like E.L.O, Queen and Yes."  Heikkinen and Koskinen didn't know each other before the formation of The Abbey. Heikkinen met Koskinen for the first time when she tracked vocals at his home studio, but their partnership generated immediate results. "Nowadays, I usually record my vocals at home, but in this case, as I had yet to meet Jesse in person, I wanted to record my parts at his place," says Koskinen. "It's very important to see what kind of energy is between the musicians I'm going to work with in the long run. It turns out that we are a perfect match musically. Later on, I traveled to Oulu to meet the rest of the guys [Janne and Henri] and I must say that we had a very strong bond from the beginning. Sometimes things just happen even when you don't plan them."  "The right lines for each were found really easily," adds Heikkinen. "There already were dozens of vocal tracks in some of my demos, but every time Natalie found her place in the song, she added something new into it."  The creative process behind Word of Sin proved so fruitful that the members of The Abbey are already thinking about a follow-up. It's a testament to the material's inherent strength and the immediate bond between all five musicians.  "The Abbey will most definitely be an active and serious project for me – I do hope it will turn out fun as well," wraps Heikkinen. And closes Koskinen: "I do have a feeling this band will make a long trip together." It was only appropriate, then, that Jesse Heikkinen, a veteran of the Finnish music scene and a solo artist under the Iterum Nata banner, branded his newest musical pursuit as The Abbey. Drawing lyrical inspiration from esoteric organizations, their beliefs and his own practices, Heikkinen and co-lead vocalist Natalie Koskinen (Shape of Despair) weaved ritualistic tales from the darkest corners of themselves to pair with music that is a provocative, alluring kaleidoscope of dark, heavy rock. The result is the mystical