SLIPKNOT to celebrate 25th anniversary of debut album with special live shows in 2024 SLIPKNOT is apparently planning to celebrate the 25th anniversary of the band's self-titled debut album with a series of live performances in 2024.
The news of SLIPKNOT playing special shows to commemorate the iconic LP's milestone was broken by lead singer Corey Taylor in an interview with Finland's Chaoszine.
Speaking about his schedule for 2024, Taylor said: "Right now, SLIPKNOT's kind of wrapping up a little bit. Next year, I know we're talking about doing a handful of shows all over the world because it's gonna be the 25th anniversary of the first album." But he cautioned: "Now, don't quote me on that. Best way to make God laugh is to announce your plans out loud. But that's what we're hinting at; it's what we're talking about."
"Slipknot" arrived in 1999 via Roadrunner Records and was eventually certified double platinum by the Recording Industry Association Of America (RIAA). Although it is considered by many to be SLIPKNOT's official debut, it was preceded by the independently released "Mate. Feed. Kill. Repeat." in 1996, an effort which was recorded prior to Taylor's addition to the band.
Back in 2011, readers of the British metal magazine Metal Hammer voted "Slipknot" the best debut of the past 25 years. Over 16,000 fans voted in Metal Hammer's special 25th-anniversary poll, with "Slipknot" managing to grab almost a third of all votes cast, beating off competition from the likes of GUNS N' ROSES, KORN, MACHINE HEAD and PANTERA.
The special-edition CD/DVD reissue of SLIPKNOT's self-titled debut album came out in September 2009. The set commemorated the tenth anniversary of the LP and featured 25 tracks, including the original album as well as rare demos, remixes, rare B-sides and more.
In a 2019 interview with Vulture, when "Slipknot" was celebrating its 20th anniversary, Taylor was asked if he envisioned SLIPKNOT lasting more than two decades when he and his bandmates released their first album. He laughed and said: "You gotta remember, dude, we talked about breaking the band up before the first album even came out. We were, like, 'We're gonna do one and done. We're gonna SEX PISTOLS it and say fuck it.' Ruin the world. And then we gave in to selfishness and decided to keep going. The crazy thing is that years ago I didn't think this band could sustain itself because of how fucking gnarly it is, how dark it is, how much physicality goes into this music and this band and this live shit and the creativity, just how exhausting it is to max yourself out every time by trying to attain perfection. I wasn't sure that this could be sustained for that long. I'm pleasantly surprised that I was wrong. Like I've said in the past, nobody's more surprised by our success than we are. On June 29, 1999, if you'd have told me that we'd be 20 years in, dropping a new album and bigger than we've ever been, I'd have fucking laughed at you."
Asked if there is anything he would do differently, in retrospect, over the past two decades, Taylor said: "Oh, man. There's so many fucking things, but it's all from my standpoint. As far as the band goes, though, I think it had to be this way. Obviously, I would want Paul (Gray, late SLIPKNOT bassist) back. But … now you're talking about people's personal lives, and as much as I miss him, his health was always an issue. So it's almost bittersweet. But from a professional point of view, musically, no. I think we had to take those steps to get here. We had to go through that roller coaster and that kind of self-discovery to realize there was so much more that we had to give, and so much more that we could give, and so many different band dynamics that it was inevitable to get here."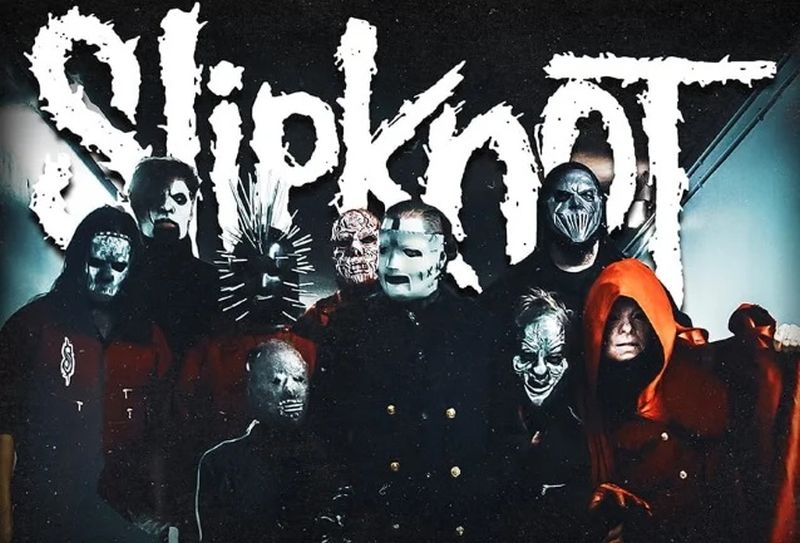 Last week, SLIPKNOT surprise-released a new EP called "Adderall". The six-song effort contains alternate versions (no intro, rough demo and instrumental) of the title track, which originally appeared on last year's "The End, So Far" album, along with the 2023 standalone single "Bone Church", as well as non-album songs "Death March", "Red Or Redder" and "Hard To Be Here". Also newly released are music videos  for "Memories (Adderall – Rough Demo)" and "Death March", both directed by SLIPKNOT's founding member, percussionist and visual mastermind M. Shawn "Clown" Crahan.
"Deconstructing to continuously pave the way for evolution,"
Crahan
 says. "At this point in the program nothing is safe."
"Adderall" track listing:
01. Death March
02. Adderall(No Intro)
03. Adderall (Rough Demo)
04. Red Or Redder
05. Adderall (Instrumental)
06. Hard To Be Here
Last year, SLIPKNOT singer Corey Taylor told Rolling Stone about his inspiration for "Adderall": "Everybody's comparing it to RADIOHEAD and stuff like that, and I'm like, 'All right, I don't listen to RADIOHEAD, so that's interesting.' To me, I was kind of leaning into my inner David Gahan. I'm a massive DEPECHE MODE fan. That was just me kind of doing my impression of that, but I'll take RADIOHEAD as well."
"Bone Church" was surprise-released in February, along with a video piece titled "Yen – Director's Cut (Bone Church)", which found Crahan refreshing footage from the band's "Yen" music video.
On Wednesday (June 7), SLIPKNOT announced that it had parted ways with longtime keyboardist Craig Jones. However, the post announcing Jones's exit from the group was quickly deleted and a photo was shared of the band's apparent new member. The same unidentified person apparently appeared onstage behind the keyboards at during SLIPKNOT's performance at Austria's Nova Rock festival.
During the Nova Rock concert, SLIPKNOT played two songs — "The Blister Exists" and "Purity" — for the first time in eight years. The band also performed "Liberate" for the first time since 2016 and "Yen", a song from last year's "The End, So Far" album, was aired for the very first time.
No reason was given for Jones's departure from SLIPKNOT.
Jones joined SLIPKNOT in early 1996, shortly after the band had finished the recording of its demo album "Mate. Feed. Kill. Repeat." He was initially brought in to replace Donnie Steele, one of the two original guitarists, though he quickly moved on to the role of sampling and keyboards.
On  Wednesday, SLIPKNOT also announced that percussionist Crahan would sit out some of the band's upcoming tour dates so that he can stay home to support his wife "through some health issues".
The "Death March" visual features nine dummy humans lined up against a wall before they get their heads get blown off one by one.
SLIPKNOT played their first shows with a mystery new member last week. SLIPKNOT is continuing to tour in support of its latest album, "The End, So Far", which was released on September 30 via Roadrunner Records. The follow-up to "We Are Not Your Kind", it is the band's final record with Roadrunner after first signing with the rock and metal label in 1998.
Five months ago, SLIPKNOT frontman Corey Taylor once again shot down the rumor that the band would break up after the release of "The End, So Far".
Ever since SLIPKNOT announced the title of its new LP in July, speculation had been rife that the name is a reference to the fact that the LP will mark the end of the band's recording career.
Taylor, who turned 49 in December, addressed the rumor during an appearance on an episode of SiriusXM's "Trunk Nation With Eddie Trunk". He said: "People have been talking about the end of SLIPKNOT since 2003, so it doesn't really matter. If I had a nickel for every time I've had to straighten fans out, I'd have a shit-ton of nickels, let's put it that way.
"Nothing sells albums like drama, let's put it that way, and even drama that doesn't even come from us; it just comes from the fans," he continued. "But at the same time, I kind of started saying onstage… explaining what the title is. It's the fact that it's… It's the end so far, which just means it's the end of one era and the start of the next.