SLAYER book author launches new podcast and expanded edition of band biography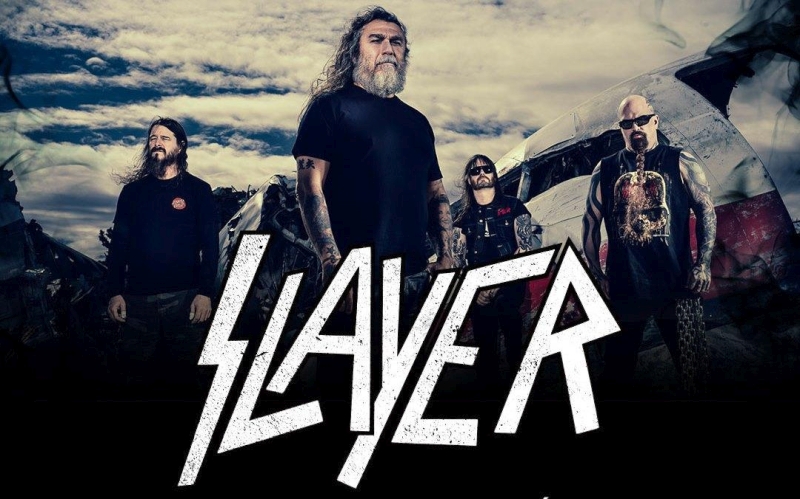 Award-winning writer D.X. Ferris has launched "Talkin' Slayer: A Podcast And Half-Assed Audiobook". "Talkin' Slayer" is the first podcast dedicated entirely to SLAYER, the thrashiest of the "Big Four" thrash metal bands.
"Talkin' Slayer" weekly episodes begin May 2, to commemorate the tenth anniversary of the death of Jeff Hanneman, SLAYER's co-lead guitarist, songwriter, and most acclaimed lyricist. Episode 1 describes how Hanneman influenced the band's career, art, and overall trajectory. Episode 2 will focus on his life and personality. Two trailer episodes describe the podcast and what listeners can expect.
"'Talkin' Slayer' is written, deeply researched, mostly rehearsed, and lightly edited," explains Ferris.
Distributed by Spotify's Anchor service, "Talkin' Slayer" will be available at all major podcast outlets.
The weekly podcast will begin with a series of episodes about SLAYER, its members, and how the band changed heavy metal and influenced popular culture. Starting with episode six, the show will tell the story of the Los Angeles heavy metal institution, in chronological order.
Ferris's research includes original interviews with the band members, friends, and rivals — in addition to archival material from hundreds of zines, articles, books, and podcasts. "Talkin' Slayer" is about how SLAYER happened, when things fell apart, how they put it back together, and what it all means.
"This is an all-killer, no-filler podcast," says Ferris. "The show is listener supported. I will not read stupid ads three times and episode… or ever. I will not talk about myself for 20 minutes every episode. I will not flirt with my co-host — in part because that is stupid, but mostly because I don't have one. The music hits, the show starts, and I talk to you about SLAYER. It's what we do. It's all we do."
Episodes feature a deep, rotating selection of interstitial music by U.K. thrash band CHUPACABRA. Based in Bristol, CHUPACABRA features ex-WYTCH members Heather Taylor and Nige Savage.
"If nothing, this show has riffs," says Ferris. "'Talkin' Slayer' offers some production value. I love podcasts. But it's a bummer when you listen to two episodes of a show in a row, and you're already tired of their music. Our music changes every week."
Ferris is an Ohio Society of Professional Journalists Best Reporter of the Year. He has written for publications including Rolling Stone, Alternative Press, The AV Club and Decibel magazine.
He has written nine books. Two are about SLAYER.
His debut as an author was the first English-language book about the heavy metal heroes. First published in 2007, "Slayer's Reign In Blood" is part of Bloomsbury Academic's prestigious "33 & 1/3" series which features different authors writing about classic records. Ferris's volume was the first installment to cover a full-on heavy metal album.
Ferris's second book about SLAYER was originally published in 2013, on 6623 Press. Newly updated, the third edition is titled "Slayer 66 & 2/3: A Metal Band Biography, Postmortem Remastered Edition". This version of the book adds a new chapter about the band's final release, last concert, and opaque breakup. When finished, the podcast "Talkin' Slayer" will stand as an expanded audiobook version of the band bio.
The new edition of the book includes updated career statistics, revised chapters, and a visual redesign. The book also features exclusive, previously unreleased images by "Murder In The Front Row" photographer Harald Oimoen and SLAYER cover artist Albert Cuellar, who later worked with Tim Burton.
SLAYER formed in Los Angeles in 1981. The demographically diverse band immediately joined the vanguard players of the emerging thrash metal movement. The elite fraternity of groups called the "Big Four" thrash metal bands also included METALLICA, MEGADETH and ANTHRAX. Fiercer and darker, SLAYER smelted together the technical proficiency of classic rock, the elemental aggression of hardcore punk, and the violent grandeur of heavy metal.