SCUMBASH kondigt onder meer The Toy Dolls en The Exploited aan voor 2023 editie
Ticketverkoop start zaterdag 22 oktober om 11:00 uur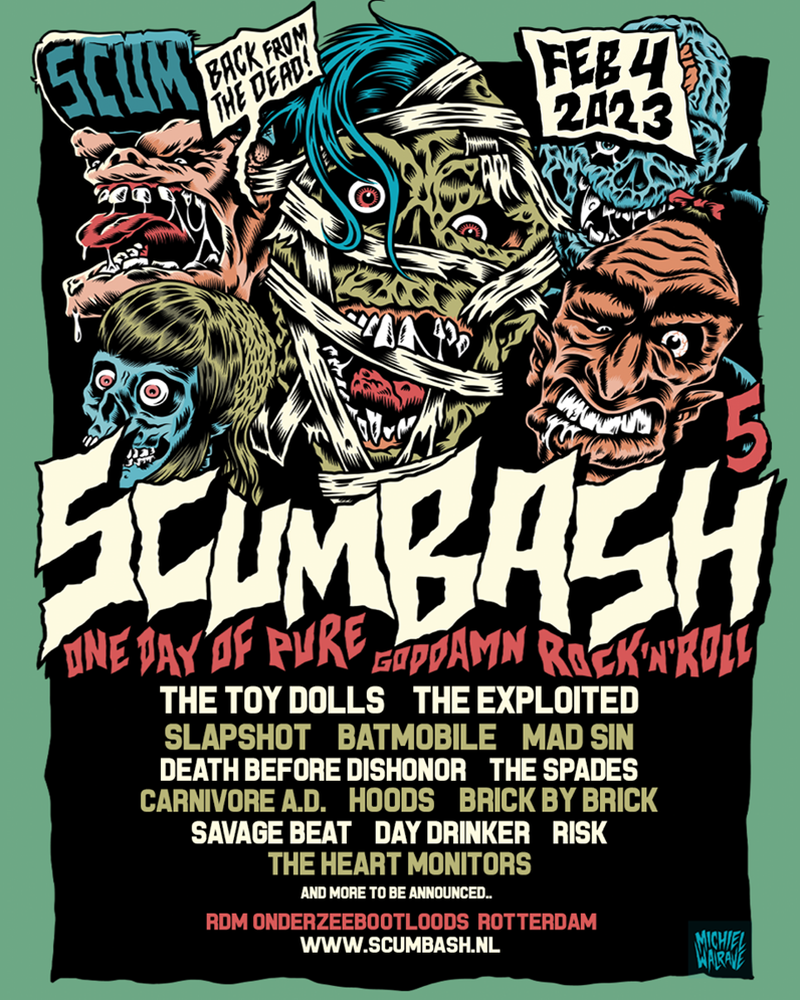 Op zaterdag 4 februari 2023 verenigt het schorem aller landen zich eindelijk weer tijdens de vijfde editie van het Rotterdamse festival ScumBash dat wordt georganiseerd door Schorem Barbier en evenementenorganisatie Event Warehouse. Plaats delict is opnieuw de spraakmakende RDM Onderzeebootloods die ook bij de laatste editie in 2017 als epicentrum fungeerde voor liefhebbers van heavy muziek, die tijdens one day of pure goddamn rock 'n roll snoeihard samen kwamen feesten. In 2020, 2021 en in februari van dit jaar ging ScumBash niet door vanwege coronamaatregelen.
Vandaag kondigt de festivalorganisatie de eerste veertien bands aan: The Toy Dolls (UK), The Exploited (UK), Slapshot (USA), Batmobile (NL), Mad Sin (DE), Death Before Dishonor (USA), The Spades (NL), Carnivore A.D. (USA), Hoods (USA), Brick By Brick (USA), Savage Beat (NL), Day Drinker (NL-BE), Risk (DE) en The Heart Monitors (Rotterdam). Meer acts volgen spoedig.
De ticketverkoop start zaterdag 22 oktober a.s. om 11:00 uur via www.scumbash.nl. Early Birds kosten €45,- (beperkt beschikbaar); Regular Tickets kosten €49,-.
Reeds gekochte tickets voor 2021 zijn voor de komende editie in 2023 geldig.