SAXON's BIFF BYFORD Announces First-Ever Solo Tour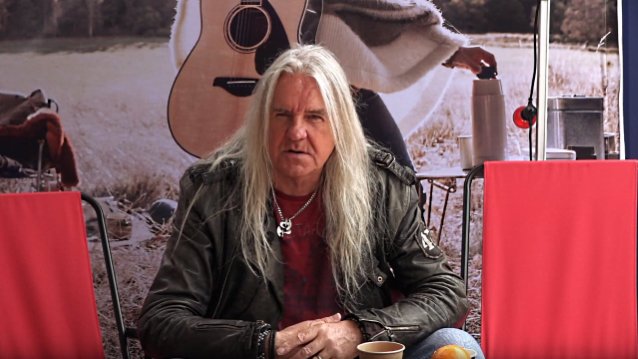 SAXON's BIFF BYFORD Announces First-Ever Solo Tour
SAXON frontman Biff Byford will embark on his first-ever solo tour in April 2020. The 10-date trek will kick off on April 17 at Gateshead Sage 2 and will include shows in Birmingham, Glasgow, Leeds, Bath, Liverpool, Aberdare, Milton Keynes, London and Brighton.
The performaces will be split into two halves, with the first half consisting of a spoken-word portion featuring American comedian Don Jamieson who co-hosted VH1 Classic's "That Metal Show". Don and Biff will discuss the legendary frontman's life and his career. The second half will be a live show featuring Biff and his solo band.
Biff explains:
"The show will consist of some old songs, some new songs, some cover versions and some songs off the solo album. It's going to be great and I am really looking forward to it. It's going to something a little bit different, but it will be very cool, so I'll see you all there!"
Tickets to all dates, except Leeds and Aberdare, go on sale on Friday, December 6 at 10 a.m. Leeds and Aberdare go on sale on Friday, December 13 at 10 a.m.
Biff Byford tour dates:
April 17 – Gateshead Sage 2
April 18 – Birmingham Town Hall
April 20 – Glasgow St Lukes
April 21 – Leeds City Varieties
April 22 – Bristol St Georges
April 24 – Liverpool Arts Club
April 25 – Aberdare Coliseum Theatre
April 27 – Milton Keynes Stables
April 28 – London Islington Assembly Hall
April 29 – Brighton Old Market
Byford's first-ever solo album, "School Of Hard Knocks", will be released on February 21, 2020.
Biff takes on not just tales and stories from his heart and soul, but also investigates the Middle Ages and Medieval history amongst other subjects.
"I'm singing about my past of course and about things I like, but mostly I wanted it to reflect me, my personality and my life," said Biff. "Song-wise, it's more diverse and not just focused on heavy metal. I wanted it to be a slice of the music I like, from metal, to rock 'n' roll. I'm a guy who's just as happy listening to METALLICA or Judy Garland, because as long as it's great and entertains me, then what more do I need?"
"School Of Hard Knocks" was produced by Biff Byford, recorded by Jacky Lehmann at Brighton Electric Studios in Brighton (U.K.) and mixed at Queen Street Studios in Stockholm (Sweden) by Mats Valentin. The album features guest appearances by Phil Campbell (MOTÖRHEAD, PHIL CAMPBELL & THE BASTARD SONS), Alex Holzwarth (RHAPSODY OF FIRE), Nick Barker (VOICES), Dave Kemp (WAYWARD SONS) and Nibbs Carter (SAXON).
Byford announced in September that he had to undergo a heart operation, after which all further 2019 Saxon shows were rescheduled and the shows in the Netherlands, Mexico and Colombia were completely canceled. The tour would have ended tomorrow, December 6 2019.
Check de onderstaande socials voor meer informatie over deze band.