PESTILENCE releases video for 'Deificvs'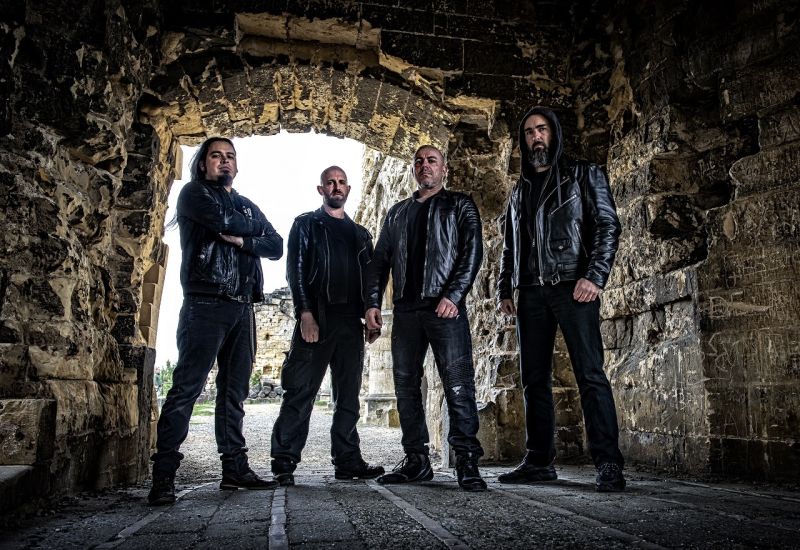 Dutch death metal veterans PESTILENCE will release their ninth album titled "Exitivm" on June 25 via Agonia Records. The official music video for the LP's latest single, "Deificvs", is now released. The clip was directed by Dariusz Szermanowicz of the Grupa 13 production house (KREATOR, BEHEMOTH, AMON AMARTH), with costumes by Prepostevolution.
Watch "Deificvs" below.
Watch the previously released "Morbvs Propagationem" below.
A new album, on a new label, armed with a whole new line-up and a new dynamic: no matter what, PESTILENCE – or more specifically their maestro Patrizio Mameli – is like the phoenix, rising from the ashes, over and over again. An official website has been launched for "Exitivm", providing access to all revelant information surrounding the new album, at: www.exitivm.com.
Not only has Mameli been extremely inspired by the turmoil humanity had to face since March 2020, but with a line-up once again, entirely based in the Netherlands and made up of only super-seasoned players – besides former Dew Scented and Creepmime Joost van der Graaf on bass and Bleeding Gods' Rutger van Noordenburg on lead guitar, former God Dethroned Michiel van der Plicht joined on drums last year – "PESTILENCE is more than ever a BAND where everybody feeds off of each other's musical talent".
"Exitivm" will be available in various formats, including supra-limited picture, pin-wheel, "firebreath" and clear vinyl versions. The cover artwork once again brought the band's iconic sphere and was done by Michal "Xaay" Loranc, known for his various cover for NILE, GOD DETHERONED and EVOCATION and who previously worked on "Hadeon".
Formats:
– Jewelcase CD
– Digi CD
– Box CD
– Black LP
– Ultra Clear LP
– Blood Vanilla LP*
– Picture LP**
– Pinwheel LP***
– Firebreath LP***
– Digital

*Bandcamp exclusive
**With antistatic all-print slipmat only at Agonia Webshop
***Agonia Webshop exclusive

Clothing:
– T-shirt (2 versions)
– Black HSW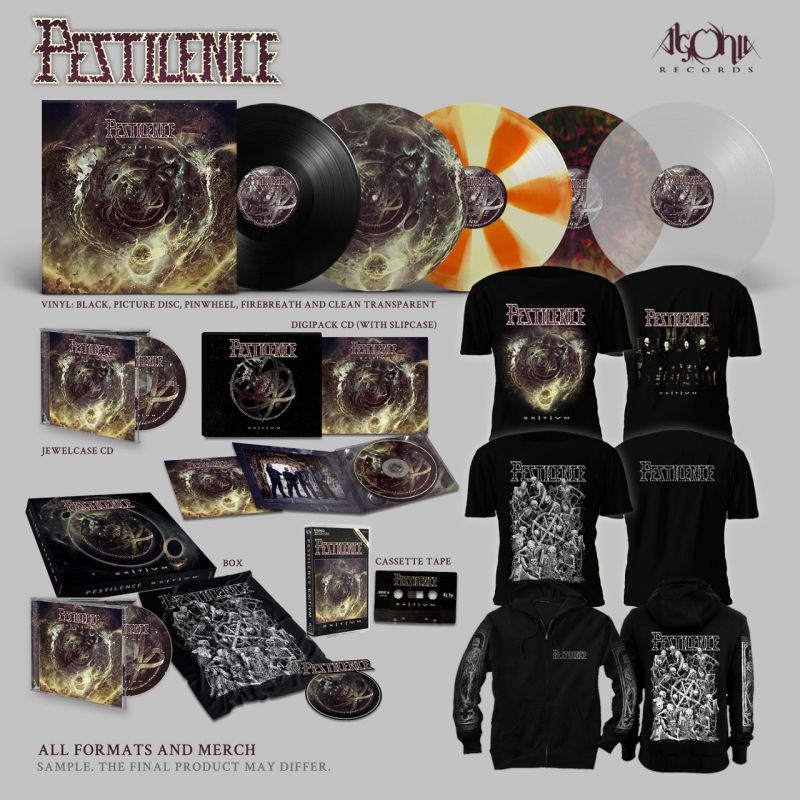 "Exitivm" track listing:
01. In Omnibvs (Intro)
02. Morbvs Propagationem
03. Deificvs
04. Sempiternvs
05. Internicionem
06. Mortifervm
07. Dominatvi Svbmissa
08. Pericvlvm Externvm
09. Inficiat
10. Exitivm
11. Immortvos
12. Personatvs Mortem (Outro)
PESTILENCE lineup:
Patrizio Mameli – vocals, lead guitars
Rvtger Van Noordenbvrg – lead guitars
Joost Van Der Graaf – bass
Michiel Van Der Plicht – drums