MÖTLEY CRÜE shares official video recap of Japanese concerts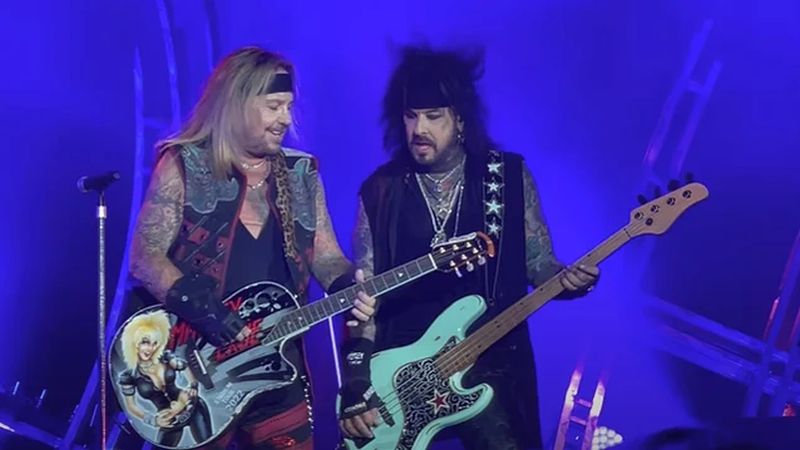 MÖTLEY CRÜE has shared an official video recap of the band's November 3 and November 4 concerts at K-Arena Yokohama in Yokohama, Japan as part of "The World Tour" with DEF LEPPARD.
Check out the clip below.
This past September, MÖTLEY CRÜE guitarist John 5 spoke to Meltdown of Detroit's WRIF radio station about the three new songs he and his bandmates recorded earlier this year with legendary producer Bob Rock, including "Dogs Of War" and a cover of BEASTIE BOYS' "(You Gotta) Fight For Your Right (To Party!)". He said: "I don't know when it's gonna come out, but everything is a plan. Everything is mapped out and structured, and everything is, 'We're gonna do it here and there,' and blah, blah, blah, blah, blah. So the songs are recorded, mixed, mastered. And they're so good. I can't wait for them to come out. They're so good. I'm really excited about 'em."
He continued: "Who knows what's going to happen? I don't know if we'll just release singles or an album. It's up to those guys, so I don't know. We just record and see what happens. But these songs that we recorded are so good; they're heavy and the melodies and everybody's just killing it on these songs."
Asked how much how much input he had during the songwriting process, John 5 said: "We all sat in a room and did it together. 'Cause me and Nikki (Sixx, MÖTLEY CRÜE bassist) have written for years and years and years together. So it was nothing new. And me and Tommy (Lee, MÖTLEY CRÜE drummer) worked in the studio together many times as well. So it was nothing new being in the studio, but it was new with Bob Rock.
"What was so wild was we got in a room… It was like total old school, man," he explained. "You get in the live room and there's my amp and there's Nikki's amp and there's Tommy's drums, there's a mic… 'Cause I'm so used to just playing in the control room. And it's, like, 'Oh no, no, no. We're all gonna get in this room and we're gonna play.' And that's how we recorded. It was incredible. I've never recorded that way. And it was maybe one of the best experiences I had recording. It was so fun. It was a blast. I had to, like, make notes and all this stuff, and we just played through it. It was incredible."