MACHINE HEAD cancels spring 2023 u.s. tour due to visa problems San Francisco Bay Area metallers MACHINE HEAD have canceled their previously announced spring 2023 U.S. tour.
The 18-date "The Electric Happy Hour (Live)" trek was scheduled to kick off on May 15 in Ventura, California and make its way to Des Moines, Fort Wayne, and Detroit before ending in Los Angeles on June 9.
The Robb Flynn-fronted outfit broke the news of the cancelation in lengthy statement released earlier today (Friday, April 14). The band wrote: "Head Cases of America, it is with great regret that we must inform you that due to reasons entirely beyond our control, we're forced to cancel our upcoming Electric Happy Hour (Live) tour due to work visa issues.
"As you may know, half the band, as well as a handful of key crew members, reside outside of the US, and while the work visa process can often be quite lengthy, costly and complicated, in the past we were able quickly apply and be granted the needed documents. The same process we've been using forever and most recently with both the pre-Covid 'Burn My Eyes 25th Anniversary Tour' and last year's sold-out Electric Happy Hour Tour dates, this was the last thing on our collective minds. Unfortunately, that is not the case this time around and it is with immense frustration that we bring you this news.
"It must be said, that the post-Covid touring world has complicated this process tenfold and unfortunately, we are feeling the effects of it.
"Preparations for a tour like this takes an enormous amount of work by the agents, tour manager, merchandise printers, ourselves, VIP organizers, and our crew to coordinate. Tens of thousands of dollars have already been spent which we may or may not get back, and most importantly ticket buyers have made plans, and our crew relies on the jobs that the tour provides. It is a staggering blow to us and our team. We wanted nothing more than to pick up where we left off at the end of 2022 with so many shows still fresh in our minds! That was an incredible run and saying we were itching to get back out is a total understatement.
"Our plan is to keep moving forward, starting with a clean slate we begin the process of scheduling dates for the beginning of next year.
"To be clear, we are not postponing the tour. Postponing would mean that you hold on to your tickets until we can reschedule. We know how hard it's been financially these last few years, so we are choosing to cancel the tour. Canceling allows you to get full refunds for both tickets and VIP packages at the point of purchase.
"Thank you, Head Cases, for your patience and understanding during this difficult time."
MACHINE HEAD is still tentatively scheduled to perform at the Milwaukee Metal Fest on May 28 in Milwaukee, Wisconsin. MACHINE HEAD's tenth studio album, "Of Kingdom And Crown", was released on August 26 via Nuclear Blast/Imperium Recordings. The follow-up to 2018's "Catharsis", "Of Kingdom And Crown" includes the three songs that were featured on last year's "Arrows In Words From The Sky" single: "Become The Firestorm", "Rotten" and "Arrows In Words From The Sky". Much of the new MACHINE HEAD album was recorded at Sharkbite Studios in Oakland, California with engineer/producer Zack Ohren.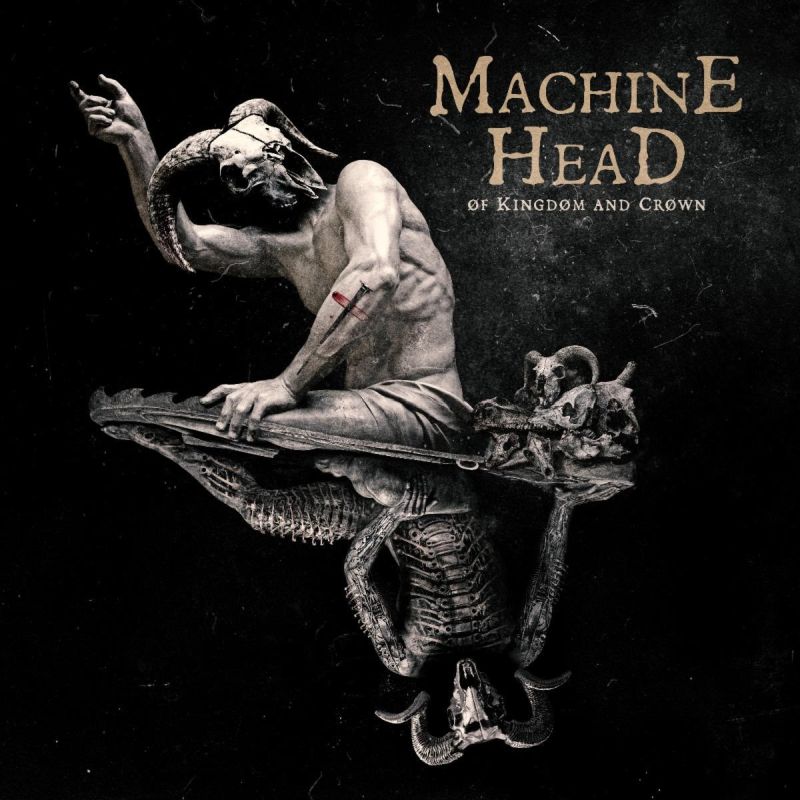 'ØF KINGDØM AND CRØWN' is a 13 track concept album set in a decimated futuristic wasteland where the sky is stained crimson red. The crux of the story is based on 2 main characters:
 
Character #1 Ares: (pronounced Aries), our main, who loses the love of his life (Amethyst) and goes on a murderous rampage against the vile sect responsible for her murder.
 
Character #2 Eros: (pronounced Arrows) the perpetrator, who loses his mother to a drug overdose and becomes radicalized in the aftermath. Eros goes off the deep end manifesting his own killing spree.
 
The lyrics detail how their lives intertwine.
 
MACHINE HEAD founder Robb Flynn comments:
"Thanks to my 2 teenage boys my family has become obsessed with this awesome Japanese anime series called "Attack On Titan." The album's concept was loosely inspired by the series in the sense that in the storyline, there is no "good" or "bad" guy, both characters believe they're doing the right thing as it applies to their being, but make no mistake, both are committing acts of pure atrocity and evil. The opening track "SLAUGHTER THE MARTYR" is basically our character #1's origin story."
 
The colossal concept comes with a list of equally colossal packaging for various physical formats including 16 different worldwide vinyl formats, deluxe vinyl box set (with bonus tracks), CDs (both old-school longbox and jewel box options), multi-color cassettes, and a limited-edition Digipak with bonus tracks.
 
CDs, Digipak, cassettes, and all digital formats will be available on Aug 26th, with all vinyl formats arriving on Nov 25th.
ØF KINGDØM AND CRØWN
MACHINE HEAD
Track Listing:
1. SLAUGHTER THE MARTYR
2. CHØKE ØN THE ASHES ØF YØUR HATE
3. BECØME THE FIRESTØRM
4. ØVERDØSE
5. MY HANDS ARE EMPTY
6. UNHALLØWED
7. ASSIMILATE
8. KILL THY ENEMIES
9. NØ GØDS, NØ MASTERS
10. BLØØDSHØT
11. RØTTEN
12. TERMINUS
13. ARRØWS IN WØRDS FRØM THE SKY
ORDER MACHINE HEAD'S NEW ALBUM "ØF KINGDØM AND CRØWN" AT THIS LOCATION.